VST HOLDINGS LTD
(HK: 856), a leading IT products distributor in the Asia Pacific, saw its 2013 full-year bottom line rise 13.1% to over 525 million hkd, thanks in part to widening use of mobility devices, management told investors in Hong Kong.

Turnover for the year rose 8.5% to 40.2 billion hkd, while gross profit was 7.8% higher at 1.52 billion.

The proposed final dividend was 8 HK cents per share, unchanged from the previous year's.

Stronger sales of mobility devices, hard disks and CPUs helped push up VST's distribution segment revenue 6.52% last year to 31.95 billion hkd, constituting 79.4% of the total top line.

Revenue from VST's Enterprise Systems segment in 2013 was up 17.32% at 8.06 billion hkd, making up just over 20.0% of total revenue.

The increase was mainly driven by higher sales of servers, networking hardware and software products.

Meanwhile, revenue last year from IT services remained stable at 221 million hkd, constituting 0.55% of the total top line.

Looking forward, VST will focus on its current major markets, particularly China and Indonesia, with a vendor focus on mobility devices and PRC brands.

"Tablets will be a key growth area and we see a lot of opportunities in new products coming to the market such as Microsoft's X-books.

"At the same time, we work actively to improve internal operational and financial efficiencies to improve margins -- an endeavor which will also see a growing emphasis on Enterprise Systems," Mr. Li added.

VST already had lucrative contracts with China's top two server firms: Huawei and ZTE.

"We will also continue to expand our business into mobility devices and cloud computing."

And as a firm that needed to keep close control on inventory levels as well as constantly keep a finger on the pulse of changes in the IT sector, management skills were crucial for success in a crowded marketplace.

"If we manage things well, we can continue to see strong growth in the PRC market, with Thailand also showing good growth prospects of late," Mr. Li said.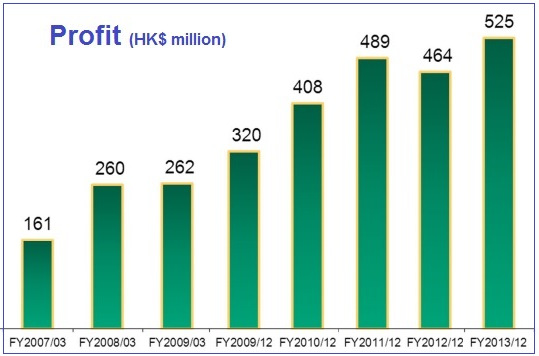 North Asia contributed 78.25% of revenue.

Geographically, both North Asia and Southeast Asia performed well in 2013, with North Asia revenue up 9.89% at 31.49 billion hkd, contributing 78.25% to total revenue.

Revenue from the region was mainly from increased sales of mobility devices, hard disks, CPUs, servers, networking hardware and software products.

North Asia business is only likely to pick up, management said, especially considering new deals coming onstream for VST with a focus on mobility devices.

VST Holdings' Southeast Asia revenue in 2013 increased 3.64% to 8.75 billion hkd, making up 21.75% of the total, with the increase primarily derived from stronger sales of mobility devices, networking hardware and desktop PCs.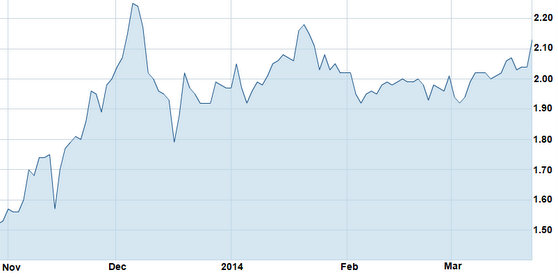 VST Holdings, which has a market cap of 3.1 billion hkd, has seen its Hong Kong shares trade within a 52-week range of 1.20 – 2.29 with a P/E (ttm) of 6.31x. Chart: Yahoo Finance

VST's revenue has come a long way over the past decade or so.

In 2003 the top line came in at just 1.6 billion hkd, but 2008 marked a big year in which revenue nearly tripled from year-earlier levels to surpass the 12 billion hkd level.

Since then, the year Beijing hosted the Olympic Games, VST has been putting on an Olympic-level performance of its own, with revenue showing steady increases over the past half decade.

As a major IT products distributor, operating efficiency was critical to success, and the firm managed to maintain its working capital days last year at 33 days.

"We're quite pleased with this level," said VST Executive Director and CFO Mr. William Ong.

At end-2013, cash and cash equivalents stood at 1.17 billion hkd, which he said would be used to "expand business" going forward.

VST's debt management capability remained steady last year, with a net gearing ratio of 0.42 versus 0.41 in 2012.

"We are always trying to stay under the 0.50 level," Mr. Ong said.

"With the transformation in the IT landscape, we are expanding our product portfolio and increasing our exposure to mobility devices, in line with the global shift towards adoption of such devices, and we are also building our Enterprise Systems, which offers higher margins," said VST Chairman Mr. Li Jialin.

He added that while the earlier shifts in the landscape were about creating efficiency and improvements in how products were manufactured, the current ICT revolution "redefines critical business assets, creating new economic models and transforming businesses in the process.
"We believe this shift offers opportunities for the Group, leveraging on our strong relationships with vendors, our sizeable regional network, rigorous internal processes and strong management team. Even as the industry evolves, we intend to deepen our market share in emerging markets such Indonesia and China, as well as enhance our participation in Enterprise Systems."

Listed in Hong Kong since 2002, VST Holdings Ltd is one of the leading IT product distributors in the Asia Pacific. The company plays an integral part of the supply chain, and has very strong long-term partnerships with renowned Global IT giants such as HP, Apple, Seagate, AMD, Intel, Western Digital, Lenovo, Dell, IBM, Acer, Microsoft, Oracle, Cisco, Asus and many more with over 30,000 channel partners serving a wide regional customer base. VST has 76 offices in six countries: China, Thailand, Malaysia, Singapore, Indonesia, and the Philippines.

See also:

VST In 55 Million Yuan Smartphone JV