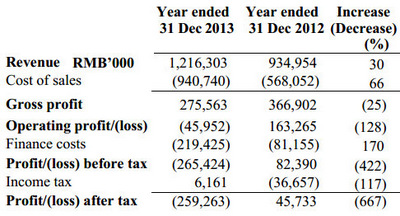 China New Town Development Company Ltd (HK: 1278; SGX: D4N) reported a disappointing year for its business in 2013 but is upbeat on the impending entry of China Development Bank as its strategic shareholder.

The property play saw its full-year revenue rise 30% to 1.22 billion yuan, but it swung to a net loss of 212 million versus a net profit of 14.44 million a year earlier.

"Our results are primarily driven by the frequency and achieved selling prices at public auctions for land use rights.

"Therefore, they are likely to be affected by all kinds of variables, and are not completely within the control of the Group," said China New Town Development Chairman Mr. Shi Jian.

Unlike previous years, China New Town finalized only one land sale, in the month of March -- a 110,022 sq m plot in Luodian, Shanghai.

More importantly, the local government decided to decrease the percentage that Shanghai Luodian Project was entitled to on the land sale proceeds back to 48% in the year 2013, from 57% in 2012.

"The favorable rate granted by the local government in the year 2012 has been cancelled," China New Town said in its 2013 annual results, adding that "the favorable rate was granted by the local government (at the time) in recognition of the contribution and influence our Luodian New Town has brought to Baoshan district and Shanghai."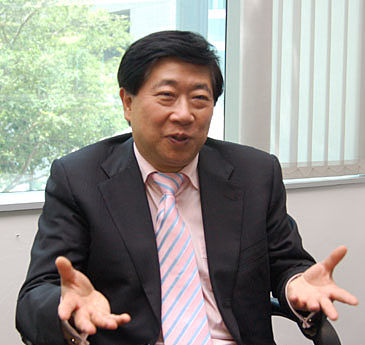 Shi Jian is the executive chairman of China New Town Development. NextInsight file photo.As for the Shanghai Luodian plot itself, the project was successfully auctioned and sold by the Shanghai Municipal Bureau of Planning and Land Resources.

After 78 rounds of bidding, the plot was sold for 1.35 billion yuan with a premium over reserve price at over 40% to Zhenro Group, which is principally engaged in large scale developments in new towns and high-end developments in prime municipal districts in Fujian Province.

Higher Finance Costs -- from 81 m to 219 m yuan

China New Town's bottom line was also severely impacted by higher finance costs.

In 2013, total net finance costs stood at 219 million yuan, with 247 million in interest expenses partially offset by capitalized interest of 27 million.

This compares with net finance costs of just 81 million yuan for all of 2012.

"The increase is primarily attributable to a decrease of capitalized interest in relation to some of our property development projects: Lake Malaren Silicon Valley and Lake Malaren UHO, both of which had entered into completion phase and were being delivered to customers," Mr. Shi said.

China New Town's gearing ratio increased to 48% in 2013 from 46% the year earlier.


Impending entry of strategic shareholder China Development Bank

The firm was more sanguine on prospects in 2014.

"Prices of commodity housing nationwide are expected to stabilize. Consequently, the land market can be expected to consolidate in a stable industry environment and shape for a more rational and healthier long-term development," Mr. Shi said.

"We are confident that the value of the substantial amount of our quality land bank would be solidly realized in the near future."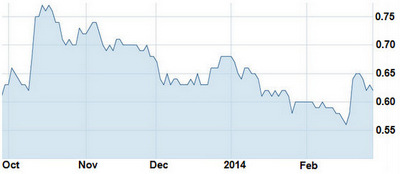 CNTD shares have a 52-week range of 0.50 – 0.83 hkd in Hong Kong trading. On the Singapore Exchange, it is 8.6-13 SGD cents. Chart: Yahoo Finance.
China New Town believes that to capture opportunities brought about by China's national strategy of urbanization, and to compete at the next level, the property play needed a strategic shareholder with strong background and long term vision in the business.

In October 2013, a definitive agreement was reached between China New Town and CDB Capital -- a wholly-owned subsidiary of China Development Bank.

"The introduction of CDB Capital as our strategic shareholder marks an important milestone in our development," Mr. Shi added.

CDBIH, a wholly-owned subsidiary of CDB Capital, agreed to subscribe for newly issued shares of China New Town and become its controlling shareholder with a 54.32% interest in the enlarged share capital of the firm.

"Upon completion, we will become a strategic subsidiary of CDB Capital.

"We believe this shall improve our capital structure and create substantial synergies for our core business."


For more, see China New Town's financial statement here.

CHINA NEW TOWN: 'Now Is Best Time' For PRC Land Investment