China WindPower's Investor Relations Vice General Manager Mr. Joe Zhou tells investors in Shenzhen that his company will keep a close lookout for attractive investment opportunities in the solar power sector. Photo: Aries Consulting

CHINA WINDPOWER Group Ltd (HK: 182), one of China's fastest growing renewable energy plays, is expecting a surge of sales for its wind and solar power businesses. And the Hong Kong listco is well-placed up and down the manufacturing and services chain to make it all happen, management told investors.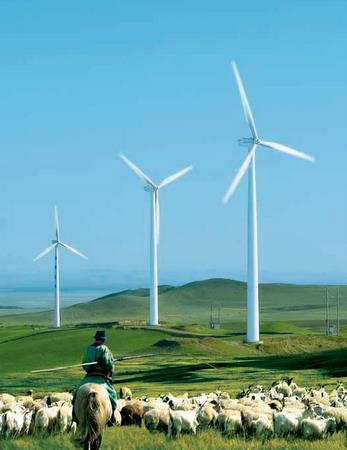 Despite its name, China WindPower is a growing player in the solar power sector as well as in wind. In 2013, CWP completed construction of five solar power plants with a combined generating capacity of 220 MW.
Photo: CompanyChina WindPower (CWP) is the only pure vertically-integrated clean energy power play listed in Hong Kong.

China WindPower specializes in solar and wind power operations. The operational field of CWP includes: 1) Power plant investments; and 2) New energy services.

To date, CWP has secured more than 28 GW of wind resources as well as over 5 GW of solar resources with exclusive project development capabilities covering 24 provinces in China.

CWP's Investor Relations Vice General Manager Mr. Joe Zhou said the firm follows a one-stop integrated, commercial model which includes its construction and installation capabilities with operations, maintenance and electrical design teams.

"Our integrated supply chain capabilities enable us to possess cost and quality control competitiveness which our peers cannot claim," Mr. Zhou told investors on January 10 in Shenzhen at the Aries Consulting-organized "3rd Scaling New Heights – Asia Investment Forum 2014."
Research house Bocom International Securities said in December that new photovoltaic (PV) rules will help boost solar energy usage in the PRC and enhance the industry's overall quality and efficiency.

CWP must be onto something on the profit and cost reduction side as it issued a positive profit alert earlier this month for full-year 2013.

"The significant increase in net profit is mainly due to the increase in income from electricity output in our wind and solar power plants and EPC (engineering, procurement and construction) business division," said CWP Chairman Mr. Liu Shunxing.

Its finances are robust as at December 31, 2013, CWP had over 1.7 billion hkd of cash and cash equivalents, not including an estimated 378.2 million hkd net proceeds from a share subscription by Huadian Fuxin announced on December 18.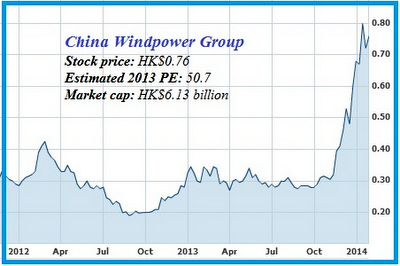 CWP's stock price powered up after its first half 2013 top line rose 8.6% but net profit surged 54.4% on higher-margin products and services. Chart: Yahoo!; Data: BloombergIn meeting growing demand for wind and solar power in China, CWP has seen its Hong Kong shares surge 121% in 2013.

Cooperation deals with big players

China WindPower and Huadian Fuxin (HK: 816) have signed a deal to cooperate on wind and solar power products.

Huadian has also agreed to subscribe for 880 million new CWP shares, representing 9.9% of its enlarged issued share capital.

The subscription price of 0.43 hkd represented a discount of 12.2% over the previous closing price, with the aggregate subscription price amounting to 378.4 million hkd.

According to the cooperative agreement, both parties will work together on the development of wind power resource reserves owned by CWP.

"This collaboration with Huadian Fuxin will fully leverage the complementary strengths of both parties.

"It will accelerate the development of CWP's wind power and solar power resource reserves, as well as strengthen our capital and financing capability while enhancing CWP's cash flow from providing EPC and maintenance services," said China WindPower Executive Director and CEO Mr. Yang Zhifeng at the time of the agreement.

And earlier this month, CWP signed a financial cooperation agreement wherein China Development Bank (CDB) Qinghai Branch will provide up to 5.7 billion yuan of project financing to CWP to support its investments in over 800 MW of solar power projects in 2014 and 2015.

CWP's attributable electricity output generated by wind and photovoltaic plants is currently 530 million kWh and 42.1 million kWh, respectively.

"While China WindPower continues our 'Southward Development' strategy, future investments will not be limited to South China power projects but will also continue to explore installation, generation, distribution and sales opportunities in North China as well," Mr. Zhou said.

He added that CWP would continue to harmonize and upgrade the overall structure of all existing equipment to improve their asset quality and investment value.

"At the same time, CWP will keep a close lookout for attractive investment opportunities in the solar power sector."

In 2013, CWP completed construction of five solar power plants with a combined generating capacity of 220 MW.

"We will continue our acquisition of solar power assets to enhance our diversification process with a focus on photovoltaic facilities in China's Northwest and Southwest."


See also:

CHINA WINDPOWER'S Solar Tieup