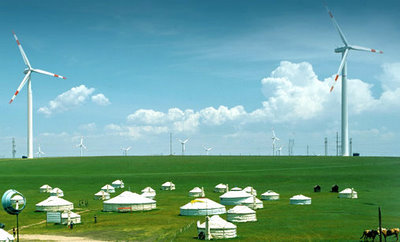 China WindPower is making a big push into the solar sphere to supplement its wind farm assets. Photo: China WindPowerCHINA WINDPOWER adds 70MW solar capacity

China WindPower Group Ltd (HK: 182) has obtained 490 million yuan in loans from China Development Bank (CDB) for an additional 70 MW in solar power capacity.

This approval helps China WindPower establish a capital foundation to accelerate the development of the solar power generation business to be the core business of the group.

"With the capital support from CDB, China WindPower will shift its operational mode in developing power farms from joint ventures to sole proprietorship," said China WindPower Executive Director and CEO Mr. Yang Zhifeng.

He added that China WindPower believes that power plant investments will constitute the main revenue and profit contributors after the changeover of development and operational modes.

"Benefiting from a series of national policies and guidance, the photovoltaic (PV) industry will usher in a new development opportunity. We will seize this new opportunity, and fully utilize our advantages of capital and resources to develop and increase solar resources."

China WindPower obtained the loan from CDB to develop its solar power projects, including a 50MW solar power project in Yongren, Yunnan Province and a 20MW phase 3 solar power project in Delingha, Qinghai Province. The loans amounted to 340 million yuan and 150 million yuan, respectively.

Both projects are wholly-owned by China WindPower.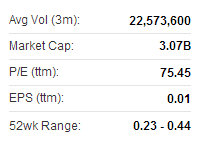 CWP recently 0.42 hkdChina Windpower, which has extensive experience in the photovoltaic industry, took a lead in expanding its business to the solar power generation area in 2010 and successfully secured abundant high-quality solar resources.

To date, the firm operates eight solar farms with total capacity at 150 MW, while attributable capacity has reached over 133.MW.

In addition, China WindPower owns 410MW solar power projects which are approved and pending final construction as well as 530MW solar power projects which have received approval from the National Development and Reform Commission (NDRC).

Furthermore, the firm has successfully signed agreements for more than 5GW solar resources with exclusive project development rights with regional governments.

China WindPower specializes in solar and wind power operation. The operational field of China WindPower includes: 1) Power Plant Investments; and 2) New Energy Services. To date, China WindPower has secured more than 28GW wind resources as well as over 5GW solar resources with exclusive project development capabilities covering 24 provinces in China.

---

CHINA RUIFENG riding on wind

Bocom International said the latest restructuring activities by China Ruifeng Renewable Energy (HK: 527) suggest the firm is going all-in for wind power.

Earlier this year, China Ruifeng disposed of its diode business for a consideration of 220 million hkd and recorded a gain of around 12.1 million yuan in 1H13.



Ruifeng recently 1.96 hkdThe diode business contributed 8.75 million yuan segment profit in 2012, or around 22% of total.

"We believe the disposal shows the company's strategy to focus on the wind power business," Bocom said.

In 1H2013, wind farm operations contributed revenue of 161 million yuan and segment profit of 108 million yuan, representing ~38% and ~86% of the total, respectively.

"We expect the contribution from the wind farm operations will increase due to the larger stake in the Hongsong wind farm and the expected commencement of the Langcheng wind farm in 2014," Bocom added.


---
See also:

CHINA WINDPOWER Sees Less Turbulence

GOLDPOLY Adds 195MW Solar Farm; BYD, COMTEC SOLAR Win Official Approval

Sunny News For COMTEC, SOLARGIGA