CHINA WINDPOWER expects 'significant' rise in 2013 profit

China WindPower Group Ltd (HK: 182) has issued a Positive Profit Alert for full-year 2013, expecting to see a "significant" rise in the bottom line.

"The significant increase in net profit is mainly due to the increase in the income from the electricity output in our wind and solar power plants and EPC business division," said China WindPower (CWP) Chairman Mr. Liu Shunxing.

As at December 31, 2013, CWP had over 1.7 billion hkd of cash and cash equivalents, not including the estimated 378.2 million hkd net proceeds from the Huadian subscription announced on December 18, 2013, the company added.


Inks RMB5.7 Billion Financing Deal


China WindPower has signed a financial cooperation agreement wherein China Development Bank (CDB) Qinghai Branch will provide up to 5.7 billion yuan of project financing to China WindPower (CWP) to support its investments in over 800 MW of solar power projects in 2014 and 2015.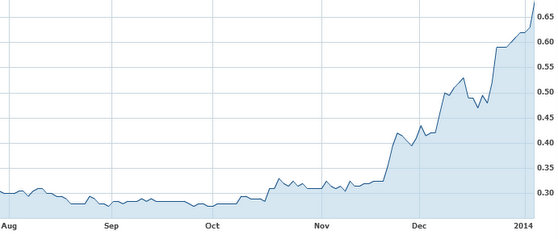 China WindPower's shares have been on a tear of late. Source: Yahoo Finance

"We are grateful for the strong support that CDB is providing to our solar power projects and with the continuous financial support from CDB, we will fully utilize CWP's advantages in solar resources reserves to develop more solar power projects.

"CWP will gradually push forward our solar power generation business to become our core business and major profit contributor to the Group," said China WindPower Executive Director and CEO Mr. Yang Zhifeng.

China WindPower Group Ltd specializes in solar and wind power operations. The operational field of CWP includes: 1) Power Plant Investments; and 2) New Energy Services. To date, CWP has secured more than 28 GW of wind resources as well as over 5 GW of solar resources with exclusive project development capabilities covering 24 provinces in China.

---

GUOCO rates SUNTIEN a 'Buy'

Guoco Capital has given a "Buy" recommendation to China Suntien Green Energy (HK: 956) with a target price of 3.50 hkd (recent share price 3.26).


"China Suntien Green Energy, which operates wind farm and natural gas businesses, saw its share price rise 8.2% on Thursday to reach its 52-week high, surpassing the critical resistance level of 3.0 hkd," Guoco said.

The research house added that the firm's Hong Kong share price movement indicates a "bullish trend ahead."

Guoco's cut loss on Suntien is 2.76 hkd with a consensus 2014 PER of 12.7 times and a consensus target price of 3.34 hkd.

---

See also:

CHINA WINDPOWER'S Solar Tieup