An avid investor emailed us: "Another Blumont? No way... this is IGG, a 13 billion HKD market cap company with zero earnings and best of all…this is a Singapore HQ company that went to HKEx."
Intrigued, we searched the Web to learn more.

To start with, IGG stands for I Got Games -- and instantly you would recognise this as a games company.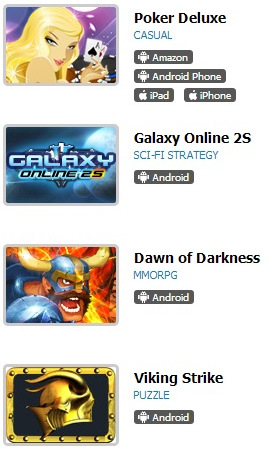 Founded in June 2006 by Cai Zongjian, 36, and Chi Yuan, 57, (whose registered addresses are in Fujian), IGG is principally engaged in the development, publication, and distribution of online games.

Its flagship games are Castle Clash, Poker Deluxe, Slot Machines, Clash of Lords, etc.

Its Singapore connection goes beyond the fact that its HQ is in Singapore.

One of the pre-IPO investors is Vertex, which is ultimately owned by Temasek Holdings, the sovereign fund of Singapore.

It holds a 9.1 % stake in IGG -- and what a massive paper profit it is sitting on.

IGG listed on the Growth Enterprise Market in Hong Kong on 18 Oct 2013 at HK$2.80 and, after trading in a narrow range for two months, just took off like a rocket.

At the end of last week, it had hit HK$9.89.

Thus, the market cap of IGG has swelled 265% within 3 months from HK$3.67 billion at IPO to HK$13.4 billion.

It's not as though its earnings have been sizzling.

In fact, continuing its track record of losses (in years 2011 and 2012, as revealed in the IPO prospectus), the company reported a loss of US$2.65 m for the 9-month period ended 31 Sept 2013.

But -- and it's a big but -- in 3Q, it achieved US$4.5 million in net profit. Could the market be reading this as the start on the road to riches for IGG?

Certainly, its topline has shown fantastic growth year after year. Its 3Q2013 revenue jumped to approximately US$22.53 million from US$10.17 million a year earlier.

Bloomberg data (chart below) suggests that full-year 2013 was a profitable year (pending the release of 4Q results by the company), translating into a PE of 63.7X.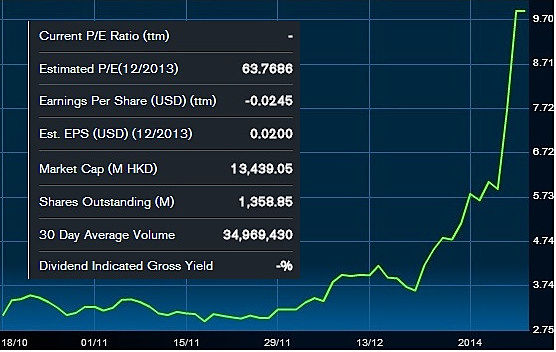 Above: Stock chart of IGG since its IPO on Oct 18. It started to skyrocket just before Xmas. Chart by aastocks.com, data (inset) by Bloomberg.


IGG stock's skyrocketing act since Xmas 2013 prompted a query from the Hong Kong Stock Exchange.

The reply dated 9 Jan by the chairman Mr Cai Zongjian distanced itself from what the IGG chief operating officer, Mr. Xu Yuan, said in a media interview.

Mr Xu reportedly said that IGG proposed to conduct certain acquisitions in North America and the PRC and that the Group's market value is expected to increase materially as a result of these acquisitions in the coming three years.

In addition, he reportedly said that IGG would cooperate with Alibaba in the near future.


The IGG statement, issued in the name of Mr Cai, debunked talk of such acquisitions: "There are no such proposed acquisitions at the current stage."
As for Mr. Xu's view that the market value of the company would increase materially as a result of the acquisitions, it was "entirely Mr. Xu's personal view and was made based on Mr. Xu's experience in the online game industry, his personal expectation of the future development of the Group and personal assessment of the performance of the Group and the industry.
"Therefore, it should not be considered as any indication of the development plan of the Group for the coming three years or any period of time in the future."
Mr Xu seemed to have been quoted wrongly again -- on the matter of Alibaba, the IGG statement said "there is currently no such proposed cooperation with Alibaba or any related negotiation in progress."