Bocom: Six developers see 2013 sales top 100 bln yuan

Bocom International said six PRC-based property plays had 2013 sales in excess of 100 billion yuan, with Vanke (HK: 1036) topping the list, followed by Greenland Group, Poly Property Group (HK: 119), China Overseas, Evergrande (HK: 3333) and Country Garden (HK: 2007).

Vanke's revenue last year stood at 177.6 billion yuan.

The research house said 71 PRC-based property developers' sales exceeded 10 billion yuan in 2013, an increase of 18 firms from 2012.

"Property prices showed modest m-o-m growth in December 2013, while as a whole new home prices surged 11.5% y-o-y in 2013 with 1st/2nd-tier cities still outperforming the nationwide property markets.

"The 10 major cities, including Beijing and Shanghai, still led the way with 1.31% m-o-m growth to 18,994 yuan/sqm in December, compared with 1.16% m-o-m in November."



Bocom added that given that most of the developers had accomplished their full-year sales targets, together with the banks' cautiousness in mortgage approvals, it believes the slowdown in sales volume was justified.

Bocom maintains its "Outperform" sector rating on Hong Kong-listed developers.

Consensus property price growth is expected to rise 7% in 2014 given the increase in supply volume and steady demand.

"This concurs with our view of a moderate price growth in 2014.

"On the other hand, we are more optimistic on the sales volume going forward, given the increase in available-for-sale volume will be well received by the robust demand and we continue to prefer Shimao (HK: 813) and Agile (HK: 3383) as our top picks.


---

Kingston rates HANG LUNG 'Buy'

Kingston Securities has a "Buy" recommendation on Hang Lung Property (HK: 101) with a target price of 27 hkd (recent share price 23.55).

The developer has a very healthy financial position, with a gearing ratio of only 0.3% and cash on hand of 22.84 billion hkd.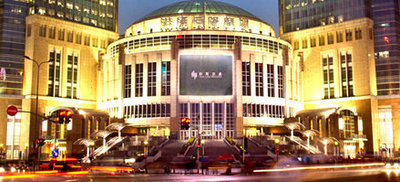 Hang Lung's Grand Gateway 66 Shanghai. Photo: Hang LungIn the first half of 2013, as Hang Lung only sold five residential apartments, total property sales fell over 90% y-o-y and dragged down overall turnover by 21.9% to 3.31 billion hkd with net profit sinking 23.1% to 2.83 billion.

"Yet, property leasing is the Hang Lung's major source of revenue.

"During the period, turnover from property leasing in Mainland surpassed that of Hong Kong and reached 1.7 billion hkd," Kingston said.

Profit before taxation from Mainland property leasing rose 14.2% to 1.34 billion hkd.

The Group has projects in Shanghai, Shenyang, Jinan and Wuxi, while the projects in Tianjin, Dalian and Kunming are under construction.

Kingston's buy-in price on Hang Lung is 24.0 hkd with a stop loss of 23.0.


---
See also:

ZHANG XIN: 'China's Most Flamboyant Property Tycoon'

ZHANG YIN: First Woman To Be Richest Person In China