Page 1 of 2
This article was recently published on A Path to Forever Financial Freedom, and is republished with permission. It offers a less bearish view on Vicom than two other articles we recently published (see links at the bottom of the page).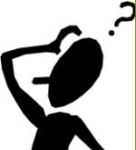 THE RECENT PRICE decline in Vicom stock has caught my attention. It has fallen from a high of $6.60 to $5.85 and I received queries from a reader whether the stock is a buy at this price.

I told the reader who emailed me that I do not give recommendations but can provide an analysis of what I think the company's outlook is now.

I have made two posts this year on Vicom. The first was on 12th February while the second was on 11th May. You may refer to my previous posts.

I won't touch too much on its financials as they can be easily attained from the annual report. In short, the company has a pretty decent run up on its EPS (earnings per share) over the past couple of years and is hoarding a huge amount of cash in its balance sheet. Dividends have increased as a result, but a couple of investors have raised questions on whether they are sustainable.

Vicom's business has two main segments - testing and non-testing services but for the purpose of this article, I will focus on the vehicle testing and inspection services.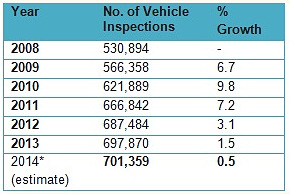 Based on the latest 2013 annual report, we know that the number of vehicle tested by Vicom was 518,943 while LTA (Land Transport Authority) figures came up to 697,870. This gives Vicom a 74.3% market share (519,943 / 697,870) for its vehicle testing service.

If we were to take a conservative 0.5% growth in the estimated number of vehicle inspections by LTA in 2014, we would come up with a figure of 701,359 - and this would translate accordingly to 521,537 vehicles for Vicom using the above computed market share.

From the table on the right, you can note that the growth rate has been decreasing. This is not surprising given that the LTA has previously announced that the vehicle populaton growth rate will be set at 0.5% per annum from February 2013 to January 2015.

The LTA will soon announce its plans for the next 3 years. This will have a huge impact on the outlook for Vicom.

Rising number of de-registrations.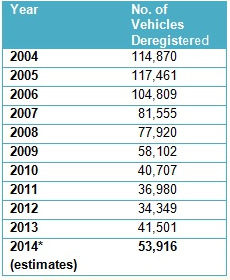 No. of Vehicles Deregistered

On 13th Jan 2014, the LTA released a statement stating the rising trend of vehicle de-registering and this trend will continue for the next foreseeable future until 2016 (I will elaborate later).

From the data on the right, we can see that from Jan to Aug 14, the number of vehicles de-registered was high, averaging 4,493 vehicles a month.

This will have an impact on Vicom's inspection and testing business.