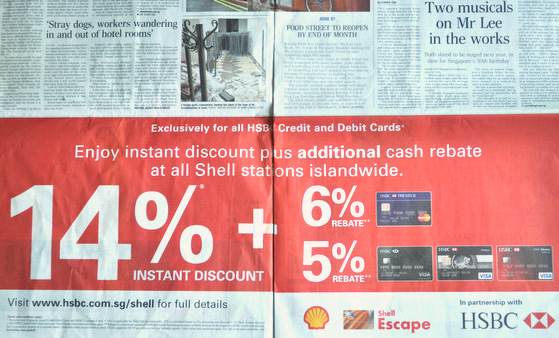 HSBC's advert sprawled over pages 2-3 of The Straits Times on Friday, 7 Feb 2014.

HSBC has an attractive promotion for its credit card holders whereby they enjoy significant discounts at Shell and Caltex petrol stations and other merchants such as Giant supermarts.

But there's one thing you (as a HSBC cardholder) may want to be mindful of.

This applies if you had cancelled a previous HSBC card and gone on to get a new card from the same bank.

Check if the cash rebates accruing to the previous one have been transferred to the new card.

If yes, you have a card-holder to thank for -- and his protracted efforts to ensure this is done.

Charles (not his real name) had cancelled his card in March 2013 after he noticed in the monthly card statement an item he didn't buy.

Fearing that his card had been compromised, he asked HSBC to cancel it and issue him a new one.

Sometime in Aug, he suddenly realised that the cash rebate for 1Q of 2013 had not been credited to his new card, he told NextInsight this week.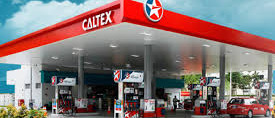 (The cash rebate, which is of varying percentages on the purchase price, is given when a cardholder makes a minimum of S$600 in "eligible purchases at participating merchants per month for all 3 months in a quarter.)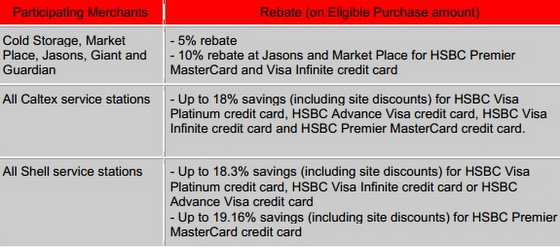 Cash rebates under HSBC's latest promotion.

Charles contacted HSBC, expecting not just his entitled rebate to be credited to his new card but also a simple explanation from the bank. He said he had a frustrating experience.

On 15 Aug 2013, he wrote to HSBC asking why no quarterly cash rebate had been given to him.

"While awaiting a reply, I received the card statement (covering the period between 5 Aug 2013 and 3 Sep 2013) from HSBC and noted that a $31.92 cash rebate was credited on 2 Sep.

"I asked HSBC what the amount was for. After several reminders and phone calls, the bank replied on 13 Sep that 'the reason that the first quarter cash rebate was not credited into your account was due to a technical glitch'.

"HSBC added that the $31.92 was for the rebate for the first quarter of 2013 that it had missed paying.

On the same day, he sought clarification, particularly on the 'technical glitch' and how it came about. Again, only after several reminders and phone calls, HSBC replied on 24 Sep: "...the reason that the first quarter cash rebate was not credited into your account was due to your previous credit card was reported lost."

As the reply did not explain the technical glitch, Charles reckoned that the system was configured to track a card-holder's purchases by his card number, and did not auto-credit the rebate to a new card (as it had a new number) when the previous one was cancelled.

Still seeking to understand the "technical glitch", he wrote to the Monetary Authority of Singapore, pointing out that financial institutions ought to maintain their records properly and must be transparent.
The MAS forwarded Charles' email to HSBC which, on Nov 25, emailed to Charles: "We can understand your frustration and unfortunately we have no valid excuse for the service lapse. The issue has been highlighted to the relevant team for further review and improvement to facilitate better banking experience.

"There were some customers impacted due to this issue for whom we have done a manual credit to their account when the concern was raised."

Charles said he asked HSBC if it had told affected cardholders the cause of the lapse.

"HSBC has declined to answer."

Why doesn't Charles just stop being a customer of HSBC? He said: "Other credit card issuers are reluctant to issue cards to senior citizens like me."

In the meantime, the discounts at, mainly, Caltex and Giant keep him using his card.