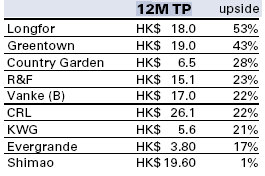 Goldman is upbeat on several developers.Goldman Sachs: 10 Hong Kong housing 'Buys'

Goldman Sachs has "Buy" recommendations on 10 Hong Kong-listed property plays: Longfor, Greentown, E-House, Country Garden, R&F, KWG, Shimao, CRL, Evergrande and Gemdale.

Healthy recent real estate sales helped the sector's outlook.

"As of the beginning of December, 19 of 26 cities with data available on a median level saw (near term) volumes increase, with a group median of +20% y-o-y.

"In terms of average selling prices (ASPs), 23 out of 27 cities saw prices increase YTD, with a group median of +7% y-o-y," Goldman Sachs said.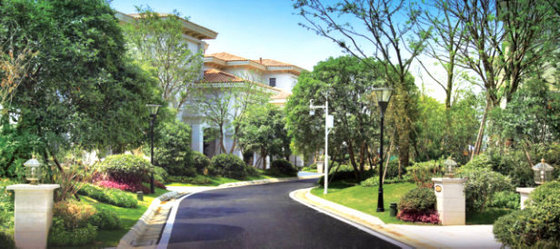 Guangdong Province-based Country Garden focuses on high-end residential projects.
Photo: Company

On the other side of the recommendation spectrum, the research house has "Sell" calls on Yanlord, PCRT and Risesun.

Key downside risks include unexpected policy tightening/macro hard landing while key upside risks are better-than-expected economic conditions/policy loosening.


---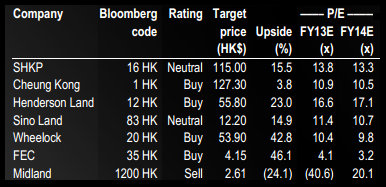 Bocom is more bullish on Henderson Land.Bocom 'Market Perform' on HK-listed developers

Bocom International has a "Market Perform" recommendation on the Hong Kong-listed property space despite lingering worries over more expensive credit going forward.

"How big is the rate hike fear? We understand the market's bearish view on property prices is mainly based on falling rents and yield expansion, along with the (expected) interest rate hike.

"However, we believe the market might have overestimated the impact of rate hike," Bocom said.

The research house compared the four major rate hikes over the past 20 years, and only half of them led to major corrections in property prices, and those were surprise hikes that coincided with the Mexican/Asian financial crises.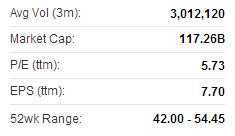 Henderson recently 44.15 hkdIn fact, during the latest rate hike in the second half of 2011, property prices sharply rebounded after an initial 5% decline.

"Therefore, we believe property rents and overall inflationary expectations also play an important part.

"And as we discussed previously, we believe the market has underestimated the growing housing demand, backed by household formation and delayed completion."

Bocom expects property rents to remain on an uptrend, unless there is a slowdown in HK/China economic growth as household formation is also a function of economic activity.

"As the government is keen to rebuild its land reserve, developers such as Henderson Land (HK: 12) and New World Development (HK: 17) might benefit, if the government speeds up the rebuilding of its land reserve through farmland conversion."


---

See also:

YANG HUIYAN Became China's Richest Woman At 26

WANG JIANLIN: China's Richest Man A Global Spendthrift?