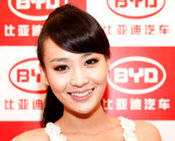 BYD was the most searched mass-market auto play on Baidu last quarter.
Photo: CompanyBACK IN THE DAY, market researchers would go vendor to vendor – and shopper to shopper – to verbally tally which brand had the highest name recognition.

Now, the Digital Age saves us a lot of pavement pounding.

Merrill Lynch compiled brand hit rates on China's top search engine Baidu -- which controls 80% of the domestic market – with BYD Auto, jeweler Chow Sang Sang and fashion sportswear leader Xtep all doing well.

Merrill Lynch said it used China's top search engine Baidu – which commands an 80% domestic market share – to determine which consumer product names in the China market were the hottest in terms of search hit rates in the first quarter of the year.

"While we cannot say that Internet search frequency guarantees or even accurately reflects brand strength or profitability, we think it does offer valuable insight into consumer interest and brand mind share, and may be a leading indicator of future market-share moves," Merrill Lynch said.

Across consumer categories, the most searched brands in 1Q13 were e-commerce (Taobao, 360buy, etc), followed by restaurants (KFC, Pizza Hut and McDonald's), consumer electronics retailers (Suning: SZA.002024; GOME: HK.493), Nike, LV, Chanel and Japan's Uniqlo.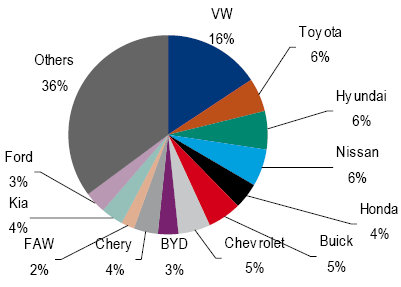 Despite a relatively modest market share in China, BYD was the most commonly-seached mass-market auto brand on China's top search engine recently. Source: Merrill LynchFirst quarter highlights

E-commerce, Yum China, beverages and luxury stand out as the highlights for 1Q13, Merrill Lynch said.

Taobao significantly widened its lead against 360buy and other e-commerce competitors.

KFC (Yum China)'s search hits continued to drop for two quarters in a row, possibly as a result of the chicken supply issue.

"Beverages saw a huge reshuffling with Tingyi (HK 322) losing #1, Coke dropping out of the Top 5 and domestic players gaining traction," the research note said.

Reshuffling in luxury also continued with strong momentum of Coach (HK: 6388) and Prada (HK: 1913), and a further slip for Gucci.

The top players' league remained the same for department stores (Intime (HK: 1833), New World & Printemps), consumer electronics retailing (Suning & GOME) and food retailing (Walmart, Carrefour & CRE: HK.291) in 1Q13 as in 4Q12.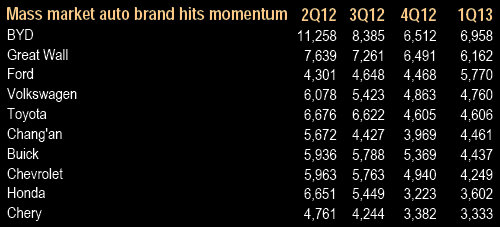 Source: Merrill Lynch

Footwear/sportswear: Shuffling of feet

The gap between #1 and #2 was mixed across categories.

"The combined hits for Top 10 in ladies footwear declined 19% YoY and 16% QoQ, partly because aggressive promotions started to draw less consumer attention now," Merrill Lynch said.

No.1 Daphne (HK: 210) and No.2 Belle (HK: 210) both saw >20% QoQ decline, but the gap between the two narrowed.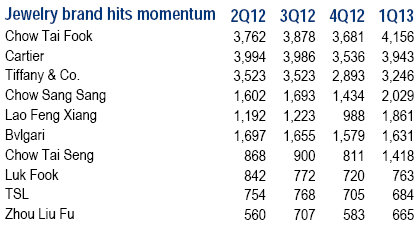 Chow Sang Sang rose higher in the Baidu search competition thanks to more attractive gold prices and an expanding retail network.
Source: Merrill Lynch

In casual wear, Uniqlo's (fast retailing) lead over No.2 Zara also narrowed QoQ, possibly as a result of the abnormally high base in 4Q12.

And in sportswear, Nike's lead over Adidas widened in 1Q13, partly due to the popularity of its official website.

Big beverage reshuffling; Coke dethroned

In the beverage space, drinks and instant noodle giant Tingyi lost #1 to domestic herbal drinks (Jiaduobao and Wanglaoji), with search hits down 53% YoY and 56% QoQ.

"Interestingly, it might not be necessarily a negative to Tingyi, as the 4Q12 search queries for Tingyi were dominated by the alleged relationship between Tingyi and Japan, which faded away in 1Q13," Merrill Lynch said.

The strength of the latter two might be related to the continued legal cases and high profile A&P campaigns.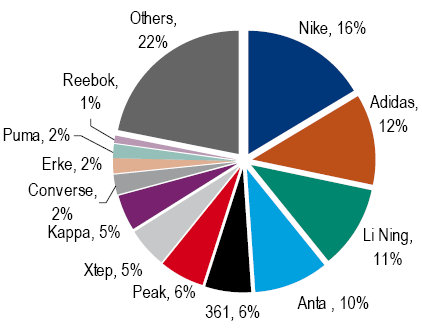 Xtep's recent market in China stood at 5%, but it's hit rate on Baidu was No.3 among domestic brands. Source: Merrill Lynch

"Meanwhile, for the first time since our series launch (in 4Q10), Coke's ranking dropped out of Top 5, and its position was taken by another domestic player Wahaha, given its aggressive new product launch and sponsorship of a popular TV show."

In the dairy competition, Yili (SHA: 600277) slipped to #3 from #1 while Mengniu (HK: 2319) retained #4.

Among instant noodle brands available in China, Tingyi and Uni-President China (HK: 220) swapped positions with the former regaining #3, but the gap between the two was negligible, while Tsingtao (HK: 168; SHA: 600600) stayed "King of Beers" in China, maintaining its #1, with Snow (CRE) recovering to #4, after a sudden dip to #6 in 4Q12.

Luxury reshuffle continues

Gucci further slipped to #7 in the first three months, from #5 in 4Q12 and #3 in 3Q12, while Coach rose to #3 in 1Q13 from #4 in 4Q12 (it was only #8 back in 1Q12).

Meanwhile, Prada moved 2 spots up to #4.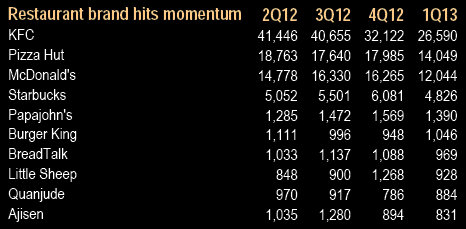 Fast Food Frenzy: KFC, Pizza Hut and McDonald's were the most commonly searched restaurant brands in China last quarter, largely due to their home-delivery service. Source: Merrill Lynch

Watches keep in time

With no change in ranking, the sector's hits in 1Q13 continued the declining trend in 4Q12.

Longines, Omega and Swatch maintained the top three spots.

Chow Sang Sang on the move

In the jewelry sector, Chow Sang Sang (HK: 116) moved into fourth place.

By doing so, the Hong Kong-based jeweler is now rubbing shoulders with foreign heavyweights Cartier (#2) and Tiffany & Co (#3).

Hong Kong's Chow Tai Fook (HK: 1929) held onto its leading position.

BYD in high gear

In the luxury auto race, BMW's #1 spot was overtaken by a surging Cadillac (only #5 in 4Q12).

Meanwhile, in the mass market auto sector, Ford moved up from #7 to #3 in the 1Q13, given the wide interest in its "Maverick" SUV.

But Shenzhen-based hybrid automaker BYD Co (HK: 1211; SZA: 002594) was the big story, maintaining its top spot for the fourth consecutive quarter in the mass auto market as far as Baidu search tallies are concerned.

---

See also:

BYD AUTO: Finally Charged For Sustained Ride?

Gold Rush: CHOW SANG SANG Leading Jewelry Sales In PRC

XTEP Top Net Asset Backing