Main reference: Story in Sinafinance

INVESTORS FINALLY GOT what they've been waiting for with China and Hong Kong shares both surging over 2% on Friday to finish the week above key psychological levels.

So is this just bargain hunting at play, or the beginning of something better?

Shanghai Composite jumps 2.1%

The benchmark Shanghai Composite Index, the go-to barometer for A- and B-share performance in Shanghai and Shenzhen, closed Friday up a sharp 2.1% to finish at 2,245, finally achieving the long-awaited goal of crawling above the one-year moving average.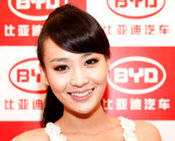 Will government support of green tech plays like BYD Auto help lift A-shares? Photo: CompanyIt also finished the volatile trading week over the key 2,220 threshold.

Looking at things from a more contemporary vantage point, China shares are up over 15% from the 1,949-point nadir set in early December of 2012, but down nearly 8% from YTD highs seen in early February.

The main contributors to Friday's flurry of buys were financial sector plays including brokerages and banks.

But gains were seen across the board in sectors like non-ferrous metals, coal, power generation and autos, suggesting a generally more positive outlook for the economy at large.

More interestingly, over 20 individual counters were halted from trade on Friday after they reached their intra-day 10% upside limit amid high turnover.

The recent plummet in London Mercantile Exchange (LME) gold prices have peaked interest in the yellow metal, with bargain hunters pouring back into both the precious and base metal businesses.

Yunnan Luoping Zinc & Electricity Co Ltd (SZA: 002114), Yunnan Lincang Xinyuan Germanium Industrial Co Ltd (SZA: 002428) and Tibet Mineral Development Co Ltd (SZA: 000762) all hit their 10% daily upside.

Financial sector plays enjoyed a bountiful end-week harvest.

Brokerages as a group gained over 4% on the day, with Founder Securities (SHA: 601901) up 8.9%, Citic Securities (SHA: 600030) adding 5.5%, Sealand (SZA: 000750) rising 4.5% and Haitong (SHA: 600837) finishing the day up 4.4%.

Brokerages' banking brethren also rallied, with the sector's listco representatives adding over 3%.

Minsheng (SHA: 600016) rose 8.1%, Ping An Bank (SZA: 000001) added 6.0%, Industrial Bank (SHA: 601166) jumped 5.7% and Shanghai Pudong Development Bank (SHA: 600000) finished 5.3% higher.

Lower than expected recent inflation figures were coutnter-balanced by slightly weaker than anticipated GDP growth.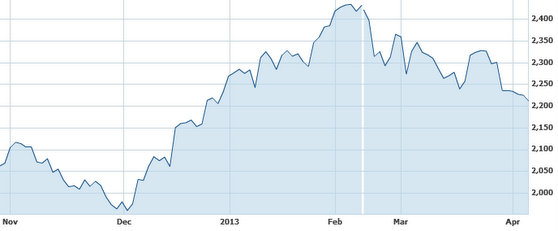 China shares are struggling to get back to their winning ways.     Source: Yahoo Finance

Market watchers say the main reasons for the strong finish to the trading week include the China Banking Regulatory Commission (CBRC) calling on lenders to help spur domestic demand, mainly through more appealing credit terms.

By doing so, not only can passbook accounts be augmented, but the trickle-down upside to retailers across the country is inevitable.

Add to this the fact that the newly-installed government in Beijing is equally desirous – if not even more adamantly so than the previous leadership – of bolstering economic growth at home with a more proactive domestic consumption campaign in the face of continued anemic external demand.

The recent appreciation trajectory of the Chinese yuan vis-à-vis the greenback is making convertible returns in the A-share markets more appealing to funds worldwide, hence the strong influx of capital into the market and the more robust daily turnover figures.

The consumer-led revolution in China, if it ever fully gets off the ground, is the key wildcard in the PRC's potential A-share recovery.

On the non-market based side of things, whether or not Beijing continues to reward the more productive alternative energy plays, automakers, pharma firms and infrastructure enterprises like high-speed railway listcos will also be well worth watching going forward.

Hang Seng Index surges 2.3%

Hong Kong's benchmark Hang Seng Index surged over 2.3% on Friday, finishing above the psychologically important 22,000 level.

That's a good base to build on, but still down over 8% from February highs.

A recent Hong Kong shares upgrade by Morgan Stanley is also breathing new life into the SAR's bourse, as well as renewed optimism on performances in neighboring markets in Shenzhen and Shanghai.

---
See also:

Top China Investor Says Stocks And Guanxi A Bad Mix