Main reference: Story in Securities Times

WANG YAWEI is perhaps China's best known investor, having made millions playing the country's bourses.

But he says his success is not due to relying on guanxi, the Chinese art of relationship-building and special favors.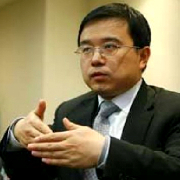 Investor Wang Yawei.
Photo: SinafinanceAnd more importantly, Wang said nor should anyone else's.

Like the current state of China's stock markets, Wang's professional standing entered a turbulent stage a year ago.

Wang, one of the PRC's most successful brokers, stepped down in April 2012 from his standing as the standout public funds manager with China Asset Management (China AMC), where he honed his talents and augmented his legendary reputation for 14 years.

He further etched his name in investing lore with perma-marker between 2006 and 2011 during which he beat out all PRC equity funds with an industry-leading ROI of 890%.

And his post-AMC market-moving life has since evolved to his launch earlier this year of a new  one billion usd-strong private equity fund targeting wealthy investors from around the world looking to make a buck or two in China's A-share markets.

So from being the star broker in China's top AMC to striking out on his own as a high-profile fund manager with a stellar portfolio, Wang is well-positioned to speak on the wisdom of mixing market acumen with guanxi.

As manager of the newly-established fund, Wang still says there is no let-up to the day-to-day work pressure on the job.

But he says that his decade and a half experience plying China's capital markets has left him more rational and sober in thought as far as decision-making processes are concerned.

His seemingly flawless picks during his heyday at China AMC gave rise to his sometimes being referred to as "China's Buffett" or more commonly the term "Wang Yawei Effect" fastened to any onrush of fund manager buying behavior following a major move by the man himself in buying or selling any listco or sector play in particular.

"I would prefer there were no such thing as a 'Wang Effect'. If the local markets were more mature and developed, phrases like this would never enter the common parlance," he said.

So investors are naturally curious to know the rhyme and reason behind Wang's relative stock-trading success.

He said he had a strong aversion to other houses or retail investors watching his every move, looking for involuntary guidance on where to put funds.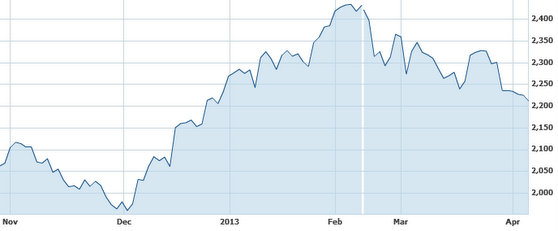 China shares recent performance.     Source: Yahoo Finance

Yet he added that he attributed his past and present success not a smidgen to special favors.

"Contrary to popular belief, I very seldom met face to face with listco executives. I can say with certainty that not a single contact number from an A-share chairman was saved on my cell phone."

As hard as that is to believe about "China's Buffett," Wang said he was adamant about relying on his own research skills and market intuition rather than perks-laden guanxi-building exercises to strike it big with stocks.

"I realize business relationships are important for greasing the wheels of commerce.

"But investing is a different animal altogether, and I would urge all market players to remember that you should never base your share buying, selling or holding decisions on which executive you enjoy cordial, friendly or strong relations with."

After all, friendship and special treatment clouds the judgment of investors, who must put all sentiment and gratitude on the back burner when making crucial share-buying decisions.

Given Wang's equity track record, this somewhat surprising advice from the land of guanxi should perhaps be taken more seriously than garden variety analyst takes or broker calls.

---

See also:

Green Shares Will Outlive Turmoil