Main reference: Story in Securities Times

SPORTSWEAR FIRMS listed in Hong Kong have more or less reached the earnings calendar finish line with most having already released their 2012 results.

So which made the most money, and which gave away the most ... in terms of dividends?

Xtep International (HK: 1368) is China's top fashion sportswear brand, using a high-profile lineup of both sporting and entertainment celebrities to firm up its brand image across Greater China and beyond.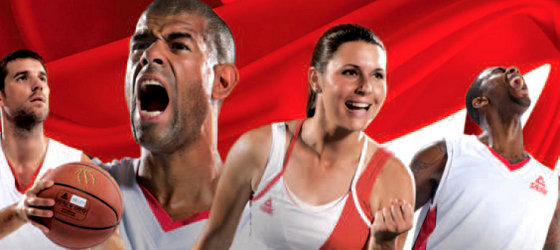 Face Time: Peak Sports is hoping to boost its street cred with some well-known faces.
Photo: Peak

The Hong Kong-listed firm was one of the few sector players that managed to boost turnover, with 2012 revenue edging up 0.2% to 5.55 billion yuan amid a sluggish global economy, less robust than usual GDP growth in Mainland China a chronic problems endemic to the industry of overcapacity and inventory backlogs.

The additional good news on the revenue front was that the Fujian Province-based sportswear firm, which has been heavily promoting its "Love Running, Love Xtep" campaign, saw stronger orders for its footwear products.

The push toward sneakers and cross-trainers was substantially helped by Xtep's sponsorship of major running events, including the recently-concluded Standard Chartered 2012 Hong Kong marathon.

"Revenue from footwear products is rising," Xtep CFO Mr. Terry Ho said in a media interview.

Xtep's 2012 bottom line was slightly lower at 807 million yuan versus 966 million a year earlier in part due to capital investment increases.

Purchase of items of property, plant and equipment last year rose 93.5% to 165.2 million yuan.

Despite the slight dip in net profit, Xtep's board has recommended a final 2012 dividend of 10.0 RMB cents per share and a special dividend of 4.5 RMB cents per share, subject to approval by shareholders at the AGM scheduled for May 27.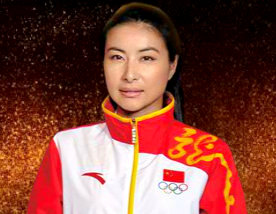 Chinese diver Guo Jingjing is an Anta face.
Photo: AntaXtep's 2012 dividend would represent one of the biggest payout increases among its peers.

Xtep's rival Anta Sports (HK: 2020) struggled last year on the earnings front, blaming "sluggish demand" for its net profit falling nearly 22% year-on-year to 1.4 billion yuan on a turnover drop of 14.4% to 7.6 billion.

Yet its Hong Kong-listed shares recently jumped 5% in a single day, propelled by the PRC sportswear retailer's decision to offer generous dividends despite the much less rosy earnings situation last year.

A final dividend of 17 HK cents was recommended by Anta's board, plus a special payout of 8 HK cents per share for 2012, which would represent a distribution ratio of 72% of the Hong Kong-listed firm's full-year bottom line, versus the just 61% witnessed in 2011.

The weaker bottom lines and stronger dividends of these two market leaders come even as market watchers believe the PRC's sportswear industry still suffers from overcapacity, inventory backlogs, discounting pressures and a surplus of players.

One analyst said that Anta's results last year fell short of expectations, yet the firm was hoping to elevate its share price via a "high-level dividend policy."

Not helping matters was the fact that Anta's order value at its latest trade fair fell up to 20% year-on-year.

It said it would "remain cautious" in store-opening plans for its retailers.

Anta aims to reduce its store number to 7,600 from over 9,000 now.

Meanwhile, sportswear peer Peak Sport Products (HK: 1968) reported its order book for the current quarter was also down 20% from year-earlier levels.

Peak's 2012 revenue dropped nearly 38% to 2.9 billion yuan, producing a net profit plummet of 60.1% to 311 million.

Despite the drastically deteriorated financial performance last year, the board recommended a final dividend of 3 HK cents and a special dividend of 2 HK cents per share, representing a dividend payout ratio for the year of 55%.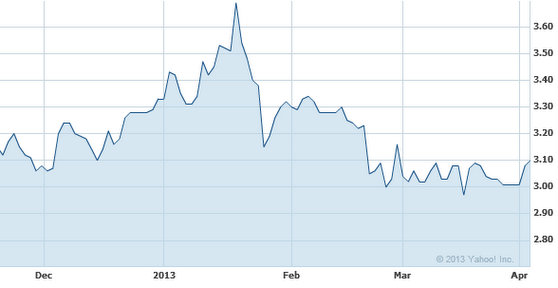 Xtep's shares are striving to revive their early-year surge. Source: Yahoo Finance

Former market leader and iconic domestic brand Li Ning (HK: 2331) announced it swung to a full-year 2012 loss of 1.98 billion yuan versus a net profit of 356 billion the year earlier, with no dividend recommended for last year.

The sportswear giant plans to raise 1.87 billion hkd via convertible shares to help restructure its retail sales channels.

The net loss last year was the first time Li Ning had finished in the red since it went public in Hong Kong in 2004.

Li Ning has been the recipient of capital investment from both TPG Capital and Singapore-based sovereign wealth fund GIC, but has been the worst-performing listed PRC sportswear brand of late on excessive inventory and over-rapid retail expansion in a softening market.

Market watchers urge investors to be even more vigilant than usual on earnings performance of Hong Kong-listed sportswear plays and not be unduly swayed into buying positions due to the relative generosity of dividend policies.
---
See also:

XTEP Inventory 'Almost Best'