Excerpts from DBS Vickers report this morning...

Analysts: TAN Ai Teng & LING Lee Keng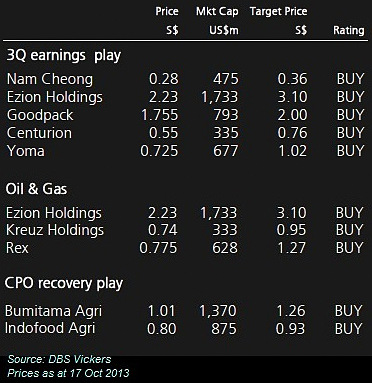 Superior growth. At current levels, valuation discount of SMC (13.6x FY14 PE) to large caps (14.4x FY14 PE) has narrowed from about 40% four years ago to less than 10% now.
It remains to be seen if this valuation gap will eventually flip in favour of small caps, as in the expansionary years of 2007/08 when SMCs traded at 10-20% premiums to large caps (LC).

Growth, we believe, will be the key game changer here as the economic expansion underway will draw investors to focus on growth. Indeed, our universe of SMCs has packed in superior growth of 24% in 2014 vs 12% for LCs.

3Q13 earnings scorers. Despite expectations of an uninspiring Q3, companies poised to report healthy y-o-y and q-o-q growth also have a good chance of beating forecasts.

Nam Cheong could surprise on the upside with stronger than expected vessel sales YTD. Ezion could also beat forecasts in extending a very strong margin trend from last quarter.
Other positive earnings report cards can be expected from Goodpack (stronger synthetic rubber demand), Centurion (higher dormitory occupancy rate) and Yoma, as indicated in its last quarter's outlook statement.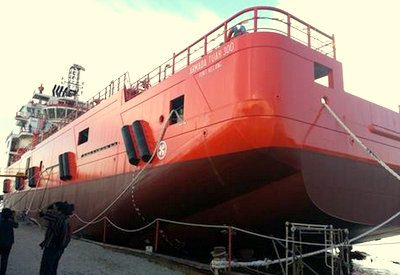 DBS Vickers says Nam Cheong is on track to deliver on its built-to-stock programmes of 19 vessels in FY13 (18 sold so far) and 25 vessels in FY14 (9 sold so far), and this will underpin FY12-14 EPS CAGR of 17%. Photo: CompanyO&G high growth picks. Oil & Gas is among our strongest growing sectors in 2014, thanks to the high oil price environment that supports sustained investments into E&P.

Utilisation rates for all offshore rig classes continue to climb. In tandem, day rates have also risen.

Our sector picks are Ezion and Kreuz for support services and Rex for robust upstream activities.

CPO recovery play. Despite lower prospective palm oil prices in the near term, our Plantations analyst expects most planters' 2H13 earnings to show a decent rebound vis-à-vis 1H13; premised on seasonally higher CPO sales volumes and lower unit costs.

For SGX-listed small mid cap planters, our analyst expects FY14 earnings for Bumitama and Indofood Agri to rebound 62% and 132% respectively.


Recent story: NAM CHEONG, SUNTEC REIT riding high on new developments