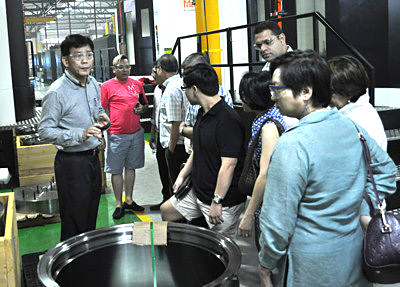 JEP Precision Engineering CEO Soh Chee Siong (left) taking investors on a tour of the company's plant in Changi South. In the foreground is a component for aircraft engine casing.Photos by Leong Chan Teik

Few Singaporeans know that every month, homegrown JEP Holdings manufactures 60 sets of engine casings for new aeroplanes.

A set of two casings is fitted onto each aeroplane, which may be a Boeing or an Airbus.

JEP operates out of a factory in Changi South, and has proven its capability in manufacturing parts that have to be totally reliable as the safety of air travellers is at stake.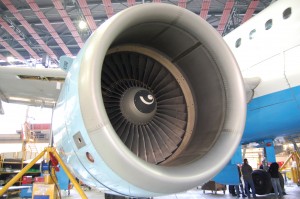 JEP produces casings of aircraft engines. Photo: InternetAs we learnt during a visit to the company last week, JEP is, in fact, the world's largest producer of aeroplane engine casings for B737 and A320.

It has a 70-80% market share.

Working with niche materials that can withstand extreme temperatures, such as inconel, titanium and stainless steel, JEP shapes and crafts them into finished products complying with stringent specifications.

This is ultra-high precision machining and engineering, which generates US$6-7 million a year in revenue for JEP. This is the value-added fee and does not include material cost since the material is supplied by the client.

Other aerospace parts which JEP produces are brake rods and drag braces which go into the landing gear systems of Boeing 787 and Airbus 350 aircraft.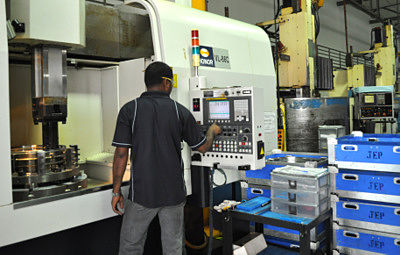 JEP started 20 years ago with 1 machine. Today, it has more than 100 sophisticated machines. Capex in the next five years is projected at US$3 m a year.Unlike engine casings which JEP has produced for many years, the landing gear parts business started only in 2Q this year.

The company has about US$5.68 million worth of orders up to next year.

Another US$45 million worth of orders are potentially waiting in the wings for JEP to deliver between 2015 and 2018.

The aerospace sector generated close to 60% of the S$18 million in JEP's group revenue in 1H2013.

Oil & gas sector: Second growth driver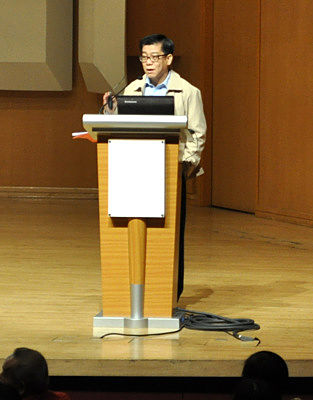 JEP executive director Koh How Thim at a NRA Capital-organised seminar over the weekend at the Singapore Conference Hall.Its first significant contract was with Aker Solutions ASA, which expired after five years last year.

A leading global oilfield products, systems and services company, Aker has renewed it for another five years. The contract is worth S$13.7 million.

Aker ships the raw material from France to JEP for the latter to produce components for systems used in ultra-deep water drilling for oil.

"Our business is stable. Once you get a contract, it lasts for many years as long as you continue to deliver on quality," said Mr Soh Chee Siong, CEO of JEP Precision Engineering.

Who are its competitors?

"In Singapore, we don't have any. We are competing with players in other parts of the world. Our price is competitive and our other key attractive factors are quality and delivery," said Mr Soh.

"We focus on large-format, complicated parts which the small shops in Kallang, etc cannot do. And we focus on exotic materials such as inconel and titanium."

Added executive director Koh How Thim: "Over the years we have established a brand name. That's why clients come to us."

With bright business prospects, JEP is seeking land to expand its manufacturing capacity beyond its 120,000 sq ft factory in Changi and 40,000 sq ft factory in Loyang, and is talking to a government agency on this.


Turnaround story?
JEP, which is listed on the Singapore Exchange and has several other smaller business segments, recorded S$2.4 million in net profit from its continuing operations. This compares with a S$209,000 loss in 1H2012.
Note that 1H2013 saw a fair value gain of S$2 million (related to its acquisition of Dolphin Engineering) versus none in the previous period.
JEP surprised with its first-ever interim dividend recently, paying 0.1 cent a share. The company is expected to maintain the 0.1 cent final dividend it paid for 2H2012.
Last year, for the first time since its listing in 2004, it paid a final dividend.
"We have spent a lot of capex and we need to be more balanced in giving back to shareholders," said Mr Joe Lau, the executive chairman and owner of a 17.8% stake in JEP.
Last year, JEP spent US$6.4 m on capex but expects the figure to average US$3 m a year over the next five years, subject to changes in business growth.
1H2013 revenue of S$18 m and full-year 2012 revenue of S$36 m may look smallish but these are virtually all service fees. If JEP had procured the raw materials, the revenue would be around S$120 m in 2012.

Top management exuded confidence when discussing business growth prospects, and signalled its plan to step up its engagement with the investment community. Currently, its shareholders are almost exclusively retail investors.
"We have built up our business steadily. We have come to a point where we want to emphasise investor relations and it's a matter of time before we attract fund managers," said Mr Koh, the executive director.
NRA Capital has an "overweight" recommendation on the stock (recently 4.5 cents) and pegged its fair value at 6.3 cents, based on 10x PER FY14 or a 30% discount to its peers in the aerospace industry.


For some recent history of JEP Holdings, read Business Times' March 2011 article: JEP Holdings steered back into the black