Geo Energy shares surge 18.3% on Jim Rogers' buying
WORLD-FAMOUS investor Jim Rogers, who lives in Singapore, has made his first purchase of shares of Geo Energy Resources today.
A Non-Executive Director of the company, Rogers acquired 1,700,000 shares at S$0.355 each for a total of S$603,500.
The share price closed up 6.5 cents,or 18.3%, at 42.5 cents.
The stock traded on massive volume of 152.9 million shares, which was about 15X the average daily volume in the past three months.
For 1H2013, Geo Energy posted a 14% increase in net profit to US$10.4 million.
The Group benefited from an increase in coal production and sales from its own BEK mining concession coupled with an increase in equipment rental income.

In addition, new business activities -- namely mining services and coal trading -- also contributed additional revenue, resulting in an overall 11% increase in revenue to US$50.0 million.

On the flip side, there was negative impact from the termination of the Group's coal cooperation contracts and a decrease in the average selling price by US$27.5 per tonne from US$62.2 per tonne in HY2012 to US$34.7 per tonne in HY2013.


Recent article: GEO ENERGY: Growth strategy to counter volatile coal prices
---

Roxy-Pacific shares up 5% on bonus news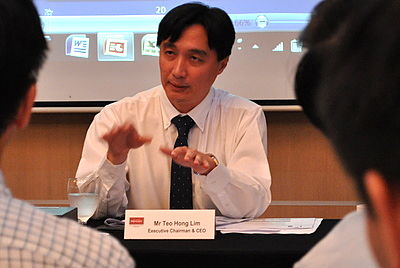 Roxy chairman and CEO Teo Hong Lim. NextInsight file photoShares of Roxy-Paciifc Holdings today shot up 3.5 cents, or 5%, to close at 72.5 cents after the company proposed a bonus share issue of 1 bonus share for every 4 ordinary shares held.

This is the second bonus issue by Roxy-Pacific since its listing in 2008.

The first took place only last April whereby 1 bonus share was given for every 2 ordinary shares.

Adjusted for the 2012 bonus issue, Roxy-Pacific's share price would have been 20 cents at its IPO (unadjusted: 30 cents).

This translates into a 262% gain in the stock price over the past 5 years or so, which in turn is an average of 52% a year -- thanks no doubt to, chiefly, the strong earnings growth of the business and its future prospects.

Recent story: ROXY-PACIFIC: $1.1 Billion In Revenue Yet To Be Booked