Main reference: Story in Sinafinance

US INVESTOR JIM ROGERS, who currently calls Singapore home, has made a move into Hong Kong-listed China plays with a particular interest in agricultural resources.

He's calling it the first buying opportunity he's seen there in five years.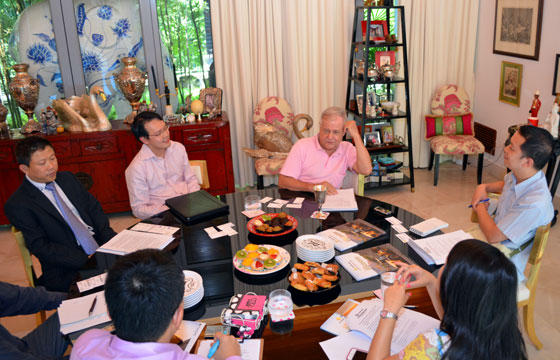 US investor Jim Rogers (center, pink shirt) has held media briefings at his Singapore home in connection with developments at Geo Energy Resources. NextInsight file photo

The 71-year-old has a long history of interest in commodities investing, having founded the Rogers International Commodity Index 15 years ago, and is an outspoken promoter of investing in agriculture in particular.

After having said that he would only get back into the China market after a major fall in stock prices for PRC-based listcos, apparently the time has now arrived.

With the quarterly reporting season in full swing, the Baltimore-born bourse baron is particularly keen on environmental and agricultural-based themes in China this time around.

Mr. Rogers' sudden resurgence of interest in the sectors coincides with a flurry of recent reports from leading brokerages touting the investment benefits for various Hong Kong listcos.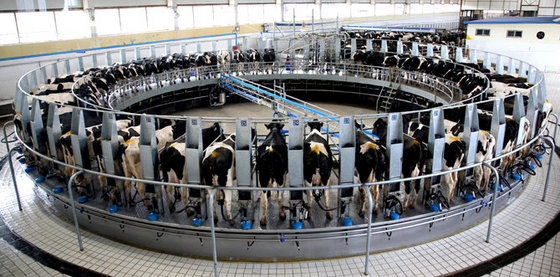 Jim Rogers is bullish on China's agricultural sector. Photo: China Modern Dairy

Diversified power firm and clean coal consumer Huadian Power (HK: 1071) recently received upbeat reports from Goldman Sachs, UBS and Credit Suisse while Credit Suisse is also bullish on China Modern Dairy Holdings Ltd (HK: 1117).

The Hang Seng China Enterprises Index (HSCEI), a.k.a. the H-Shares Index, which is composed of the largest PRC-based enterprises with H-share listings in Hong Kong and contains the resource stocks currently attracting Mr. Rogers' attention, is expected to see its average P/E ratio rise 1.54% over the next 12 months to 7.6 times.

Meanwhile, the broader benchmark index in Hong Kong – the Hang Seng Composite – is forecast to see its average P/E ratio slip 0.19% over the next 12 months to 10.7 times.

The main reason for the better expected performance for the HSCEI is primarily due to stronger forecasts for resource shares.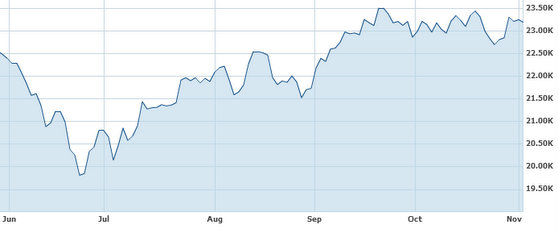 Recent Hong Kong shares performance. Source: Yahoo Finance

Like other mega-successful investors, Mr. Rogers is not jumping onto the wagon mid-journey. He said earlier this week at an investment seminar in the PRC that he began shifting his portfolio to resource-based H-shares as early as August, adding that he wasn't done buying into the sectors.

"This is the first opportunity I've seen here in five years," he said.

He said one of the keys to success in resource investing is keeping a close eye on any changes in government policy because regulations can shift overnight and Beijing is also able to suddenly pump big money into areas it picks and chooses via subsidies or outright investments.

The American added that a quick look up at the skies in many of China's biggest cities – Beijing in particular – told him that clean energy resources and environmental themes were winning bets right now, and he expected investment in these areas to jump by 25% over the next half decade.

"There are some untapped investment opportunities within companies that want to help solve or ease China's growing pollution problems," he said, without mentioning any of his recent picks by name.

And with China's growing middle class, ongoing urbanization and increasing environmental risks to its core food supplies, Rogers' interest in investing in the world's biggest country's environmental and agricultural resources became all the more explicable.

He added that the new Chinese leadership's repeated support for the country's agricultural sector was another reason to be keen on farming resource investments.

"Agriculture will be the best investment theme in the coming decades," Rogers said.

He also said he was steering clear of Chinese property because of overheating and he wasn't too interested in gold even if prices plummeted.

---

See also:

Jim Rogers Buys GEO Energy Shares