Dr Lin Yucheng, CEO of United Envirotech. NextInsight file photo

UNITED ENVIROTECH (UEL) has proposed to acquire a 100% stake in Memstar Pte. Ltd. ("MPL"), a wholly-owned subsidiary of listco Memstar, and certain assets from Memstar, for a total consideration of S$293.4 million.

In a joint announcement this evening, both companies said 25% of the consideration will be satisfied by way of S$73.4 million in cash and the balance 75%, or S$220.1 million, through the issue of 200.1 million UEL shares, at S$1.10 per share.
The transaction will be subject to the approval of shareholders of both UEL and Memstar.
UEL currently holds a 13.2% stake in Memstar which was acquired in January 2013.
Giving the rationale for the takeover, United Envirotech said one of its current core businesses is providing engineering services which involve the design, fabrication, installation and commission of membrane-based water and wastewater treatment system using advanced membrane technology.

As such, the stable supply of membrane products is critical.

For the 9 months ended 31 March 2013, more than 50% of the Group's membrane products were supplied by Memstar.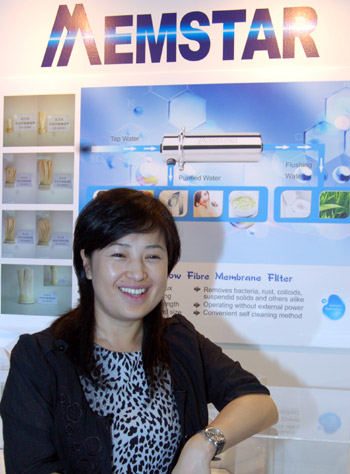 Ms Pan Shuhong, executive chairman of Memstar Technology. NextInsight file photoIn addition, Memstar is a leading manufacturer and supplier of PVDF hollow fibre membrane and membrane products, and one of the few manufacturers of high-performance PVDF hollow fibre membranes in the world today.

Acquiring Memstar Pte Ltd would enable UEL to:
(i) secure upstream membrane manufactory capability and become a vertically integrated water treatment solution provider ;
(ii) benefit from the growth of Memstar's strong membrane technologies and research and development capacities, which will in turn strengthen UEL's value proposition to attract and retain new clientele.

Memstar said if shareholders voted at an EGM in favour of maintaining its listing status as a cash company, it proposed to distribute the net proceeds by way of a special dividend and/or a capital reduction.

Memstar shareholders will receive their respective entitlements by way of a distribution in cash and a distribution in specie of the consideration shares in proportion to their shareholdings in Memstar on the basis of one consideration share for every ten shares held by them on the books closure date.

Alternatively, shareholders could vote to delist Memstar following a proposed distribution via a voluntary liquidation.

Recent story: MEMSTAR TECHNOLOGY: Key takeaways from meeting with CEO