'It's getter better and better, better and better' -- that is the refrain of a popular ballad in 2nd tier PRC cities. Blasted at Zhongmin Baihui's new mall opening recently to throngs of shoppers queuing for a taste of first-tier city lifestyle, the song speaks of consumer sentiment in China.

Photos and videos by Sim Kih

CASH REGISTERS are ringing loud in China. For the first quarter of 2013, total retail sales of consumer goods in China reached Rmb 5.5 trillion on real growth of 10.8% year-on year.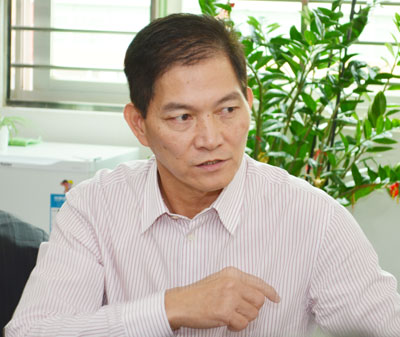 'Wage increases are good for Zhongmin Baihui, as it increases mass spending power,' said executive chairman Lee Swee Keng.Recently, NextInsight flew to Fujian to check out the fanfare that keeps Zhongmin Baihui Retail Group's shopping malls abuzz with business.

Executive chairman, Mr Lee Swee Keng, led the visiting delegation around its shopping malls in Quanzhou and Xiamen --from its smallest mall in Quangang to its flagship mall in Wucun.

Mr Lee explained how the Group keeps its malls bustling with traffic through service quality, and by constantly launching newer and better malls:

"As there is no exclusivity to the goods carried by retailers such as Zhongmin Baihui, the only way to distinguish one's shopping mall from the competitor is service quality," he said.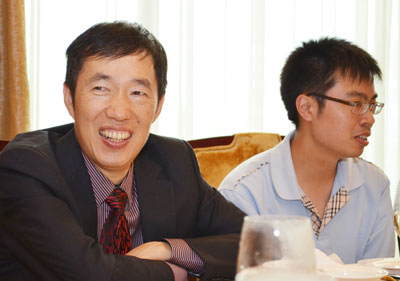 CEO Chen Kaitong (left) with Business Times reporter Cai Haoxiang at a restaurant lunch hosted by Zhongmin Baihui for the delegates.
"That's where clothes alteration service, returns policy, fanfare of new mall launch draws crowds and retains regular shoppers."

We visited two cities: Xiamen - a major tourist city with a population of 3.67 million and Quanzhou, the 12th largest PRC extended metropolitan area with a population of 6 million.

We checked out its malls under operation as well as sales showrooms with architectural models for real estate under development where the Group will be an anchor retail tenant and also visited buildings soon-to-be occupied by its shopping malls.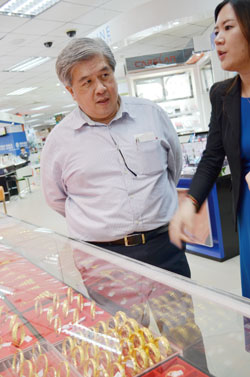 Executive director Low Chui Heng at in-store gold jewelry counter.
The highlight was Zhongmin Baihui's grand opening of its 10th shopping mall in Quanzhou on Sunday, 28 April.

Known as Quanzhou Xinhua Store, the new mall gives consumers the experience of a mall of the quality found in first-tier cities.

It is strategically located next to a top Fujian tourist destination, one of the oldest Buddhist temples, Kaiyuan Temple, and close to popular historical and scenic spots such as Bell Tower, Zhongshan Road, Confucian Temple, Chengtian Temple, Guandi Temple and West Lake in Quanzhou City.

Zhongmin Baihui owns the mall and runs it on leased premises.

The mall has a gross floor area of 17,400 square meters. It is a 3-storey building with a basement supermarket.
The opening of Quanzhou Xinhua Store brings the total gross floor area of shopping malls managed by the Group to 162,200 square meters.


Self-owned shopping malls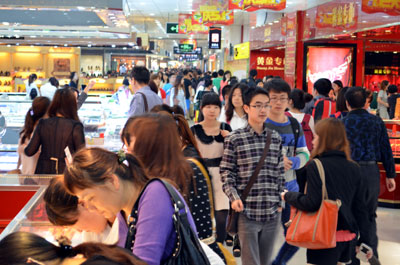 Built for high traffic: There are 12 entrances leading to the underground street mall spanning more than 410 meters in length, including 2 at the Railway Station Square, 5 in the Wucun Long-distance Bus Station which links the city to villages, and 5 in Southeast Aisa Hotel, Yinhe Building, Huaxia Hotel, Huaxing Building and Robinson Galleria.Other than the new Quanzhou Xinhua Store we also checked out Zhongmin Baihui's flagship Wucun Store and its Jiahe Store, both in Xiamen.
In general, its 'self-owned' malls are more upscale, larger and house a wider range of retail tenants and operated on leased premises. It has a third 'self-owned' mall in Nanjing.
Zhongmin Baihui's flagship shopping mall (on Xiamen Island of Xiamen City) is the Wucun Underground Commercial Street, is one of the largest of its kind in Fujian province. The flagship mall opened on 26 April 2010.

Its underground shopping area sits below one of the busiest tourist shopping districts in the city, linked by a network of walking paths and underground pedestrian crossings to the adjacent bus rapid transit station and Xiamen Railway Station.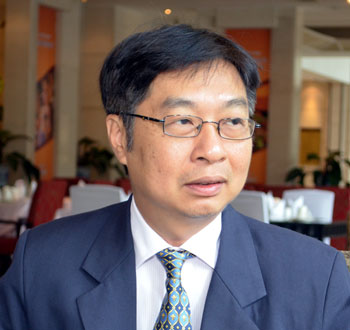 Non-executive director Andrew Lim was among the Singapore delegates.
The shopping mall has a gross floor area of 28,700 square meters, and houses a 4,100-square-meter supermarket, 158 shopping counters, cafés as well as drink & beverage stations.

Managed shopping malls

Its 'managed shopping malls' are generally smaller, commenced operations during the earlier years and located in Quanzhou. We saw its Hui'an Store, Tumen Store and Quanxiu Store.
We also saw its smallest emporium-type Quanzhou Quangang Store, which occupies 4,000 square meters of gross floor area and commenced operations in 2003.

These 'managed malls' are managed by the Group for Quanzhou ZMBH in return for a fee. Quanzhou ZMBH is directly owned by Zhongmin Baihui's management - CEO Chen Kaitong (61.7%), Deputy CEO Su Jianli (7.45%) and non-executive director Su Caiye (30.85%).

Pipeline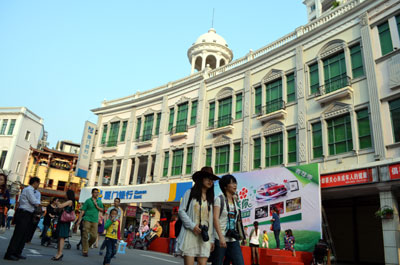 Zhongshan Pedestrian Street (Xiamen Zhongshan Lu Buxing Jie) is one of China's top 10 tourist streets. A large section of the street has been fully converted to a pedestrians-only walkway.
Zhongmin Baihui expects to start operating its Xiamen Zhongshan Store this year at a top tourist destination in Xiamen.

The shopping mall occupies a gross floor area of 16,000 sq m and is a 6-storey building with one basement.

Other than the Xiamen Zhongshan Store the Group expects to roll out another new mall in Fujian this year - Quanzhou Qiaonan Store as well as 3 new malls in Zhangzhou city, Hui'an county and Quangang district in 2014.

Quanzhou is an important city for light manufacturing industries and home to many listed enterprises. The Group hopes to ride on this, and the attractiveness of Quanzhou as a culturally rich city for more traffic to its malls.
Zhongmin Baihui's high-end merchandise include gold jewelry, liquors and expensive tonics like birds nest.

Related story: ZHONGMIN BAIHUI: China's Retail Boom Spurs Aggressive Mall Expansion