Gay Chee Cheong builds up stake in Mencast

Smart money is grabbing the opportunity to accumulate shares in sterngear equipment manufacturer Mencast Holdings.

Co-founder of 2G Capital Gay Chee Cheong first invested in Mencast in 2010. He bought another 200,000 shares from the open market on 11 September, raising his interest to 9.03%.

He paid 55 cents apiece, 57% higher than what he paid way back in 2010.

Tuesday's open market purchase follows his purchase of placement shares in March this year.

His investment is making progress --- Mencast's aggressive growth strategy via M&A has more than doubled its revenue from S$26.3 million to S$56.4 million over FY2009 to FY2011.

FY2011 EPS was 6 cents, 20% higher than the 5 cents in FY2009.
To expand business, it has embarked on the following acquisitions over the past two years:
* Unidive Marine Services - topside (Rope Access) and subsea (diving) services for the offshore and inshore marine industry

* Top Great Group - engineering design, procurement, fabrication and installation of structural and precision engineering systems and plants

* Fabrication plant and machinery of a metal precision components manufacturer

* Vac-Tech - industrial and environmental cleaning services provider
Related story: MENCAST: Transformed, And Taking Off In Oil & Gas Industry


---
8Telecom CEO continues to accumulate shares

8Telecom CEO Ye Tianyun is once again accumulating the shares of the telecom tower manufacturer.

Over the past 3 months alone, the CEO spent about S$100k purchasing from the open market 740,000 shares at an average price of 13.57 cents per share. His beneficial interest is now 74.4%.

He has been accumulating on the company's shares every one or two weeks since 2009.

The Group's 1H2012 net profit attributable to shareholders was up 28.3% at Rmb 9.4 million.

In July 2010, 8Telecom has made a strategic move to include property development as one of its core businesses.

It has successfully developed and sold high-end commercial property in Linping District, Hangzhou City, and has also acquired a larger-scale raw land in Wuchang District, Hangzhou City.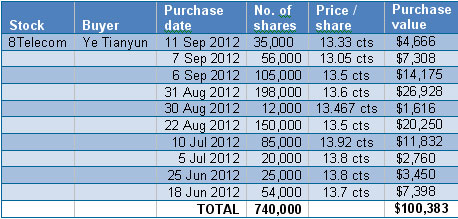 Related story: INSIDER BUYING: Osim, 8Telecom, Great Group, Etc
---
Wee Hur – share support and good dividend yield

At an EGM on 27 April this year, shareholders passed a share repurchase mandate that allowed Wee Hur to buy back up to 10% of its issued ordinary share capital within one year.

Subsequently, the company bought shares on 16 May and has purchased 13.2 million shares (2.02% of issued share capital ) in 5 months.

Its latest was on 7 September, of 442,000 shares at 27.5 cents per share, compared to 27 cents when the resolution was passed.

Other than share price support, Wee Hur also offers a high dividend yield of 6.8% (based on the last close price of 30 cents).

The construction player-cum-property developer reported a 96% year-on-year increase in profit attributable to shareholders to S$5.7 million on a 52% surge in revenue to S$128.0 million for 1H2012.

Related story: WEE HUR, LIAN BENG, HEETON: Riding On Property Boom