Excerpts from analysts' reports
UOB Kay Hian says REX has multiple catalysts this year
Analyst: Loke Chunying
With renewed interest in E&P companies following the surge in RH Petrogas' share price, we see a possible re-rating for E&P companies trading at a steep discount to asset value.
With six more exploratory wells to be drilled for the rest of the year, 2014 will be a busy year for Rex with multiple catalysts in sight. Investors can expect cash flow and profitability to improve as Rex prepares for early well production in Oman and its Cory Moruga concession. Maintain BUY.
Busy year with potentially multiple catalysts. Rex spudded its first onshore well in its Cory Moruga concession in Trinidad and Tobago (T&T) in end-April.
This is the first of a five onshore well-drilling programmes planned for T&T in 2014. The results of the drilling will be announced when all five wells have been drilled.
Another two exploratory wells will be drilled in 4Q14 at RAK Offshore and in Norway. Thus, 2014 will be another news-packed year for Rex, providing potential multiple price catalysts along the way.


The money is coming in... In addition to the five well-drilling programmes in T&T, Rex will also be putting an already discovered oil well in the Cory Moruga block (discovered in early-11 by the previous concession holders) into production later this year, after using its Rexonics well stimulation technology to optimise production flow.
Rex is projecting oil production from the wells in T&T to top 500 bopd by end-14 and even more in 2015. With the oil discovery in Oman, Rex is also preparing for early production by sourcing for equipment and obtaining the necessary approvals from the authorities.


Early well production is expected to commence in 1Q15. Based on a 48-hour flow test conducted at the start of the year, the well has a light oil flow rate of up to 3,000 stock tank barrels per day.


Maintain BUY and target price of S$1.27, based on the expected monetary value of Rex's exploration assets using forecasts from traditional geologist findings.
Recent story: REX International -- Target price S$1.19, says London broker
---
OSK-DMG keeps 'overweight' call on offshore & marine sector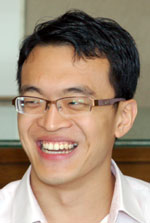 Analyst: Lee Yue Jer, CFA (left)

A rapidly-declining global Energy ROI (EROI) ratio suggests higher oil prices in the long run. A third of production now takes place offshore, with a tenth in deepwater, making offshore too important to be substantially reduced without a major oil price dislocation.

The jackup rig market is still tight with non-competitive rigs commanding USD110,000 day rates, giving us confidence that the market will be able to absorb the new supply coming in 2014- 15.

The OSV market looks increasingly under-supplied with the ratio of OSVs to active rigs falling. Oil and gas services players can also outperform.

Under these conditions, strategically, we prefer shallow-water market players with high growth and low valuations, offering a free lunch to investors by offering higher expected returns while taking lower risk.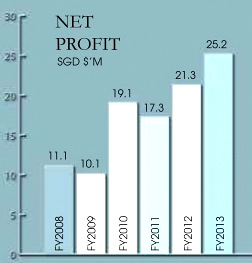 Marco Polo's steady profit growth. At 37.5 cents currently, the stock trades at 6.7X trailing PE and a dividend yield of 3.73%. Our Top Picks are Nam Cheong (NCL SP, BUY, TP SGD0.52), Ezion (EZI SP, BUY, TP SGD3.00), MTQ Corp (MTQ SP, BUY, TP SGD2.48), Pacific Radiance (PACRA SP, BUY, TP SGD1.43) and Sembcorp Marine (SMM SP, BUY, TP SGD5.00).

Marco Polo Marine (MPM SP, BUY, TP SGD0.65) is our new top alpha pick, with visible catalysts from a potential rig charter contract.

MPM replaces RH Petrogas as our top alpha pick after the latter surged >40% in the last two weeks.

Maintain OVERWEIGHT on the offshore & marine sector.

Full report here.
Recent story: LANTROVISION -- cash rich; NAM CHEONG -- higher earnings forecast