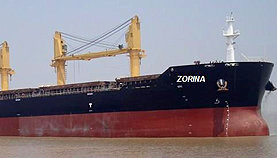 Courage Marine boosted its July-September revenue 46% year-on-year to 5.1 million usd on a higher vessel utilization rate.
Photo: Courage MarineCOURAGE MARINE: Substantial shareholder stake change

Courage Marine Group Ltd (HK: 1145; SGX: E91) saw a substantial shareholder stake change in the dry bulk shipping firm's Hong Kong-listed shares on Monday, Nov. 18.

China Harvest Enterprises Ltd decreased its shareholding by 4,968,000 shares at 0.70 hkd per share, cashing in 3.48 million hkd, and thus reducing its stake in Courage Marine to 13.59% from 14.06% previously.

On Nov. 18, the day of the transaction, Courage Marine's Hong Kong-listed shares fell 12.8% to close at 0.75 hkd

China Harvest now holds a total of 143,850,611 Hong Kong-listed shares in Courage Marine.

China Harvest still holds a deemed interest in the 6,737,000 shares in Courage Marine held by Pilot Assets Group Ltd by virtue of China's Harvest's 21.43% shareholding in Pilot.

Courage Marine recently announced that Mr. Zhou Xunlan bought 52.3 million of its shares during a recent placement.

Mr. Zhou paid 31.38 million hkd for the shares, or 0.60 hkd apiece.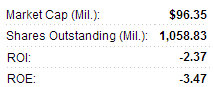 Courage Marine recently 0.70 hkd with a 52-week range of 0.25 - 4.10.On Friday, November 15 – the day Mr. Zhou purchased the placed shares – Courage Marine's Hong Kong shares closed up 36.5% at 0.86 hkd.

Mr. Zhou now owns 65,952,000 Courage Marine shares, boosting his stake to 6.23% from 1.29% previously.

Courage Marine boosted its July-September revenue 46% year-on-year to 5.1 million usd on a higher vessel utilization rate.

However, due to a 58% surge in the cost of sales and higher bunker and port charges, the third quarter bottom line swung to a net loss of 0.6 million usd compared to a net profit of 0.5 million in Q3 2012.
---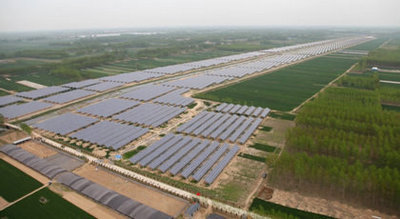 Goldpoly recently added 500MW in new solar capacity China.
Photo: GoldpolyGOLDPOLY: Substantial shareholder stake change

Goldpoly New Energy Holdings Ltd (HK: 686) saw substantial shareholder Jet Mile Ltd enter into a secondary block trade agreement on Wednesday, Nov. 20.

The agreement was with placing agents Credit Suisse, Morgan Stanley, BOCI Asia and CLSA in which they will procure purchasers for (or failing which, will purchase themselves) 1,000,000,000 Goldpoly shares (of nominal value of 0.10 hkd each) owned by Jet Mile for 1.7 hkd per share.

The placing shares consist of (i) 34,813,255 shares which were beneficially owned by Jet Mile; and (ii) 965,186,745 conversion shares to be converted from part of the convertible notes issued by Goldpoly on Oct.25, 2010 with the principal amount of 850 million hkd.

Goldpoly also received notice on Nov. 20 that Jet Mile would exercise the conversion rights attached to the notes for the conversion shares.

Goldpoly has been informed by Jet Mile that the conversion shares will form part of the placing shares.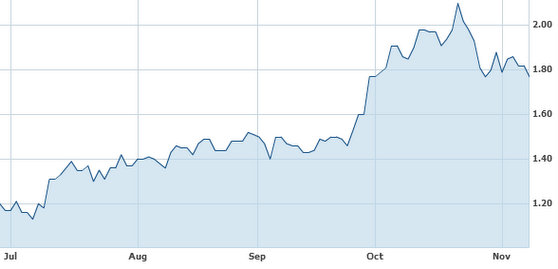 Goldpoly's recent Hong Kong share performance.     Source: Yahoo Finance

Immediately after completion of the issuance of the conversion shares and the share disposal, Jet Mile will remain beneficially interested in 178,123,548 Goldpoly shares (representing approximately 7.23% of total issued share capital, representing approximately 5.19% of Goldpoly's share capital as enlarged by the issuance of the conversion shares).

On Nov. 11, Goldpoly received the honor of being added to the prestigious and widely referenced MSCI Global Small Cap Index.

Shortly thereafter, Goldpoly signed a conditional deal with a CNPC unit to purchase 500 MW solar power plants in China.

Goldpoly, whose largest shareholder is China Merchants New Energy Group (CMNE), entered into the agreement with Kunlun Trust -- a CNPC subsidiary -- for the acquisition of 500MW of an on-grid photovoltaic project in Xinjang and Gansu Provinces, with the project under construction and scheduled to be completed by end-2013.
 
---

UBS has 'Buy' call on CHINA SANJIANG

In July, NextInsight covered Bocom's naming China Sanjiang Fine Chemicals (HK: 2198) to its "Top 10 Buy" list.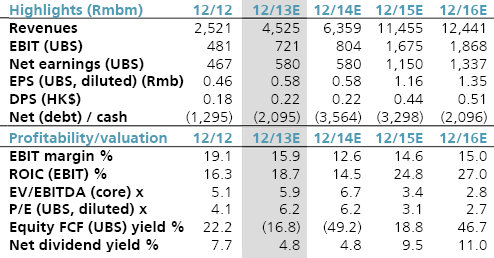 UBS gives Sanjiang Fine Chemicals a "Buy" call.      Source: UBS

Now, China's leading independent ethylene oxide (EO) producer is making news again with UBS giving the Hong Kong listco a "Buy" recommendation with a target price of 7.00 hkd (recent share price 4.61).

China Sanjiang management recently met with investors at the UBS Asia Oil, Gas and Chemical Conference.

The company plans to add around 250 kilitons of EO and 130 kilitons of EG (combined around 350 kilitons of EO equivalent capacity), which compares to Sanjiang's existing capacity of 330 kilitons.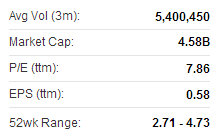 Sanjiang recently 4.61 hkd"The company confirmed that the construction is well on schedule and should be able to bring the new capacity on stream by end of 2014," UBS said.

Sanjiang management said EO margins have trended lower and reached historically low levels in Q3 and Q4 this year due to a large amount of new capacity additions in Q1 and Q2 this year.

"With new China EO capacity additions being significantly smaller in 2014 vs 2013, the company expects margin to gradually recover sequentially.

"We think Sanjiang is attractive at 6.2x/3.1x 14E/15E PE and 2013E/14E dividend yield of 4.8%," UBS added.


---

See also:

COURAGE MARINE'S New Substantial Shareholder

GOLDPOLY Adds 500MW Solar Capacity

CHINA SANJIANG Boosts Chemical Capacity