Photos: Courage Marine

ASIAN BULK SHIPPER Courage Marine (HK: 1145; SGX: E91) saw its Hong Kong-listed shares surge eightfold -- from 0.27 hkd to 2.16 hkd -- over just two trading days. Amazingly, the stock achieved an intra-day high of 4.10 hkd.

The company issued statements saying it did not know the reasons behind the soaring share price and trading turnover.

"The Board has noted the recent increase in the price and trading volume of the shares.

"Having made such enquiry as is reasonable in the circumstances, the Board confirms that it is not aware of any reasons for these price and trading volume movements or of any information which must be announced to avoid a false market in the Company's securities or of any inside information that needs to be disclosed," said Courage Marine Group Chairman Mr. Hsu Chih-Chien in a statement on the firm's website yesterday.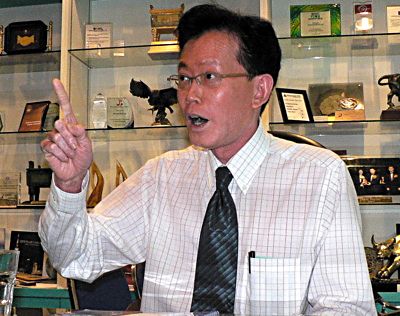 Courage Marine Chairman Hsu Chih-Chien. NextInsight file photoThe dual-listed shipping firm made a similar announcement last Friday when its shares also shot skyward.

On just two trading days, last Friday and Monday of this week, Courage Marine's Hong Kong-listed shares surged eightfold to finish trading on July 22 at 2.16 hkd.

Average trading volume for the firm's shares in Hong Kong stands at around 43,000, but on July 22 daily trading volume soared to nearly 8.1 million.

On Friday, Courage Marine's Singapore-listed shares surged 33% to finish the day's trading at 8.0 cents, and closed yesterday at 10.7 cents.

Amid a struggling dry bulk cargo sector, Courage Marine has stated its intentions to diversify into the property investment business.

On July 16, Courage Marine held a special general meeting in Singapore where shareholders overwhelmingly voted in favor of wholly-owned unit Courage Marine Overseas Ltd acquiring a 10% equity interest in Singapore-based Santarli Realty Pte Ltd.

Shareholders also showed very strong support for Courage Marine's diversification into the proposed property investment business during the SGM.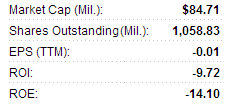 Courage Marine closed at 2.16 hkd yesterday, achieving an intra-day high of 4.10 hkd.Prior to this, the Hong Kong and Singapore-listed firm convened an extraordinary general meeting (EGM) to seek shareholder approval for the proposed diversification into the property investment business, acquisition of real estate and property development projects when opportunities arise.

It also proposed to invest in real estate and other property development projects in other ways including specializing in residential, business, warehouse and complex projects in the region.

Courage Marine explained at the time that opportunities for such investments arise in the course of transporting goods such as sand, cement and gravel which are raw materials for the building and construction industry, as it had built up a network of customers or contacts who are active players in such industries.

The Group is often approached with offers or opportunities for investments or joint ventures in real estate or property developments or projects by such parties.

Courage Marine provides vessel chartering services. It disposed of 5 aging vessels last year and bought a younger one this year. It now owns 4 dry bulk vessels -- ie, 2 Capesize and 2 Supermax vessels with a combined 410,000 dwt. Courage Marine mainly deploys its vessels in the waters around the Greater China region as well as Indonesia, Singapore, Korea, Japan, Vietnam, Cambodia, the Philippines and Russia. Courage Marine generally transports dry bulk commodities including coal, sea sand and bauxite as well as iron ore and minerals.
---

See also:

COURAGE MARINE: Latest Happenings...

COURAGE MARINE: Eyeing Income From Property Development In Singapore