CHINA SANJIANG: Shareholder nears majority status

China Sanjiang Fine Chemicals (HK: 2198) said that its controlling shareholder has raised its stake in the ethylene oxide (EO) maker to 48.3%, moving closer to majority shareholder status.

China Sanjiang, whose chemical precursors are used to make household cleaning products and cosmetics, was informed by controlling shareholder Sure Capital Holdings Ltd -- itself wholly-owned by Chairman Guan Jianzhong -- that in the final week of June, Sure Capital purchased a total of 3.4 million Sanjiang shares on the open market.

Sure Capital, together with Mr. Guan as the beneficial owner, currently hold 479.7 million shares of Sanjiang, representing approximately 48.3% of its issued share capital.

Sanjiang's Board said it the move signifies the controlling shareholder's long-term commitment to and confidence in the prospects of the China Sanjiang Fine Chemicals.

Sanjiang's top line rose a healthy 21.3% in 2012 to 2.52 billion yuan, producing a net profit increase of 15.2% to 467 million.

China Sanjiang is a manufacturer and supplier of consumer chemicals and their ingredients (i.e. EO and AEO surfactants). It also produces and supplies other surfactants. The company is also engaged in the provision of EO and surfactant processing services to its customers, as well as the production and supply of other chemical products (such as glycol) and industrial gases, namely oxygen, nitrogen and argon. In terms of production volume in recent years, the company is the third largest EO manufacturer and the largest privately-owned EO manufacturer in China, and is also the second largest AEO surfactant manufacturer and the largest private AEO surfactant manufacturer in China.


---
PAX GLOBAL: Poised for global pickups
PAX Global (HK: 327), China's top provider of electronic funds transfer point-of-sale (EFT-POS) products and solutions and No.4 globally, is poised to pick up international rivals to boost its global market share.


"As of the end of last year, PAX Global had around 1.4 billion hkd on hand, without any bank loans, revealing healthy financial status and conditions for overseas M&As," said China Yinsheng Wealth Management.



The penetration rate of EFT-POS systems is less than 20% and in several overseas emerging markets the rate is under 10%, which points to a very high growth potential for the sector.

The research note said these conditions, which make PAX a strong candidate to start buying up its foreign competitors, are a positive catalyst for the firm's share price.

PAX Global's top line surged 19% in 2012 to 1.31 million hkd, producing a 1% rise in the bottom line to 183 million.

PAX sells EFT-POS products to more than 70 countries and regions including the US, Singapore, Taiwan, Japan, South Korea, New Zealand, Europe, the Middle East and Africa, Latin America and Central Asian countries.

PAX Global Tech Ltd is an electronic funds transfer point-of-sale (EFT-POS) terminal solutions services developer and provider. PAX Global was listed on Hong Kong's main board in December 2010. The Group currently collaborates with over 35 partners worldwide on EFT-POS solutions with its products sold to over 70 countries and regions.



---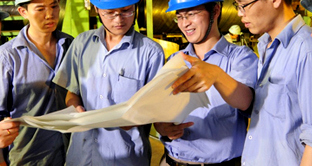 UBS likes oil&gas equipment plays like Shengli. Photo: Shengli Oil & Gas PipeUBS: China H2 sector comparison

UBS said it is not overly optimistic about Chinese shares of the economic recovery in the current half, but said listed drugmakers and oil&gas equipment plays should outperform the market for the remainder of the year.

"With downward pressure on exports, the recovery of the economy will likely be delayed," UBS said.

Interim reports still lacking highlights

The Swiss research house said it believes earnings expectations for A-share non-financials as a whole have not been downgraded sufficiently.

"Currently, the market consensus for full-year earnings growth of non-financials remains 28.5%, but Q1 earnings growth was only 2.5%.

"We trim our expectations for 2013 nonfinancial earnings growth from 11.3% to 6.8%."

By sector, UBS expects to see over 20% interim earnings growth for real estate, automobiles, home appliances and Chinese medicine.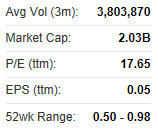 Shengli recently 0.82 hkd"We are relatively positive on Chinese medicine and banking among traditional sectors.

"Due to the impact of price cut expectations, pharmaceuticals' performance will be differentiated in the future, and we are positive on the Chinese medicine sector as we expect it will be less affected by price cuts."

The research note added that among emerging industries, it is relatively positive on oil/gas equipment and water treatment sectors.

"Year-to-date, emerging industries have risen by more than 50%, mainly thanks to improved valuations.

"However, with regard to the oil/gas equipment industry -- whether it is earnings growth, achievability of earnings, market potential, degree of competition, barriers to entry, or policy support -- it has significant advantages over other emerging industries."


---

See also:

CHINA SANJIANG A 'Buy'

PAX GLOBAL Set Major Milestone In US