Merrill Lynch: BYD Target Cut

Merrill Lynch said it is reducing its target price on BYD Co Ltd (HK: 1211) by 13% to 10.7 hkd (recent share price 23.40) while maintaining its "Underperform" call on the hybrid vehicle maker.

In-line with company's negative profit alert, BYD's 2012 profit decreased 94% y-o-y to 81 million yuan, mainly due to a 3.3 ppts GP margin drop.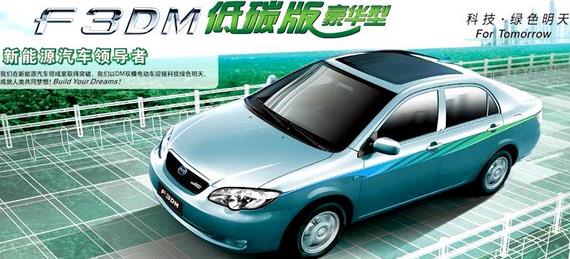 Not too long ago, BYD had China's top-selling car. Photo: BYD

GPM for BYD's auto segment fell 4.3 ppt despite a 1.5% ASP rise on better product mix.

Meanwhile, handset segment GPM was down 2.3 ppt amid scale downs, cost hikes and fierce competition, and battery segment GPM softened 0.8 pp on notable loss in the solar battery business.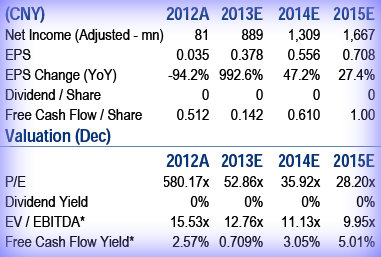 The company guides weaker-than-expected earnings in 1Q2013, to range between 100-140 million yuan, accounting for 10%-14% consensus 2013 full year earnings estimate.

"We believe this should cool down some investor expectations on immediate earnings power revival, who were excited about BYD's margin improvement in 4Q2012 where the GP margin was up 0.5% q-o-q on the back of 57% y-o-y auto sales growth," Merrill Lynch said.

The brokerage is also cutting BYD's 2013/14E earnings by 43%/14%, respectively, on lower margin assumption

"We reiterate our 'Underperform' rating on BYD given its rich valuation (53x/36x 2013/14e P/E and 2.1x P/B), sluggish earnings potential as well as its fragile balance sheet."
---
Bocom: YONGDA AUTO Cut to 'LT-Buy'

Bocom Research said it is downgrading its recommendation on Yongda Auto (HK: 3669) to "LT-Buy" from "Buy."

The target price on Yongda, a distributor of major high-end foreign auto brands in China, is 8.10 hkd (recent share price 7.33).



Yongda owned 72 retail outlets in 2012 and plans to open 34 new stores in 2013. Photo: YongdaIn terms of 2013 sales targets of some manufacturers under Yongda's umbrella, BMW targets to sell 365,000 units, up 12%; Audi targets to sell 485,000 units, up 19.5%; Jaguar Land Rover targets to sell 100,000 units, up 36.3%; and Porsche targets to sell 35,600 units, up 14.8%.

"Compared with the FY12 sales growth, the sales targets above are less aggressive and the demand side has shown signs of recovery. The gross margin of the industry is likely to beat the 2012 levels," Bocom said.

Yongda owned 72 retail outlets in 2012 and plans to open 34 new stores in 2013 (Bocom's estimate is 30 stores), mainly for luxury brands.

"For the stores scheduled to open in 2013, the capex of some of them was invested in 2012, while others will be invested this year. The overall Capex in 2013 will lie between RMB1.2 and RMB1.5 billion."

Bocom added that since more stores will be opened in 2013, it believes this will increase the pressure on expense ratios such as labor expenses, depreciation and amortization.

Gross margin of new cars was 2.9% in 2H12, a decrease of 2.3 ppts from 1H12.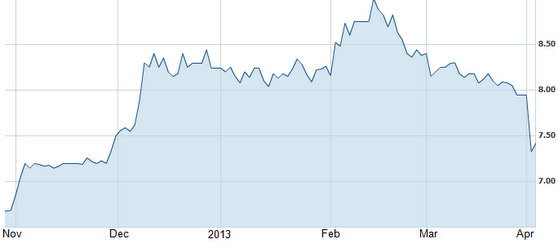 Yongda shares are currently trading at around 7.4 hkd. Source: Yahoo Finance

"This represented a greater fall compared with its peers (2H12 new car gross margin of ZhengTong dropped 0.2 ppt and that of Baoxin Auto grew 0.7 ppt).

"Management believed it was because: (1) the company credited the 1H12 rebates in 1H12 accounts while the peers may have credited the rebates in 2H12; (2) gross margin should be considered together with the sales expense ratio and finance cost ratio, which increased less in 2H12."

Bocom added that overall, it thinks Yongda's analysis makes sense and some rebates may be credited in 2013 to enhance the FY13 gross margin.

The ASP of luxury cars decreased 10% in 2012 from 2011.

Yongda says the decline in new car prices was due to two reasons.

Changes in product structure: The percentage of low-grade luxury car sales, such as the Chinese-made BMW 3 Series and Audi A4L, increased.

In addition, car models faced stronger downward pressure on prices last year due to competition.

"For 2013, management believes pricing pressure of single models will ease due to better supply and demand, but the higher percentage of low-grade models will lower the overall price pressure."
---
See also:

BYD AUTO: Finally Charged For Sustained Ride