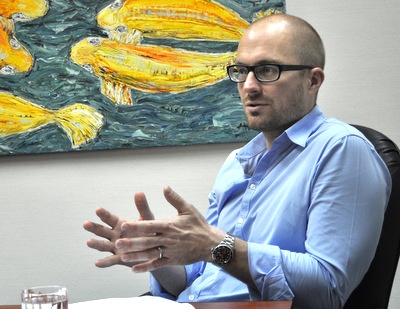 'Our strategy is to seek co-investors because it lowers the risk of the highly capital intensive ventures. Other than sharing the financial burden, they bring to the table oil drilling expertise in different continents,' said CEO Mans Lidgren. Photo by Leong Chan TeikIn the four weeks since Rex International listed on the Catalist on 31 July, its stock price has surged some 50% above its IPO price of 50 cents.

The business is a one-of-a-kind.

"Oil exploration companies offer high return for high risk. We, however, offer high return for significantly lower investment risk in oil exploration," said its chief operating officer Kristofer Skantze during an exclusive interview with NextInsight recently.

"Our differentiating factor is proprietary technology that allows one to, instead of looking at geological structures only, actually see oil in the ground," he said.

Traditional oil exploration starts with shooting acoustic energy into the ground, while recording and analyzing the seismic data gathered. Geologists then make educated guesses on where the oil is.

Unfortunately, oil companies typically need to drill eight to nine wells before actually finding oil, and the stakes are high.

For instance, a recent two-well drilling campaign by ExxonMobil to search for oil for 6 months off the far west extremities of Ireland is estimated to cost as much as US$200 million.

100% accurate in 20 tests

"Rex Virtual Drilling technology allows us to see the geographical location of where the oil is, how deep it is and the size and formation of the reservoir," said Mr Skantze.

In the past two years, it has accurately predicted whether a certain contract area was a dry well, the exact location of the reservoirs, the depth of the reservoirs, and the volume and type of oil in the reservoir for 20 concessions located all over the world.
| | |
| --- | --- |
| | |
| | See how Rex International's revolutionary technology works in this video |
| | |
One of the companies testing Rex's technology is North Energy ASA, an oil exploration and production company listed on Oslo Stock Exchange.

North Energy designed eight controlled blind tests in order to assess Rex's ability to find oil.

Seismic information was provided but information was withheld on the location where the seismic data was derived, well results, and whether there was presence of hydrocarbons.

The test results? Rex predicted with 100% accuracy well drilling results, and subsequently secured from North Energy effective participating interests ranging from 3.3% to 8.1% in Norwegian oil exploration licenses. Rex expects to acquire interest in additional licences moving forward.

Using Rex Virtual Drilling, seismic data from each concession takes only 4 to 6 weeks to scan and interpret, compared to years for traditional methods.

With much of the guesswork taken out, success in exploration oil drilling becomes much faster and costs much less.

The technology is such a remarkable improvement from what is available on the market that Rex has been able to negotiate for equity participation in oil concessions in return for identifying where the oil is to be found.

"Equity participation is much more interesting than just providing seismic data analysis service," said the COO.

Brains behind the technology

Rex International has a market capitalization of about S$750 million of which 55.2% is owned by its founders – the Lidgren brothers and Svein Kjellesvik.

Dr Karl Lidgren, a former economics professor from Lund University, and his theoretical physicist brother, Hans, jointly founded the company behind the seismic data interpretation technology.

Since the start of the 1980s, the Lidgren brothers have utilized satellite altimeter data in oil exploration activities that led to major oil and gas findings such as the "Haltenbanken" area in Norway and the "Bukha" field in Oman.

Mr Kjellesvik is an expert in the use of 3D seismic technologies in oil and gas exploration. He has more than 30 years of relevant industry experience with major corporations such as Schlumberger, the world's leading geophysical services company.

Convinced that no other seismic solution for oil exploration comes close, the founders were so careful with its intellectual property that no patents were filed.

To deter prospective copycats, they also retained the seismic data interpretation technology under their privately owned vehicle, Rex Technology Management, to which Rex International and its select direct partners have exclusive rights.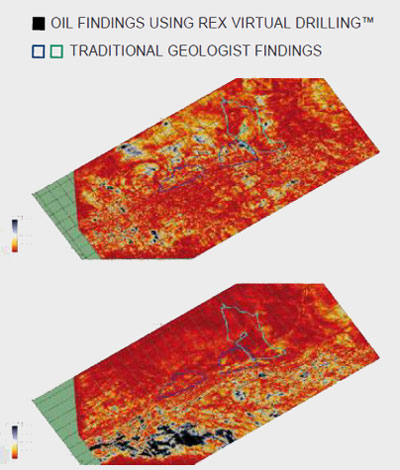 Rex Virtual Drilling shows exact locations of oil reservoirs, compared to estimates outlined by traditional methods.
Visuals from companyOil revenue expected in near future

Rex International has interests in offshore licences in Norway and licences in UAE and Oman, two development assets in the US (Colorado and North Dakota) and a further three licences in Trinidad.

The company is close to generating its first revenue. It expects first oil from its US assets by the end of this year and will add producing wells to its portfolio through the acquisition of concessions in Trinidad.

Currently, it has a portfolio of 13 licenses, up from 10 at the time of its IPO.

"We plan to increase our portfolio to 20 licenses in the year ahead," said Mr Skantze.

Currently, Rex is busy scanning seismic data submitted by owners of oil concessions to determine which concessions are relevant to include in the company's portfolio.

To see where Rex Virtual Drilling says the oil is, concession owners grant Rex International the option to participate as an equity owner in the drilling licence.

Rex International expects to scan 100 concessions over the next 12 months, and 200 concessions in the year thereafter.

Should it find an offshore concession area with at least 50 million barrels of recoverable oil located in a politically stable regime with established drilling infrastructure, it is likely to exercise its pre-negotiated rights to participate in the drilling license.

On 19 August, it announced initial investments of US$9 million for 51.99% in Rex Caribbean Oil Company Ltd, which owns interest in 3 onshore exploration and production licences on the island of Trinidad.

Big name investors involved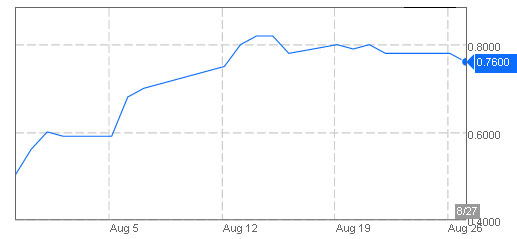 From an IPO price of 50 cents on 31 July, Rex closed at 56.5 cents on first day of trading and has surged to more than 75 cents in the past month. Bloomberg data

"We chose to list in Singapore because a significant portion of our deal flow is coming from this region and it is important to be near the opportunities," said CEO Mans Lidgren.

During its IPO in July 2013, it raised proceeds of S$85.3 million, which it intends to use for investment in new oil and gas opportunities, drilling in its existing concessions in the Middle East and Norway, repayment of shareholders loan and as general working capital.

Even though Rex International has only an operating track record of two years and has yet to generate revenue, pre-IPO investors were so convinced by its story that they extended convertible loans of S$35.2 million to fully fund its first two years of drilling operations in the US.

These investors include Tan Fuh Gih (tycoon Tan Kim Seng's younger brother), Kingston Kwek (tycoon Kwek Leng Beng's son), Tan Chin Hwee (a partner in leading alternative fund management group Apollo) and 2G Capital chairman Tommie Goh (founder of JIT).

Schroders, Pareto Growth Fund, Staur Private Equity, Holberg Funds and Clements Capital are also vested in the company.

For more information, refer to its press releases on its award of a drilling contract in Oman and its investment in 3 E&P licenses in the Carribean sea.