Many of you readers would be familiar with, or at least have some idea of, Food Empire Holdings' business which we have regularly reported on.


Food Empire

Share price:
$1.13

Target:
$1.69
Still, a 26-page initiation report by CGS-CIMB's William Tng this week does contain fresh and useful insights.

Mainly, that has to do with the multi-year trends of some key financial metrics of Food Empire.

By nature, initiation reports are in-depth and cover a wider scope than quarterly reports focusing on analysing short-term results.

CGS-CIMB's target price for the stock is $1.69, much higher than the $1.36 of Maybank and UOB KH.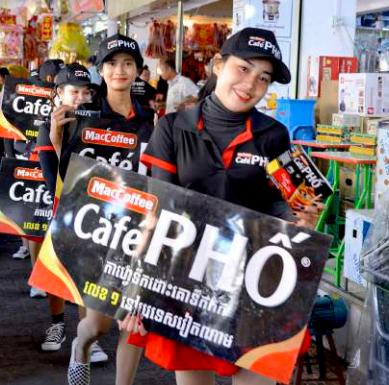 Cafe Pho, a 3-in-1 coffee drink, is Food Empire's best-selling product in Vietnam. Cafe Pho was launched in 2013.Vietnam accounted for 19.5% of the group's total revenue in 2021. Photo: CompanyWe adapted the contents of page 16-17 of the CIMB report to produce the 3 graphics below.

The first one shows how much -- and how suddenly -- Food Empire has lots of cash post-2022.

Given that its business has been free cash flow positive since 2015, Food Empire can be expected to stay cash-rich.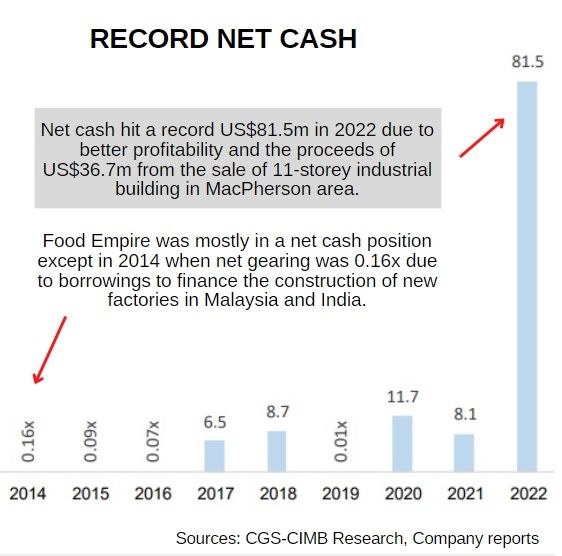 • As at end Jun-2023, Food Empire was in a net cash position of US$61.1m and generated free cash flow of US$3.5m, notes CGS-CIMB.

• In 1H2023, Food Empire handed out US$17.3 m in dividends and bought back US$3.4 million of shares.

The second graphic shows how Food Empire's capex has now tapered down following its investments in factories in Malaysia and India a few years ago.

In that light, and together with its cashpile and ongoing positive operating cashflow, Food Empire has the means to pay higher dividends and to continue to buy back shares.

That should be music to the ears of shareholders, and attract investors.

Food Empire has frequently been buying back its shares.

As of 5 Sep 2023, Food Empire had 20.4 m treasury shares from its share buybacks executed over the years, notes CIMB.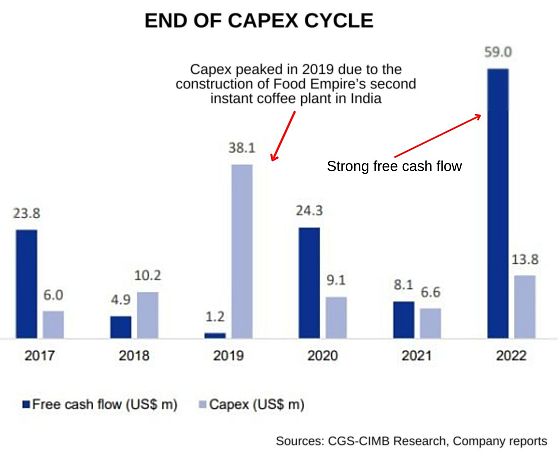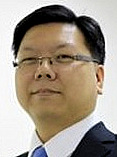 William Tng, CFACGS-CIMB's William Tng says: "Given the completion of major capex requirements, FY22 dividend payout and the use of its cash for share buy backs, we conservatively assume that FEH will continue with the trend of DPS of 4.40 Scts which it declared for FY22.

"FEH does not pay any interim dividend. FEH does not have an official dividend policy and special dividends could be a venue to return excess cash to shareholders if the company does not come across any attractive M&A opportunities."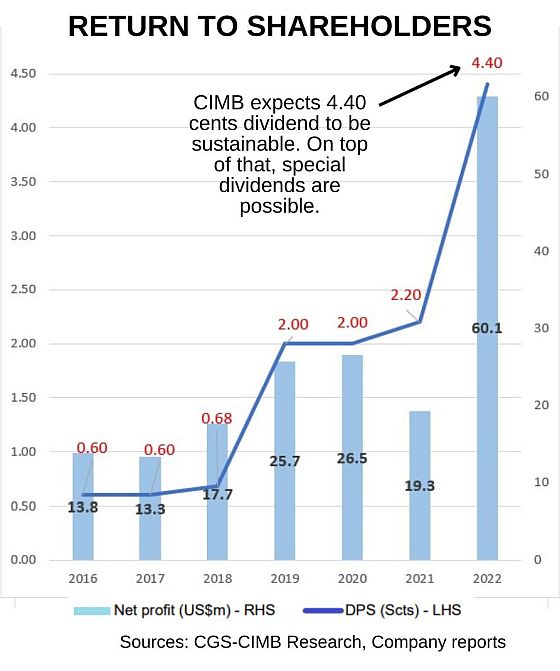 Full report here.