• For a long time, UOB Kayhian has been sharing its alpha picks portfolio, which is updated every month. And, of course, it has been doing well. (It has beaten the STI in 16 out of the past 17 months).

• In this month's iteration, 4 stocks were added to the portfolio -- ComfortDelGro, SEA, Bumitama and LHN, "all of which are backed by favourable tailwinds along with robust earnings visibility," says the broker.



• Since the portfolio luminaries are supposed to be outperformers, who are the top 2 in terms of absolute returns compared to the broker's target prices? Turns out they are Civmec and LHN with ~50% upside potential.



•

Check out UOB KH's write-up below on LHN. It has write-ups on other alphas too. Click here.


LHN Group – BUY (Analyst: Heidi Mo)

• LHN is a real estate management group with a market-leading position in the coliving space. In 1HFY23, LHN derived the majority (75%) of its PBT from the space optimisation business, which focuses on recycling under-utilised properties through the acquisition and master leasing of commercial, industrial and residential properties.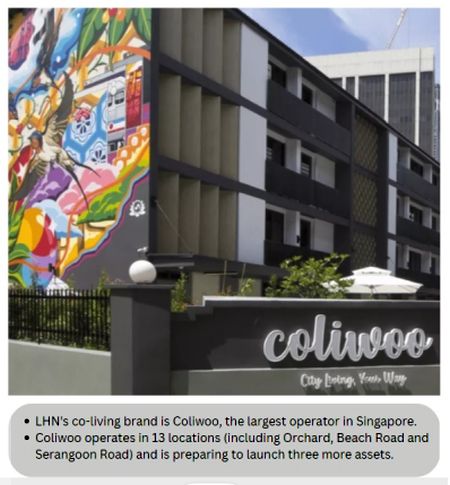 LHN entered the co-living space in 2019 and has become the market leader in Singapore with a 32% market share. As of 1HFY23, it owned and subleased 17 properties under the Coliwoo brand, with a total of 1,678 keys. In Jul 23, LHN further acquired two freehold assets which will be added to the Coliwoo brand upon URA approval.

• Consumer demand remains strong in co-living segment. Coliwoo caters to a diverse group of tenants such as freelancers, expatriates, exchange students, medical tourists and younger Singaporeans.


♦ Coliwoo enjoys strong occupancy rates of 96.7% as of 1HFY23, despite the monthly rental of S$2,900 to S$5,800 per room.
Despite competing with established peers such as Ascott's Lyf and Cove, Coliwoo stands out with its ability to offer affordable accommodations in good locations with a full suite of room amenities.

This is also evidenced by Coliwoo's strong occupancy rates of 96.7% as of 1HFY23, despite the monthly rental of S$2,900 to S$5,800 per room.

• Coliwoo expected to drive FY23 core earnings by 46% yoy from a 70% increase in the number of new keys.

LHN's growth strategy is to expand its current property portfolio through master leases and acquisitions, and targets to add around 800 keys per year for the next three years.

LHN's FY21/FY22 earnings of S$6.5m/S$3.5m from Coliwoo are made up of 976/1,602 keys respectively and the keys will increase by about 700 keys (+44% yoy) by end-FY23.

As new keys will take 6-9 months to reach steady state, we expect Coliwoo's FY24/25 earnings to grow 211%/76% yoy to S$11.0m/S$19.4m respectively. This will likely lift LHN's FY23 core earnings by 46% yoy to S$25m.

• Value unlocking of more assets could lead to special dividends. In the 1HFY23 results press release, LHN highlighted that it is exploring options to further enhance shareholder value and is considering capital recycling to move towards an asset-light model.

On 31 Jul 23, LHN accepted an offer to take over its 84%-owned subsidiary LHN Logistics. This is expected to generate a disposal gain of S$21m and cash proceeds of S$32m (21% of LHN's market cap). We have not factored any special dividend into our financial estimates.


• Maintain BUY and a target price of S$0.55, pegged to 9x FY23F PE (based on longterm mean PE).

We think that LHN's current valuation of 6x FY24F PE and dividend yield of 6.3% are attractive, given the group's leading market share in the co-living space, robust expansion pipeline and strong EPS growth.

SHARE PRICE CATALYST
• Events:
a) Divestment of subsidiary LHN Logistics and other assets, and
b) higher-thanexpected growth in co-living keys.
• Timeline: 3-6 months.


See also: This company is now No.1 in co-living sector. Analysts are falling over themselves to initiate coverage