• Early this month, Ernest Lim contributed an article to us, enthusing about Lendlease REIT (see: LENDLEASE REIT: Under-appreciated Reit; yields >7% per annum!).



•

At 68 cents, the stock (market cap: S$1.6 b) is down from 82 cents a year ago. There seems to be big capital appreciation potential on top of a juicy 7+% dividend yield. Now, what's the market missing?



•

Maybank Kim Eng has just initiated coverage of this REIT, joining a chorus of 7 analysts in calling for a buy on the REIT. Read on ....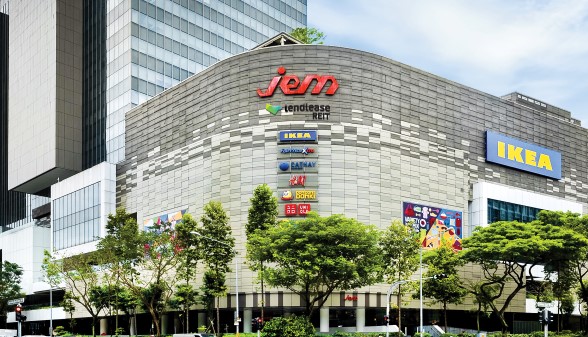 JEM is one of 2 properties in Singapore and three freehold office properties located in Milan under the REIT. They have a total appraised value of S$3.6 billion.

Excerpts from Maybank KE report
Analyst: Krishna Guha

Lendlease Global Comm REIT (LREIT SP)
Gem waiting to shine, initiate with BUY


Valuation discounts headwinds

We initiate coverage on LREIT SP with BUY and DDM-based target price of SGD0.80.


LENDLEASE

Share price:
$0.68

Target:
$0.80
LREIT is poised to benefit from resilient retail sales in Singapore and rejuvenation of the micro markets in which its key assets are located.

Its lease structure offers growth and stability. Sponsor's asset pipeline and network of capital partners should also aid growth.

While funding metrics and macro conditions are challenging, we think the 7% yield and 15% discount to book largely offset such headwinds.


Singapore-centric play on retail rebound ...
... rejuvenation of the micro market
LREIT's two well-located Singapore malls (75% of GRI) will continue to benefit from resilient domestic consumption and steady recovery in tourism.

Reversions are growing and up 3.3% YTD. 16% of rents are due for renewal in 2024. Further, these two assets will benefit from plans to make the Orchard Road sub-precinct the destination of choice for youths and development of Jurong as the second CBD.

The repurposed Grange Road car park will be operational next year and we expect c.1% DPU accretion. Office master leases (25% of GRI) provide stability and step-ups.


Supportive sponsor, ample acquisition opportunities
Lendlease Group has a development pipeline of AUD113b and AUD36b of funds under management. Its capital partners include more than 150 global institutional investors.

LREIT is the sponsor's only listed REIT and it has right-of-first-refusal (ROFR) agreements for any stabilised retail/office assets.

Locally, the sponsor owns 30% of Paya Lebar Quarter. Other notable projects include redevelopment of SingTel HQ and the Certis HQ.


Elevated gearing but reasonable valuation
LREIT has a gearing of 39.3% and adjusted interest coverage ratio (ICR) of 2.0x.

However, the 15% discount to book and 7% yield prices in the challenging macro condition and a sub-optimal capital structure, in our view. Further, LREIT has strong ESG credentials.

With a young portfolio, it is the first SREIT to achieve net-zero emission and outperformed peers in the GRESB rankings.

Risks include higher interest rates, non-renewals of master leases and dilutive transactions.

Full 22-page report here.