Reflecting investors' desire for greater disclosure, The Trendlines Group has now offered previously unavailable information on its portfolio companies.

In its just-released FY2022 annual report, Trendlines -- which invents, incubates, and invests in medtech and agrifood technology companies in Israel and Singapore -- has:

• categorized its portfolio of 56 companies into 12 "clusters" of companies based on the nature of their business activities.

• revealed the total value of Trendlines' share of each cluster, using the IFRS (International Financial Reporting Standards) fair market value as reported in its financial statements.

• shared non-IFRS information for the clusters.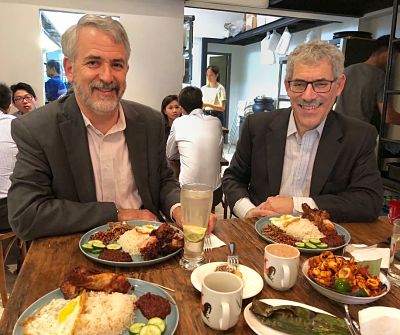 Steve Rhodes (left) and Todd Dollinger enjoying a meal of nasi lemak in Singapore. File photo."We use this non-IFRS information internally to assess our business as well as for internal strategic decision-making and identifying future impact our portfolio companies may have on our results," wrote Todd Dollinger and Steve Rhodes, who are co-Chair and co-CEO of Trendlines, which is listed on the Singapore Exchange.

"The values do not represent any forecast or future performance, but rather as an extra aid for the reader in understanding our view of our portfolio companies. Given our use of non-IFRS information, we believe that such information may be important to investors as seen through the eyes of management."

The fair market value of the Trendlines portfolio as at 31 December 2022 was US$89.8 million, while the non-IFRS measurement was US$146.6 million.

Compare that with its market cap of just S$74 million or US$55 million.


Stock price

8.3 c

52-week
range

8.1 – 11 cts

PE (ttm)

--

Market cap

S$74 m

Shares outstanding

895 m

Dividend
yield (ttm)

--

1-year return

-17%

Source: Yahoo!
Notably, in the non-IFRS measurement the valuation discount that Trendlines applies to the value of ordinary share holdings is eliminated.

"While this discount correctly represents the fair value of our holdings in the portfolio companies, our experience to date from our previous 10 exits, has been that the valuations of the ordinary shares upon exit were large enough to eliminate the discounts in relation to the preferred shares."

On the key work ahead, Trendlines reiterated its strategic plan for 2023 which it announced in November 2022, which is to help its advanced stage portfolio companies realize significant exits.



Since Trendlines' listing in 2015, its portfolio value has grown from US$57.2 million to US$89.8 million and generated an additional US$49.4 million in exit proceeds from the portfolio.


Another interesting vignette from the annual report is the list of Top 20 shareholders, with Robert Stone appearing for the first time there.

His holding is worth north of S$2.2 million currently.



Robert Stone is a familiar name to investors who are into Singapore-listed stocks such as China Sunsine and Dutech Holdings as he is/was a Top 20 shareholder in a number of companies. (See:
Robert Stone: Another year accumulating DUTECH and CHINA SUNSINE)


Also among the Top 20 in Trendlines is Wang Yu Huei (aka Alan Wang) with 10.4 million shares -- he is a Top 20 shareholder in numerous other companies.

He is MD and controlling shareholder of his investment vehicle, Asdew Acquisitions (18.4 million shares of Trendlines).

These shareholdings are unchanged compared to the annual report 2021.

Also continuing to maintain its holdings is Morph Investments, a low-profile value-oriented fund which also appears in the Top 20 shareholder lists of several companies.


The 2022 annual report is here.