Excerpts from UOB KH report

Alpha Picks: Adding YZJ, CVL, FEH While Removing CLI, VMS, UMSH, SIA.

In Jan 23, our Alpha Picks portfolio bettered the STI by 2.2ppt on an equal-weighted basis.

For Feb 23, we have included companies with robust earnings growth and strong order wins, such as YZJ, Civmec and Food Empire.


Food Empire

Share price:
73 c

Target:
78 c
In addition, we have taken profit on CapitaLand Investment, SIA, UMS and Venture.

We also highlight that our Alpha Picks portfolio has beaten the STI in 11 out of the past 12 months.

Adding Yangzijiang Shipbuilding (YZJ), Civmec, Food Empire, and taking profit on CapitaLand Investment, Venture, UMS and SIA.

For Feb 23, we add YZJ to our portfolio as we expect announcements of new orders to resume after the Lunar New Year holidays.

We also add Civmec due to its higher contract wins, while for Food Empire we believe it should experience expanding margins and strong earnings growth.

Deletions from the portfolio include CapitaLand Investment (CLI) and SIA as both companies have outperformed, having risen 9% and 8% respectively since their inclusion into our Alpha Picks portfolio. We also remove Venture (+8%) and UMS (+12%) after their strong monthly performance.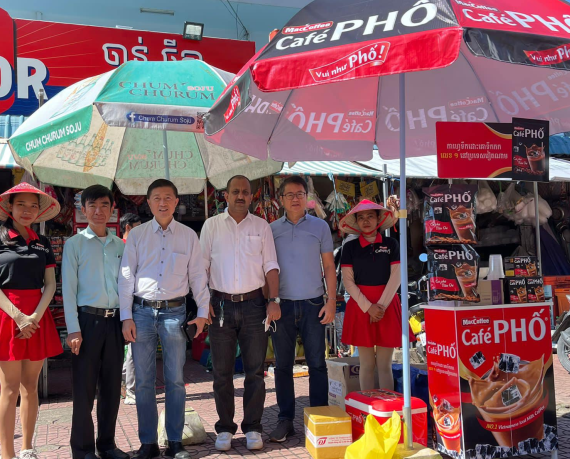 Chairman Tan Wang Cheow (3rd from left) and CFO William Fong (second from right) in Cambodia where Food Empire's CafePho -- which has done well in Vietnam -- is sold. Photo: Company

Food Empire – BUY
(John Cheong)

• Good entry point for a regional coffee mix player. Trading at 7x 2023F PE vs peers' average of >15x, its valuation is due for a re-rating, in our view.

• Strong demand for consumer staple products. Despite rising inflationary pressures and ASPs, FEH does not see major changes in consumption patterns. Given the consumer-staple nature of FEH's products, they are relatively price inelastic.

FEH's products in the coffee segment continue to be affordable with mass appeal, leading to stronger demand in 9M22.


• We expect 2022 earnings to almost double yoy to S$36m. 3Q22 core earnings of US$12m (+274% yoy, +44% qoq) outperformed our expectations.

Revenue for 9M22 grew 27% yoy mainly from the South-Asia market, which recorded a 191% yoy increase.

Its largest market, Russia, reported revenue growth of 16%, while the second-largest market, Southeast Asia, posted an 8% rise in revenue.

The third-largest market, which consists of Ukraine, Kazakhstan and Commonwealth of Independent States (CIS), also achieved a 28% yoy revenue growth.

• Maintain BUY. Our target price of S$0.78 is based on 8.4x 2023F EPS, or 1SD below its long-term historical mean.

Share Price Catalysts
• Events:
a) Better-than-expected earnings or dividend surprise, and
b) improving net margin from better-than-expected ASPs and easing of key costs including freight and raw material costs.

• Timeline: 3-6 months

Full report here.

See also: FOOD EMPIRE: Sales turn up in Russia, Ukraine, South Asia. Higher dividends to come?