Company Overview
Meta Health Limited (META), formerly known as Metal Component Engineering, was founded in 1987 in Singapore. With consistent focus on quality and engineering innovation, it has expanded its customer base by serving Multi-National Corporations (MNCs), Electronic Manufacturing Services (EMCs), and Small-Medium Enterprises (SMEs) globally. Meta Health is now vertically integrated with licensed clinics with pharmacy, online self-branded ecommerce portals, and product placements on regional e-commerce portals. Link to Stock Screener company page.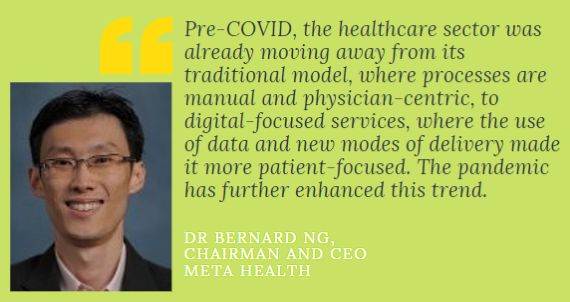 Q: What/where are the key growth areas for Meta Health over the next 1-2 years?

The healthcare business will be our key focus over the long term as we look to expand across this business segment. Expansion plans include:

▪ Securing new contracts overseas for our HISAAS platform to help overseas healthcare businesses digitalise their operations.
▪ Expanding our local patient base by tapping into the HealthierSG initiative for our primary care segment.
▪ Increasing range of products for clinical nutrition distribution network.
▪ Expanding our clinical services operations through the provision of additional services, which includes the supply of chronic medications for institutions.


Q: Could you expand on the scalability and profitability of the healthcare infrastructure/software-asa-service (HISAAS) segment?

▪ Through partnerships with various vendors including Medtel Healthcare, an India-based remote patient monitoring platform, the Group offers a digital service platform for healthcare businesses looking to digitalise their operations. Meta Health is the exclusive licensee of Medtel's technology for South-east Asia, Hong Kong, Australia and New Zealand.

The services provided by Meta Health through its digital service platform include Telemedicine, Medical IoT, Medical Triage, imaging artificial intelligence (AI), enterprise resource planning (ERP) platform, web-based clinic management system and call center platform with web Customer relationship management (CRM).

▪ These services are packaged into a comprehensive digital service platform that serves the need of healthcare providers through a pay per use or subscription model.
Hence, the HISAAS segment has a relatively low-cost structure with a highly scalable business model.

The HISAAS segment is distributed mainly to Indonesian healthcare institutes via the Group's 70%-owned Indonesian subsidiary, PT Gaido Digital Medika (PT GDM). PT GDM's trademarked product, Digital Hospital, has been identifiedas a key partner of the Indonesian tourism medical association.

Q: How does Meta Health plan to bring in new revenue streams and create more value for shareholders?

▪ We are constantly on the lookout for partnerships and complementary businesses to grow our healthcare business. For example, our clinical nutrition distribution and pharmaceutical business are highly complementary. Distributing to over 600 customers including retailers and F&B outlets, we believe that the distribution arm has room for further growth as it taps into the Group's central pharmacy network (which also services B2B clients such as telemedicine providers and homecare nursing groups) for cross-selling opportunities.

▪ In addition, the Group is also conducting a strategic review of its existing businesses to maximise value for our shareholders.


Q: Why should investors take a closer look at Meta Health?

The Group believes that Meta Health is a proxy for investors looking to capture the digitalisation of healthcare in the region. The Group's e-pharmacy business has seen an increase in user base while its central pharmacy business facilitates the delivery of medicine for clinics, nursing homes and end patients, allowing healthcare institutes to execute their telemedicine business.

▪ In addition, the Group's HISAAS model is highly scalable beyond Singapore as remote monitoring for patients with chronic disease is gaining traction.

For the full Q&A, click here.