META HEALTH Delivers Net Profit of S$7.7 million for FY2021, Reversing from a Net Loss of S$2.0 million in FY2020

In brief:
- Group's revenue increased by 33% yoy to S$43.0 million in FY2021, following higher contribution from its metal business as global economic activities recovered

- With strong net cash inflow in FY2021, cash and bank balances more than doubled to S$10.3 million as at the end of FY2021

- Group continues to see and capitalise on growth prospects in the digital healthcare industry, particularly growth in the demand for the Group's services for telemedicine, nursing services and e-pharmacy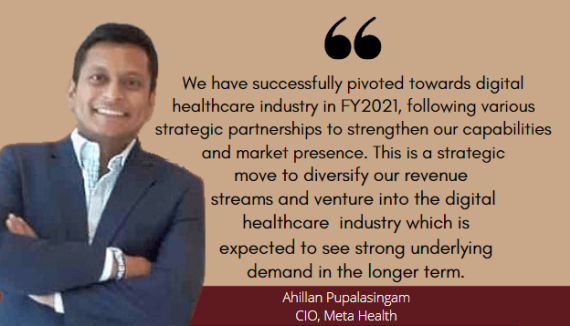 Meta Health Limited (formerly known as Metal Component Engineering Limited), offering both mechanical manufacturing solutions and digital healthcare solutions, recorded revenue of S$43.0 million for FY2021.

This was a 33% increase from S$32.2 million for FY2020.

The increase was mainly due to

i) an increase of S$9.5 million to S$41.7 million in FY2021 in global demand for its customer products in the Metal business, primarily from the global recovery from the impact of the pandemic; and
ii) the contribution from the new Healthcare business of S$1.3 million (FY2020: nil) that arose after the Company's acquisition of Gainhealth Pte Ltd on 13 July 2021.

Other income amounted to S$9.5 million in FY2021, as compared to S$0.7 million in FY2020.

The increase was mainly due to

i) profit from the disposal of MCE Industries (Shanghai) Co. Ltd ("MCE Shanghai") of S$9.2 million (FY2020: nil), and
ii) government grants of S$0.2 million received in Singapore (pursuant to the Job Support Scheme) and in Malaysia (pursuant to the Government Wages Subsidy Stimulus Packages) in FY2021 (FY2020: S$0.5 million).

Consequently, the Group recorded a profit after tax of S$7.7 million in FY2021, reversing from a net loss of S$2.0 million in FY2020.

Net cash inflow increased by S$4.0 million to S$6.0 million in FY2021.

As of 31 December 2021, the Group recorded total cash and bank balances of S$10.3 million as compared to S$4.3 million as of 31 December 2020.