Last Friday, personal protection equipment ("PPE") and glovemakers rallied 3% - 36% in a single day (See table below).

This outperformance may be attributed to concerns that the Covid situation in China may worsen, which may spur demand for gloves and personal protection equipment.


Besides PPE and glovemakers, Tianjin Pharmaceutical Da Ren Tang Group ("T14") may be another potential and perhaps more direct beneficiary.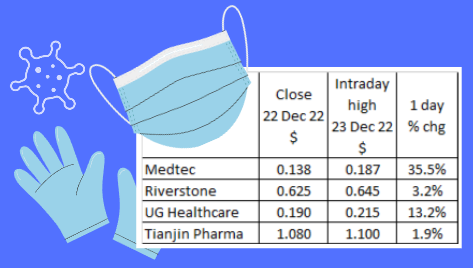 Company description
Based on T14's ARFY21 (click HERE ), with green Chinese traditional medicine as its core business, T14 is equipped with a complete industry chain, product chain and talent chain integrating production, management and scientific research.

Its business covers a number of areas including research, development and manufacturing of Chinese herbal medicines, proprietary Chinese medicines, chemical raw materials and preparations and nutritional and health products as well as pharmaceutical commerce. The Company has 25 branches, 21 wholly-owned and controlled subsidiaries or entities, and six investees.

Da Ren Tang (达仁堂), Le Ren Tang (乐仁堂), Long Shun Rong (隆顺榕) and other time-honoured Chinese brands and trademarks under T14 have all won the title of "Famous Chinese Trademark", and the "Song Bai" (松柏) brand of the Sixth Chinese Medicine Plant, an iconic modern Chinese medicine enterprise, has also been
awarded the title of "Famous Chinese Trademark". The Company has thus become a leading enterprise in the protection of time-honoured Chinese brands.

T14 has obtained certificates of approval for 599 medicines belonging to 22 types of preparations. Two of which are China's treasure-class Chinese traditional medicines. Suxiao Jiuxin Wan (速效救心丸) which was invented by Professor Zhang Chengui, senior consultant of Zhong Xin Pharmaceutical and honorary director of its technology centres as well as a famous expert in Chinese medicine preparations in China is a national classified variety.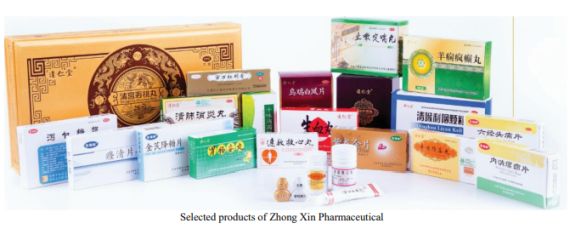 In addition, Jing Wan Hong (京万红) is a national confidential variety. The Company has five product varieties being Chinese medicines protected by the State, 114 product varieties being exclusively produced by the Company, 75 product varieties being included in the National Essential Medicine Catalogue, 601 product varieties being processed Chinese medicine and 223 product varieties being covered by national medical insurance.

T14 has a nationwide marketing network and many of its quality products, enjoying a high reputation, are exported to over 12 countries and regions around the world.

T14 has 390 patents, 252 of which are invention patents. It has six famous Chinese trademarks, namely Da Ren Tang, Le Ren Tang, Long Shun Rong, Song Bai, Jing Wan Hong and Bi Qi (痹祺), as well as four national-level and nine Tianjin-level representative intangible cultural heritage projects. After years of practices and explorations, the Company has integrated and optimised the world's most advanced Chinese medicine equipment and technology to form an integrated modern Chinese medicine development platform unique to Zhong Xin Pharmaceutical. It implements the GAP, GLP, GCP, GMP and GSP series of standards on a full scale and carries out quality control throughout the process to ensure the safety and efficacy of its products.

T14 was listed on the Singapore Exchange in 1997 and on the Shanghai Stock Exchange in 2001.
P.S: Typically, I don't include such a lengthy company description but the above is extremely informative on T14.

What is so interesting about T14?
Below are my basis and my perception of the risks involved. As usual, the risks are not exhaustive. Do exercise your own due diligence.

Basis
a) Sizeable market cap which may attract institutions' interest
At US$1.10, T14's market capitalisation is around US$851m. Thus, it is not a small company. 9MFY22 revenue and net profit amount were up 4% and 10% to CNY5.56b and CNY729m respectively. Based on its 31 Mar 2022 online survey (click HERE ), T14 seems to have caught the attention of various institutions.

b) T14's A share (600329 CH) is 3.5x of T14's share price
Tianjin Pharma A share (600329 CH) closed at CNY27.49 on 23 Dec. Using a conservative USDCNY rate 7.10 (spot is at 6.98 as of 23 Dec 22), this translates to US$3.87. T14 closed at US$1.10. Hence its A share is easily 3.5x of that T14's share price.

According to Lim & Tan initiation report dated 8 Aug 2022 (click HERE ), A share trades at an average 3.01x to T14's share price since 2008. Thus, the current gap is larger than the usual range.

c) Attractive valuations
Based on Lim & Tan 9 Nov 2022 report (Click HERE ) and using a conservative USDCNY rate 7.10 (spot is at 6.98 as of 23 Dec 22), T14 trades at approximately 6.1x FY22F PE and 5.5x FY23F PE. On an ex cash basis, T14 trades at an approximate 3.8x FY22F PE!

d) Significant potential capital upside; Lim & Tan's target price US$1.60
Lim & Tan is the only broker covering T14. It has a target price US$1.60, representing a potential capital upside of around 45%. This upside is even larger if we base it on the average analyst target price ascribed to its A share.

T14's A shares (600329 CH) is covered by three houses with an average target price CNY40.82 which translates to around US$5.75! It is noteworthy that all three houses' reports are very recent with the latest dated on 13 Dec 2022.

If these houses are correct and if A share trades back to its average 3.01x to T14 share price, this may indicate a US$1.91 price for T14, representing a whopping potential capital upside of around 74%!


e) 50% dividend pay-out ratio last year; Lim & Tan estimates 50% pay-out for 2022 too!
In the investor survey carried out by T14 dated 31 Mar 2022, management mentioned that dividends are one of the important methods to reward and thank investors. Based on Lim & Tan report dated 9 Nov 22, T14 has around CNY2.24b of net cash, comprising of 37% of its market capitalisation.

With its strong balance sheet, it should be reasonable to assume that company has the ability to pay 50% of its earnings out as dividends in FY2022. If it does so and based on Lim & Tan's FY22F earnings estimate of CNY988m, this translates to a FY22F year-end dividend of around CNY0.64 / share (US 9.01cts / share), this translates to a whopping 8.2% dividend yield.

Coupled with the potential capital upside of around 45%, total potential upside for T14 is around 54% if Lim & Tan's forecasts materialise.

f) Management has guided for 18% revenue growth from FY23 onwards (base year is FY21)
In the investor survey dated 31 Mar 2022, together with their growth plans, management also mentioned that they target 18% annual revenue growth from FY23 onwards.

They mentioned that FY22 is a year of consolidation, hence the reference year is set at FY21. If the above growth materialises, it will be rather impressive. Notwithstanding this, FY22 seems to be a decent year for now judging from their 9MFY22 results. 9MFY22 revenue and net profit amount were up 4% and 10% to
CNY5.56b and CNY729m respectively.

g) China policy supportive of traditional Chinese medicine
According to China's 20th Communist Party (CCP) Congress 16 Oct 2022, President Xi said that they will promote the preservation and innovative development of traditional Chinese medicine (source: Lim & Tan Nov 2022 report and HERE)

h) Chart looks encouraging
Since Jan 2022, T14 has been trading in a broad trading range of around US$0.950 – 1.16. Based on Chart 1 below, T14 is on the cusp of challenging its downtrend line (currently around US$1.10). Although ADX has been declining, it is still at an elevated level of around 29.6, amid positively placed Dis. Indicators are largely
bullish. A sustained breach above US$1.16 with volume expansion is bullish and points to an eventual technical target of around US$1.37. Conversely, a sustained breach below US$0.95 with volume expansion is bearish and points to an eventual technical target of around US$0.74.

Based on the current chart development, odds are more likely of a bullish break above US$1.16 in the next few
months as opposed to a bearish break below US$0.950.
Near term supports: US$1.06 / 1.04 / 1.02 / 1.00
Near term resistances: US$1.10 / 1.12 / 1.16 / 1.19 – 1.20


i) T14 has 15 out of 108 drugs recommended for usage
Based on Bloomberg which referenced to this link in Chinese (click HERE ) dated 12 Dec 2022, Beijing Health Commission released a first draft of its guidelines where they recommended 67 Chinese medicine and 41 Western medicine for fever, sore throat, cough, phlegm etc. Out of these drugs, T14 has 15 drugs in this
recommendation. The article also cited that T14 will ramp up production for their medicine to satisfy public demand.

P.S: The above I have manually translated to my best efforts. If there are any discrepancies, please refer to the Chinese version.

j) Potential delisting from Singapore
Although 600329 and T14 rank pari passu, T14 has lacklustre trading volume in Singapore. Based on Yahoo Finance, T14's average trading volume is only 108K shares per day whereas its A share has an average trading volume of 7.5m shares per day.

For a company with a market cap of US$851m and the limited number of
companies in the pharmaceutical sector in Singapore, it is discouraging to see that there is only one brokerage house (i.e. Lim & Tan) covering T14. Suffice to say that T14 does not garner much investment interest in Singapore.

It is noteworthy that, T14 has changed its name from 天津中新药业集团股份有限公司 to 津药达仁堂集团股 份有限公司 in May 2022. This removes "新" which may be an indication to dissociate from Singapore.

All in, it may arguably be better to delist from our Singapore market to generate more cost savings since this dual listing may not yield much benefits to T14.

Risks
a) Policy changes
For those who invest in China, one will not be too surprised with sudden policy changes. Any unfavourable changes to policies relating to healthcare and pharmaceutical sector may have adverse effects on T14.

b) Chinese medicine players' share price charts are not that great
Based on chart, although T14's chart looks bullish, other Chinese medicine players such as Traditional Chinese Medicine (570.HK) and Sihuan Pharmaceutical (460.HK) seem to be experiencing some profit taking.

Notwithstanding this, T14's valuations are lower than both of them.

c) This is a first look into T14
This is only my first look into T14. For a more complete picture, it is advisable to refer to Lim & Tan initiation report dated 8 Aug 2022; 9 Nov 2022 report and SGX website (Click HERE ).

d) No access to management
I have no access to management. The above is based on my personal interpretation of the information in Lim & Tan's reports, Covid situation in China etc and my own opinion of T14.

e) S chip stigma
T14 is a Chinese company. As with most Chinese companies listed on SGX, they bear the S chip stigma and may persistently trade on low valuations, regardless of the companies' operating performances.


Conclusion
T14 seems interesting on attractive valuations; net cash and rides on the industry's favourable tailwinds.

Furthermore, its business seems positive as management has guided for a 18% revenue growth annually from FY23 onwards.

Notwithstanding the above, this is my first look into T14. I have no access to T14's management. Furthermore, being a S chip, it may face the usual stigma and may persistently trade on low valuations.


Readers have to assess their own % invested, risk profile, investment horizon and make your own informed decisions. Everybody is different hence you need to understand and assess yourself. The above is for general information only. For specific advice catering to your specific situation, do consult your financial advisor or banker for more information. Lastly, in line with my usual practice of compiling SGX stocks sorted by total potential return at the start of the month, readers who wish to receive my manual compilation of stocks sorted by total potential return can leave their contacts here http://ernest15percent.com/index.php/about-me/. I will send the list out to readers around 7 – 8 Jan 2023.

P.S: I am vested in T14. Once again, hereby wishing all a merry Christmas and best wishes to you and your love ones in 2023 ahead! ��
Disclaimer
Please refer to the disclaimer HERE