Geo Energy Resources declared an interim dividend of 1 Singapore cent a share after announcing that net profit for 3Q2022 was US$35.7 million, a decrease of US$9.8 million compared to 3Q2021 due to weather conditions at the mine caused by the La Nina weather phenomenon.

Net profit for the Singapore-listed coal miner's 9M2022 was US$141.7 million, an increase of 51% compared to 9M2021.


DIVIDEND BONANZA

Dividends

1Q21

2Q21

3Q21

4Q21

1Q22

2Q22

3Q22

4Q22

SGD cent

0.5

0.5

3

5

2

2

1

?

Total

9 cents/share

5 cents/share so far
The 1-cent dividend, whose payment date will be announced later, amounts to S$14 million, continuing Geo's practice of distributing its large cash inflows arising from high coal prices.

The Group maintained a strong balance sheet position with cash and bank balances of US$214.7 million as at 30 Sept 2022.

This is after paying out a total of S$127 million in dividends in 2022 to date. The cash balance was US$190.6 million balance as at end-2021.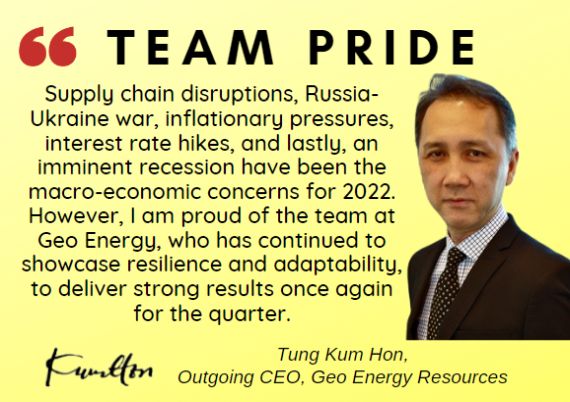 Tung Kum Hon, 63, will retire at the end of 2022 after having served as CEO since 2015.

• Favourable supply-demand dynamics: Coal demand was high in 3Q2022 due to the larger than expected coal consumption amidst an extreme summer season. Coal restocking with winter looming has continued the demand pressure.


Key figures: ASP, volume

9M2022 ASP*

US$70.54 per tonne

9M2022 cash profit

US$29.64 per tonne

9M2022 sales* volume

7.6 million tonnes

Expected full year 2022 sales target

11 million tonnes

* 33% of 9M2022 sales was domestic. Full-year domestic obligation: 25%.
In addition, surging gas prices resulting from the Russia-Ukraine war has led to high European demand for seaborne thermal coal. The high natural gas prices are expected to sustain until 2025.

On the other hand, extreme weather conditions in Kalimantan in 3Q2022 led to further supply constraints, leading to major Indonesian coal producers revising their production targets downwards.


Stock price

40.5 c

52-wk range

26.6 –
60 c

PE

1.8

Market cap

$570.2 m

Shares outstanding

1.41 b

Trailing dividend
yield

23.6%

1-yr change

14.7%

P/B

1.1

Source: Yahoo!
Geo Energy said it expects to produce and sell 11 million tonnes of coal for 2022, about 1 million short of the government-approved production target.

Meanwhile, coal exports from key markets Australia and US were below expectations due to weather-related disruptions and rising logistics pressures respectively.


"We expect to deliver
more export sales in 4Q2022 with higher selling price and better margins based on the current and forward coal prices."

-- Geo Energy
• Strong future coal prices: The average ICI4 coal price was US$82.20 per tonne in 3Q2022 and US$84.56 per tonne in 9M2022, higher than US$72.28 per tonne in 3Q2021 and US$55.95 per tonne in 9M2021.

The SGX M42 Futures Index indicates an average price of US$93 per tonne for the remaining of 2022, and average price of US$88 per tonne for 2023.

Partially offsetting higher prices are higher fuel prices and increased royalties in Indonesia.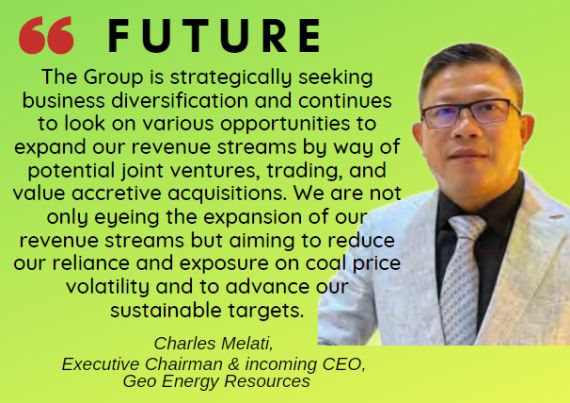 • Positive impact from rising interest rates: Higher interest rates increases borrowing costs for many leveraged companies, and raises refinancing pressures on them, even more so for companies with debt subject to ESG targets linked to green energy transition.

But Geo Energy is relatively debt-free, has high liquidity and cash reserves. As a result, the Group has benefitted from higher interest rates.

Furthermore, the strengthening of USD against the IDR by 3%, has lowered the Group's production costs as about 60% is denominated in IDR.

For more, see company announcement here.