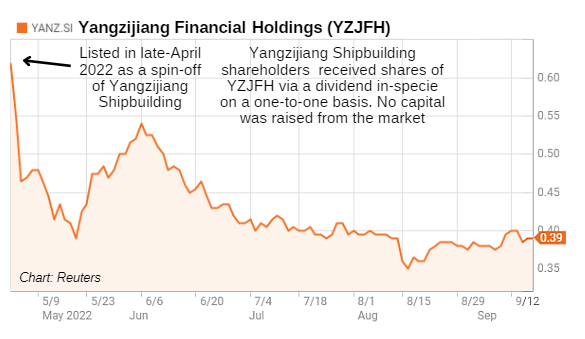 Going into its sixth month as a listed entity, Yangzijiang Financial, as the chart shows, hasn't won many investors over.

And this is despite some strong buybacks that the company has done:

Announcement date

Amount of shares

Total value (S$)

Average price (S$)

June 9, 2022

1,000,000

510,491.13

0.51

June 10, 2022

1,500,000

748,219.84

0.5

June 13, 2022

1,800,000

873,840.71

0.49

June 14, 2022

1,000,000

482,964.65

0.48

June 23, 2022

2,000,000

870,837.84

0.44

July 6, 2022

2,000,000

800,770.40

0.4

August 12, 2022

4,037,300

1,552,544.64

0.38

August 17, 2022

6,000,000

2,172,289.91

0.36

August 22, 2022

2,000,000

750,722.25

0.38

August 23, 2022

3,907,400

1,476,072.85

0.38

August 24, 2022

463,300

178,542.28

0.39

September 5, 2022

3,000,000

1,150,106.50

0.38

September 6, 2022

8,527,100

3,241,447.54

0.38

37,235,100

14,808,850.54

0.40

*including stamp duties and clearing charges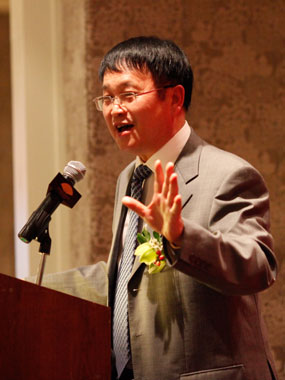 Ren Yuanlin, executive chairman of Yangzijiang Financial.
NextInsight file photoThere's more firepower that Yangzijiang Financial will unleash, given that it has announced a share buyback program of up to S$200 million, which is certainly a signal of confidence.

There were shareholder questions around it and the dividend policy in a filing on the SGX a fortnight ago. Yangzijiang Financial also outlined its investment strategies.

Q: Has the Group allocated SGD200 million of funds for share buyback or is it still subjected to the company's future plans?

A: The Group has allocated up to SGD200 million of capital for share buyback and has almost one year to do so. The Group will continue to execute share buyback strategies to enhance shareholder value. The amount of capital allocated for share buyback had taken into consideration the near-term investment needs of the Group.

Q: What is the Group's dividend policy?
The Group has a dividend policy of paying out at least 40% of its profits as dividends. The Group will continue to seek to maintain an attractive dividend yield as compared to what has been delivered prior to the spinoff, striking a balance between dividend pay-out and capital growth.

Q: With more investment in PE, equity etc., how does it affect the Group's liquidity to pay dividends?
Dividends will be paid out via cash flows generated from interest income, dividend distributions, and exits from investee companies.


For more on the company, check out analyst reports:
Key highlights from the CIMB initiation report:

• 0.4x P/B

• Pledged to pay out 40% of net profits as dividends (>4% projected dividend yield)

• Targets to double AUM to S$7bn in 3-5 years (YZJFH's current AUM is S$4.76bn- CIMB's estimate)

• YZJFH's current market cap is trading below CIMB's estimate of c.S$1.8bn of cash by end-FY22 (S$0.46/share)
CIMB believes YZJFH can utilise its strong Chinese network to capture China's growing wealth management market. Together with the newly acquired asset management firm, GEM Asset Management (GEM), CIMB thinks the group can replicate its success outside China with existing ammunition and by leveraging third-party money to grow its AUM.
Additional Information