Singapore-listed Food Empire Holdings is a global branding and manufacturing company in the food and beverage sector. Its products include instant beverage products, frozen convenience food and snack food. Food Empire's products are sold in over 50 countries.


As the Covid-19 pandemic wore on and Russia invaded Ukraine in late Feb 2022, operating costs for businesses like Food Empire Holdings rose.


Stock price

55.5 c

52-week range

42 – 86 c

Market cap

S$298 m

PE (ttm)

6.2

Dividend yield

2.9%

1-year return

-28%

Shares outstanding

538 m

Price/Book

0.94

Source: Bloomberg
But unlike some businesses, Food Empire could count on passing some of the cost increases -- gradually -- and so it did, hoping it could escape a profit slump.

It also slashed selling and marketing expenses.

In 1H2022, that went down by a whopping 27.7% to US$13.6 million, including in the key market of Vietnam, owing to Covid lockdowns and Food Empire prioritising profits over revenue.

Then something surprising happened: The Russian currency, after plunging in value as the war began, regained ground and enjoyed big gains (chart below).

And sales of Food Empire's staple coffee products in Ukraine even grew in 2Q2022, which goes to show the overall resilience of Food Empire's business.

All that helped set Food Empire up for a 136% y-o-y surge in 1H2022 net profit to a record US$27.1 million.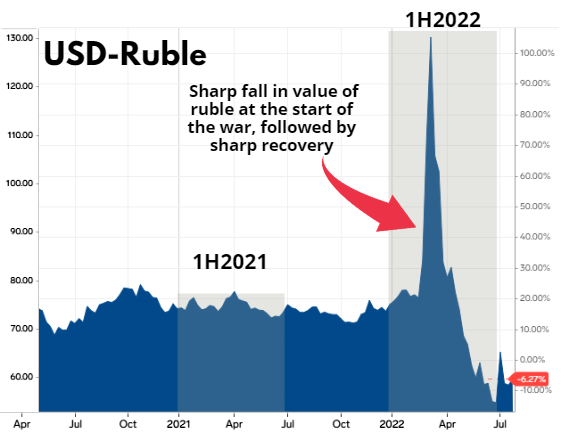 Mainly thanks to a strong ruble, Food Empire had a US$7.3 million forex gain in 1H2022, a sharp reversal from a US$3.2 million forex loss in 1Q2022.
Chart: Business Insider
While revenue across all markets rose, the standout was India with a 221% jump, owing to strong international demand for Food Empire's spray dry and freeze dry coffee.

Its spray dry coffee plant is operating at near maximum capacity. Its freeze dry coffee plant, which commenced operations in 2Q2021, continues to progress well and has increased its utilisation rate, according to Food Empire.


Revenue by markets

US$'000

1H2022

1H2021

Change (%)

Russia

57,109

54,481

4.8

Ukraine, Kazakhstan and CIS

41,270

35,221

17.2

South-East Asia

45,394

44,776

1.4

South Asia

18,847

5,865

221.3

Other Markets

14,735

9,273

58.9

Total Revenue

177,355

149,616

18.5

Highlights of investor/analyst Q&A session last week with CEO Sudeep Nair:

Q: Gross margin in 1H22 dipped to 29.3% from 32.2% in 1H21. Is that because of rising raw material prices and stuff like that?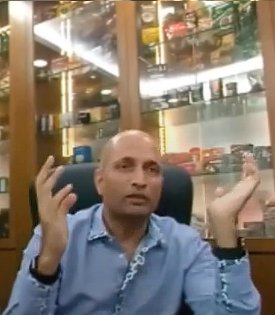 CEO Sudeep Nair on the 1H2022 earnings call.A: Yes, prices have gone up but I believe that they have plateaued. Two things happened in the Covid era for the FMCG (Fast Moving Consumer Goods) industry -- record freight rates and freight disruption in 2021, which is a huge contributing factor to inflation, and, secondly, high raw material prices. Maybe they have reached some sort of peak.

Q: Inventory was up by almost 50% compared to end-2021. Previously you said inventory stocking up is a solution to cope with supply chain disruptions. Will it continue to be necessary in the second half and to what extent have supply chain issues been resolved or not?

A: These inventories are mostly raw materials and a bit of finished goods. The raw materials come from very far off places, usually another continent, so to bring down the inventory or to bring up the inventory takes a lot of time. Now we have a lot of inventory so it gives us breathing space to bring it down. When you don't have inventory, you have problems and you could end up with out-of-stock situations.


Our operations team would look at the situation and see how efficient the supply chain is working, we would push up the inventory or bring it down. The group doesn't have cash issues, the balance sheet is very strong, we are generating good amounts of cash which sometimes goes into inventory but that safeguards the business.

Q: What is the plan for the sale proceeds from the disposal of your building in Harrison Road?
(Food Empire expects to realise a one-off gain of S$20.5 million before expenses.)

A: It's a cashpile which would give us more confidence to look at M & A and also for dividends, and it would be a buffer that is needed for situations like the war. It makes our balance sheet very strong, much stronger than even what it is, we don't have net debt. It assures shareholders to some extent that dividends are also going to be consistent.

Chin Tze Ting (Food Empire): For some context as to why we sold this building ... some investors asked whether it's due to the crisis. In fact the sale process started three years back before the pandemic. We realized that the building had appreciated in value and we are not in the business of owning properties and getting rental, so we started the process but then the pandemic came and we had to stop. After the relaxation of Covid social distancing rules, we restarted the process and I think we were able to get quite a decent price.


• Above quotes attributed to CEO have been edited for brevity.
• For more info, see Food Empire's 1H2022 financial statement here.