Over 6 years - from 2015 till 2021 -- Nordic Group bought back a total of 12 million shares, and held them as treasury shares.


Stock price

40 c

52-week range

31 – 45.5 c

PE (ttm)

11.1

Market cap

S$155 m

Shares outstanding

399.7 m

Dividend
yield (ttm)

3.5%

1-year return

21%

Source: Yahoo!
The average price: 21.79 cents. (see page 16 in the 1Q2022 presentation deck here)

Last Friday (8 July), Nordic Group completed the sale of all the 12 million treasury shares at 42 cents apiece for S$5.03 million in net proceeds.

That translates into a 92.7% gain.

The entire $5.03 million in proceeds has been earmarked for reducing the Group's bank borrowings which stood at S$79.2 million as at end-March 2022.

Nordic had S$40.9 million in cash and cash equivalents, so its net debt was S$38.3 million.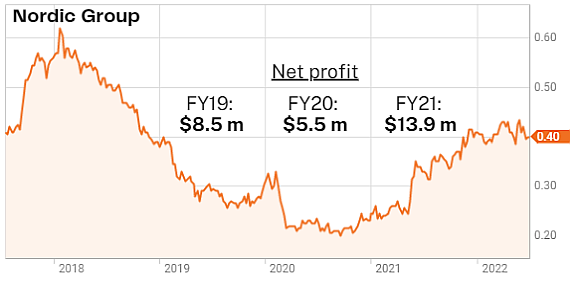 Nordic's stock price has tracked its business profitability.
Nordic Group is a SGX-Mainboard listed company that provides system integration solutions, repair and overhaul (MRO), precision engineering, scaffolding and insulation services, petrochemical and environmental engineering services and cleanroom, air and water engineering services. It serves mainly the marine, offshore oil and gas, petrochemical, pharmaceutical, semiconductor, infrastructure and public environment agencies.

The sale price, being the closing price of 42.0 cents on 21 June 2022, was a 1.4% premium to the volume weighted average price of 41.42 cents for all trades done on 21 June 2022, the date on which the sale & purchase agreement was signed.

The buyers are Edward Lim Chin Wah and Yap Tin Foo, both of whom are currently employed by Nordic as advisers to the executive chairman of Nordic Group.

Edward and Yap were the Chairman and Executive Director, and Managing and Executive Director, respectively, of Starburst Holdings, a listed company prior to it being acquired by a wholly-owned subsidiary of Nordic and was delisted on 22 April 2022.

They had sold their entire stakes in Starburst for an aggregate of S$41.2 million in what was the biggest ($59.1 million) of 5 M&A deals that Nordic had undertaken in a decade.

With their purchase of Nordic shares, they retain some exposure to the fortunes of Starburst, which is into, among other things, the design, fabrication and engineering of fire-arm training facilities.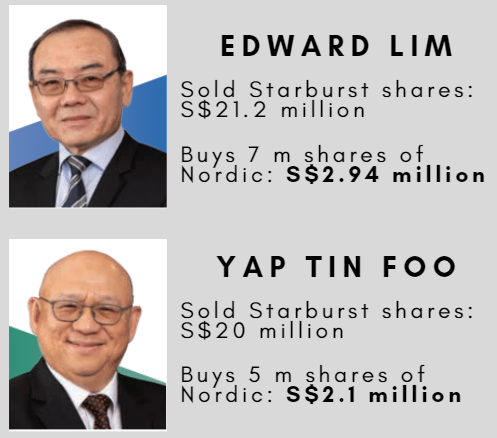 1Q2022 saw a maiden contribution from Starburst, and could help drive Nordic's profit -- and dividends -- to record highs this year.

Nordic's policy is to pay at least 40% of its earnings as dividends.



Starburst accounted for nearly 20% of Nordic Group's 1Q2022 revenue which shot up 64% to $40.1 million.

Net profit was $5.2 million (+49%), so an annualised basis Nordic may achieve about $20 million profit. (See: NORDIC GROUP: Starburst acquisition to drive record profits this year?)


Despite its level of debt, mainly to fund the Starburst acquisition, Nordic has highlighted that it expected to generate high cashflow, resulting in a net cash position

within one year.