Singapore-listed Food Empire Holdings is a global branding and manufacturing

com

pany in the food and beverage sector. Its products include instant beverage products, frozen convenience food and snack food. Food Empire's products are sold in over 50 countries.

Russia and Ukraine account for a significant portion of Food Empire's revenue, and the impending and subsequent war between the two countries had weakened its stock price since January. (see chart)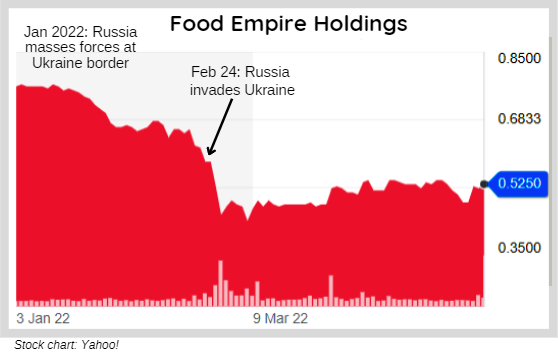 But Food Empire has just surprised the market with a 34.4% jump y-o-y in its 1Q2022 net profit to US$9.2 million.

Revenue from Russia (-5.5% y-o-y) and Ukraine did weaken but relatively insignificantly.

Ukraine revenue is not available but lumped in a geographical segment which shows a 5.8% decline, meaning drops in Ukraine sales were almost made up for by gains in Kazakhstan and CIS countries (see table).


Revenue by markets

US$'000

1Q2022

1Q2021

Change (%)

Russia

26,406

27,945

(5.5)

Ukraine, Kazakhstan and CIS

16,761

17,795

(5.8)

South-East Asia

24,712

24,046

2.8

South Asia

8,371

2,513

233.1

Other Markets

6,355

4,477

41.9

Total Revenue

82,605

76,776

7.6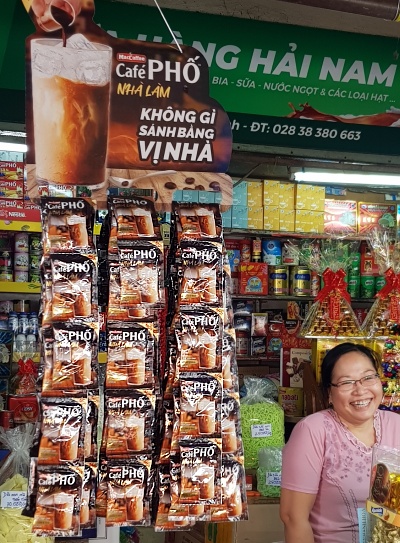 Food Empire's Cafe Pho sold in sachets in Vietnam. NextInsight file photo.CEO Sudeep Nair said at last week's briefing that except for Ukraine, which understandably experienced business disruption and lower sales, all the other markets' performances were more or less under the control of Food Empire's management (more on this later).

The bright spot were sales growth in Vietnam and South Asia as pandemic restrictions were eased.

Additionally, in India, Food Empire's second coffee plant, a freeze dry plant, contributed to the market's strong revenue growth as it commenced operations in 2Q2021 after initial delays caused by the pandemic.

The plant is still in a ramp-up phase, and potentially can generate US$25-30 million a year in revenue assuming that the entire capacity is sold to third parties. (See: FOOD EMPIRE: Insights into business, potential of new coffee plant)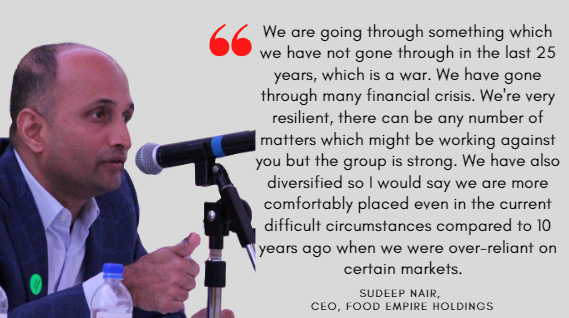 There are 2 salient points about Food Empire being a brand in the F&B business which CEO Sudeep has said before and he said it again:

1. You have some pricing power, so you can raise selling prices gradually.

2. You have some optionality to forgo or increase revenue by adjusting/deferring store promotions and other marketing means.
(Food Empire slashed its selling and marketing expenses by 33.2% to US$6.3 million in 1Q2022).
Mr Nair explained how Food Empire does things in response to various questions on revenue and profit margins at the briefing. Excerpts:

• "At times of volatility we may not want to push for revenue … we hold back."

• "Whether we want to push up the revenue or not depends on some factors such as at what cost?"


• "We would see quarter to quarter as to what the conditions are, and keep adjusting the goal."

• "I'll explain it to you this way: In a 1 million revenue, maybe 70% of that comes at a reasonable cost but 30% could be coming at a more expensive cost. In difficult situations, a company tries to hold on to the reasonable cost revenue, and tries to cut down on the expensive part. That's how we have managed all the financial crisis historically."
Stock price

52.5 c

52-week range

42 – 94 c

Market cap

S$282 m

PE

10.5x

Dividend yield

3.1%

1-year return

-40%

Shares outstanding

537.6 m

Source: Yahoo!
Asked if sanctions against Russia are affecting Food Empire's business in Russia, Mr Nair said that food and beverages and medicines/pharmaceuticals and clothing are essentials for human survival, and are not subject to sanctions.

Since the war is happening in Ukraine, demand for Food Empire's offerings in Russia stays firm. Customers there don't deprive themselves of a daily cuppa. (Nor it would seem customers in Ukraine, where the war has been largely happening in the east while the rest of the country has been spared.)

While sales in Russia were reported to drop 5.5% in 1Q2022 in USD terms, in actual fact sales volume increased, as can be deduced from the fact that the ruble weakened a lot against the USD throughout a big part of 1Q2022.

See also Food Empire's 1Q2022 business update here.