Excerpts from UOB KH report

Analyst: Adrian Loh

Yangzijiang Shipbuilding (Holdings) (YZJSGD SP)
Shipbuilding Business Materially Undervalued

We highlight that YZJ's current share price, excluding YZJFH, implies a P/B of less than 0.5x which in our view materially undervalues the company.


Yangzijiang

Share price:
$1.58

Target:
$1.95
Since its IPO in 2007, YZJ has significantly grown and transformed its shipbuilding business, and in addition has the tailwind of high asset prices and charter rates that will benefit its shipping fleet.

Our pro forma SOTP valuation for YZJ ex-YZJFH is S$1.16.

Maintain BUY. Target price: S$1.95.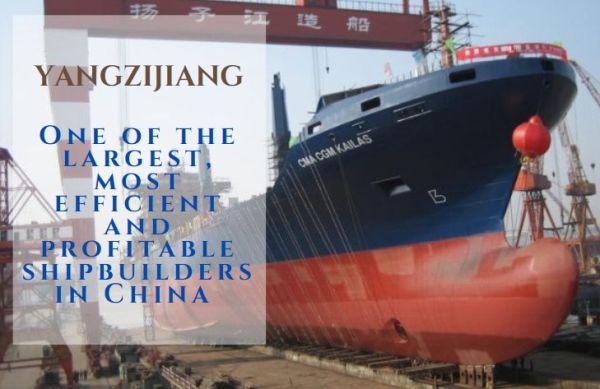 WHAT'S NEW
• What does YZJ's valuation look like without the investment arm? Yangzijiang's (YZJ) book value per share excluding Yangzijiang Financial Holding (YZJFH) would equate to S$0.96 per share as at end-21, comprising of:
a) S$0.75 for the shipbuilding segment,
b) S$0.09 for the shipping business, and
c) S$0.12/share for the trading business.

If we subtract YZJFH's book value of S$1.09 from yesterday's closing share price of S$1.56, the remaining value of S$0.47 implies a P/B of 0.49x which is a material undervaluation of the company in our view.

• Comparing then and now. We believe that the current valuation for YZJ ex YZJFH does not recognise how the company has transformed its shipbuilding business in the past 15 years.

As seen in the table below, the 2007-21 period saw the company doubling the number of its yards to four at present and more importantly, its orderbook in terms of compensated gross tonnage (CGT) has increased by 3.5x to 8.8m tonnes.

This indicates that the productivity and amount of work that YZJ puts into a new ship order has grown materially in the past 15 years.

STOCK IMPACT
• Growth in shipbuilding revenues and profitability. Looking at other metrics, YZJ's shipbuilding revenues rose by 2.4x between 2007 and 2021 (9% CAGR) while gross profit grew by nearly 76% over the same period (4% CAGR).

While gross margins have halved during that period, we would note that 2007 was the peak of the previous shipbuilding cycle while we are arguably at the early stage of the current shipbuilding cycle, and we have forecasted for YZJ's shipbuilding margins to expand in 2022.

• Update on the spin-off. YZJFH has been spun out from YZJ via a distribution in specie wherein YZJ's shareholders will receive one YZJFH share for every YZJ share they hold.

This represents a dividend distribution of Rmb20b, equating to S$4.26b or S$1.09/share, and was overwhelmingly approved by the company's shareholders at its AGM on 18 Apr 22.

As a result, YZJFH will be listed on 28 Apr 22 at 1pm, and shareholders as at the close of business on 22 Apr 22 will be entitled to this distribution in specie.

• Watching China's escalating COVID-19 case numbers. According to the company's management, the current COVID-19 movement restrictions have had some disruption on YZJ's shipyard operations; however it believes that the financial impact is not material thus far.

EARNINGS REVISION/RISK
• No earnings changes at present; however we highlight potential downside risk to earnings should China's COVID-19 restrictions increase, given that YZJ's shipyard assets are entirely located in China.

Should shipyard operations be affected, this would hamper the company's ability to deliver on its target of 60 ships that it has planned for 2022, thus negatively impacting the company's profitability as milestone payments would then be delayed.


VALUATION/RECOMMENDATION


• Maintain BUY with a target price of S$1.95 based on a target PE multiple of 9.3x (+1SD above YZJ's five-year average) which is applied to our 2022 EPS estimate.

• SOTP excluding YZJFH. In the table below, we have used an 8x and 5x multiple for its shipbuilding and trading & other business segments respectively, thus arriving at a S$1.13 and S$0.08/share valuation for these two segments.

By using publicly-sourced replacement cost for its shipping assets, we value this segment at Rmb4.4b or S$0.24/share – this is double that of the company's carrying cost of these assets, or approximately 3x higher than its book value of $0.09 as at end-21.

We have omitted YZJ's net tangible assets of S$1.09/share for YZJFH, and assumed that YZJ will continue to be in a net cash position after the listing of YZJFH, thus arriving at a pro forma SOTP valuation of S$1.16/share for YZJ.

SHARE PRICE CATALYST
• Evidence of margin expansion from 1H22 onwards.
• New orders in higher margin segments, eg dual-fuel containerships or LPG tankers.

Full report here.