Excerpts from SAC Capital report

Analyst: Lim Shu Rong


Bumper year for shipping lines
FY21 was a record year for Samudera Shipping Line (SSL) as revenue and net profit are at its highest for the past 5 years. Higher freight rates and volume handled (+16%) drove revenue up by 52% to US$526.7m.

Gross margin rose by 19.4ppt to 27.9% and was reflected in its net margin of 24.9%.

Net profit surged 1678% to US$128.6m.

The Group has declared a total dividend of 14c/share for FY21 which translates to a yield of 18.4%.

SSL has a net cash of US$169.5m. Of these, US$53.8m would be paid out as proposed final dividend.
From US$7.2 m profit to US$128.6 m!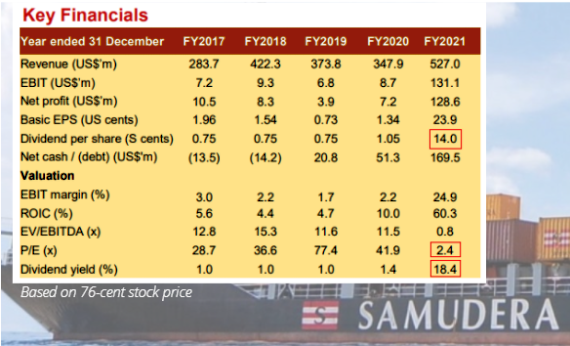 Freight rates are still buoyant and favorable to shipping companies as capacity imbalance persists. China containerized freight index was up
76% yoy as at 11 Mar 2022.

The Group has chartered in an additional 6 newly built vessels of which 2 have already been deployed and the rest will be delivered in 4Q22.

Long term charter contracts has already been secured for these vessels. This brings the total number of chartered in vessels to ~24. (~71% of fleet size)

Most of the vessels are chartered in for ~18 months.

Although charter hire rate trends in line with freight rate, longer term charter-in has helped SSL to preserve some margin as it is able to lock in at lower rate as compared to the spot rate.


Operating margin is expected to come under pressure, impacted by Russia/Ukraine conflict, which raised bunker costs and caused delays at ports.

Brent crude oil price has crossed the US$100/barrel mark and surged 43% m-o-m.

Operating costs are further incurred from extended transit time.

Port congestion also reduces the number of vessel calls. SSL earns from more vessel trips as most of its chartered-in vessels are on time charter.

Indonesia accounts for 28% of total FY21 revenue. It includes domestic routes and international routes with Indonesia as its destination.

Indonesia has cabotage rules that mandate only Indonesia-flagged vessels can be used in domestics shipping activities and these vessels can only be registered under companies that are fully/majority owned by Indonesians.

As such, a JV is established with SSL holding a minority stake and it will own Indonesia flagged vessels to be used for domestic routes. Contribution from domestic shipping will be captured under share of associates.

Full report here.