At Trendlines Group, the mantra continues to be: We are building long-term value.


Stock price

10.5 c

52-week
range

8.4 – 12.3 cts

PE (ttm)

13.8

Market cap

S$83 m

Shares outstanding

791.2 m

Dividend
yield (ttm)

--

1-year return

21%

Source: Yahoo!
After announcing its dividend policy in mid-2021, investor expectations were raised but management said last week that the criteria for a payout was not met.

The Group's
total cash increased 34.9% to US$
14.3 million as of the end
of 2021,
compared to US$10.6 million at
the end of 2020.

And it will be deployed to create long-term value.


"The
more capital that we
have, the more powerful our business
model is and the more we can realize
from our portfolio companies at exit," said co-chairman Todd Dollinger at an investor briefing last week.

"W
ith a portfolio of our size,
more capital means that we're able to
take greater advantage of the low early
stage valuations at which our companies
initially raise capital. A
dditional capital enables us to make m
ore investments when valuations are
still low and thereby to improve our
returns."

Israel-headquartered and Singapore-listed Trendlines invests in and incubates innovation-based medtech and agrifood technologies to fulfill its mission to improve the human condition.


A highlight of 2021 for Trendlines was the 100% sale of portfolio company OrthoSpin Ltd to a Johnson & Johnson division.

The consideration was a record US$79.5 million in cash, of which Trendlines' net proceeds was US$15.8 million.

Trendlines reported US$6 million net profit, boosted by fair value gains on its portfolio companies based on factors such as the favourable terms on which each portfolio company completed its fund-raising exercises and portfolio companies' commercial or technological progress.

Offsetting such gains were write-downs of certain portfolio companies.

As a result, the Group's NAV increased to US102.5 million (FY2020: US$96.3 million).


Co-chairman Steve Rhodes said: "Our NAV has increased by 88% in the last four years, or an average annual increase of more than 17%. We believe very strongly that this demonstrates the power of our business model and that it's working."

The latest NAV is 17 Singapore cents a share, which means the current stock price of around 10 cents is at a significant discount.

There are sophisticated investors who view the stock as attractive: In January 2022, it was announced that four institutional investors would subscribe for shares at 12 Singapore cents/share, raising S$20.271 million (approximately US$15 million). (Details here.)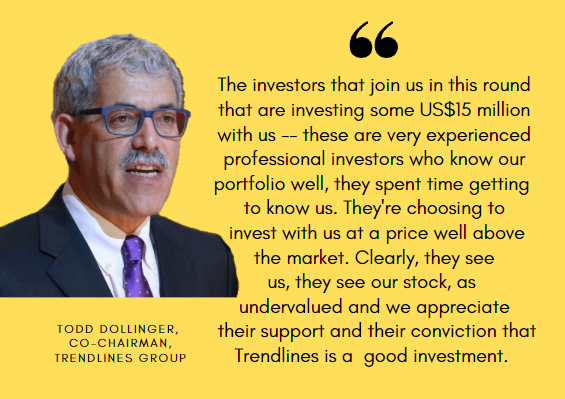 Fund-raising in 2021 didn't prove challenging for Trendlines' portfolio companies either.

Collectively, they raised US$77 million in follow-on funds -- a record which broke the previous record of US$43 million in 2020.

Six companies raised over US$4 million each. This compares with US$43 million raised in 2020 and two companies each raising more than US$4 million.


"Unlike all other key performance indicators, raising follow-on capital really provides the best barometer of the direction of the company's portfolio as it moves into the future," said Mr Dollinger at an investor briefing.

For more on its FY21 results, see Trendlines' announcement here.