Excerpts from CGS-CIMB report

Analyst: William Tng, CFA

AEM Holdings Ltd


It's time: Add




AEM

Share price:
$4.13

Target:
$5.59
■ We expect AEM to release its 3Q21 business update after the market closes on 10 Nov 2021.

■ With the announcement of the 3Q update, AEM will embrace normalised yoy comps in 4Q21F and 1Q22F.

■ Price discovery of its FY22-23F earnings prospects will commence and we think AEM's share price could re-rate to our new TP of S$5.59.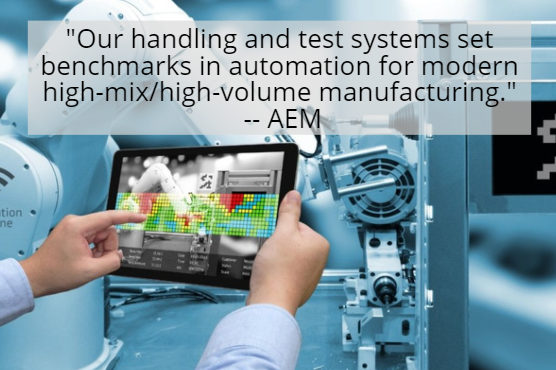 3Q21 update marks the start of a possible re-rating
FY20 was an exceptionally strong year for AEM with full-year net profit of S$97.6m (FY18/FY19: S$33.5m/S$52.8m).

AEM's 3Q20 net profit was S$24.3m (3Q19: S$13.7m). With 4Q20 and 1Q21 net profit at S$18.0m and S$13.2m, we think AEM would have easier yoy comps for 4Q21F and 1Q22F.

FY22F expectations
Post 3Q21, we think the market will look forward to AEM's FY22F-23F outlook which will benefit from new products for its key customers and incremental success of its own System Level Test (SLT) solution.

AEM remains the sole supplier to its key customer and its new test handler product(s) should see higher shipment volume next year as SLT gains prominence.

Given that AEM's test handlers will reach their fifth year mark in shipments to Intel, replacement demand for some of the consumables used in the machines could gather pace, in our view.


Room for a bigger acquisition
AEM has made eight acquisitions since 2017 with the largest acquisition being that of CEI Limited this year.

With the placement of 26.8m new shares to Venezio Investments Pte Ltd, a wholly-owned subsidiary of Temasek Holdings (Private) Limited, and a long-term bank loan of S$51.2m as at end-Jun 2021, AEM has cash resources of S$154.3m that can be deployed for M&As.

A larger M&A could help further strengthen AEM's growth in the coming years.

We think possible areas of M&A that may add value to AEM include software/data analytics (for chip testing purposes), customer acquisitions and geographical diversification, amongst others.

Reiterate Add with higher S$5.59 TP
We raise our FY22F-23F net profit forecasts by 9.4%/27.6% premised on the success of AEM's new products.

Our new TP of S$5.59 is due to:

a) rollover to FY23F EPS, and
b) target P/E of 15.30x (see valuation section; 13.9x previously).
Potential re-rating catalysts are updates to its new product installation schedule, FY22F order book/revenue guidance possibly around end-Dec 2021 to Jan 2022 and further new customer wins.

Downside risks are delivery delays due to supply chain challenges and aggressive competitive response from its competitors.

Full report here.