Excerpts from CGS-CIMB report

Analyst: Ong Khang Chuen, CFA

China Sunsine Chemical Holdings

ASP uptrend points to a stronger 4Q21F

■ Rubber accelerator prices have seen a strong uptick over the past three months. This should bode well for Sunsine's profit spread in 4Q21F.


China Sunsine

Share price:
50 c

Target:
77 c
■ While 3Q21F net profit could show some qoq weakness, we believe Sunsine is on track to recording a 115% yoy net profit growth in FY21F.

■ Valuation is attractive at 2.5x FY22F P/E (ex-cash). Reiterate our Add rating with a higher TP of S$0.77.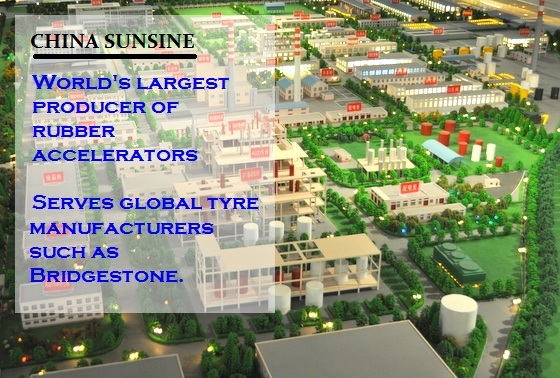 Rising ASPs point to a stronger 4Q21F

Post the c.20% correction in rubber accelerator prices between mid-Apr to early-Aug, we note that pricing has resumed its uptrend since, and have especially picked up pace in Oct. According to sci99.com, rubber accelerator prices averaged Rmb21.2k/ton in Sep 2021 (+8.6% mom, +42% yoy), and reached Rmb26.2k/ton last week.

We believe that the stronger ASPs are mainly due to higher input costs, exacerbated by lower industry supply due to environmental policies and power curbs impacting the production of some industry players. Meanwhile, end-products continued to see healthy demand, supported by exports and inventory replenishment of downstream industries.

We expect rubber accelerator prices to remain high in 4Q21F.


On track to doubling net profit in FY21F
We expect Sunsine to benefit from the uptrend in accelerator prices, and forecast stronger profit margins in 4Q21F.

While key raw material (aniline) prices have also seen an uptick in recent months, we believe this is more than offset by the even-stronger ASP gains. Accordingly, we raise FY21F net profit forecast to Rmb470.5m (+115% yoy).


3Q21F preview: +55% yoy net profit growth
We forecast Sunsine recording a 3Q21F net profit of Rmb93m (-34% qoq, +55% yoy). This reflects the sequentially-weaker ASPs vs. 2Q21, although pricing remained high compared to a year ago.

We expect utilisation rate to remain optimal for Sunsine in 3Q21F as it continues to grab market share from smaller players by capitalising on its strong brand reputation and product quality. We forecast a revenue of Rmb777m (-15% qoq, +30% yoy) for the quarter, and expect Sunsine to achieve a GP per tonne of Rmb4,760 in 3Q21F (-22% qoq, +30% yoy).


R

eiterate Add with higher TP of S$0.77




Ong Khang Chuen, CFA, analystWe raise our FY21-23F EPS forecasts by 14.5-18.4% to reflect the higher ASP assumptions.

Reiterate Add with a higher TP of S$0.77 as we roll forward our valuation to end-FY22F, still based on 1.05x P/BV (0.5 s.d. above its 10-year historical mean). We believe current valuations are undemanding at 2.5x FY22F P/E (ex-cash).

Potential rerating catalyst is stronger downstream demand.

Key downside risks include intensifying pricing competition amid weakening downstream demand.

Full report here.