Singapore-listed Geo Energy Resources provided insights into the positive impact of rising coal prices on its business while updating the market on the full redemption of its USD Bonds and payment made on 12 October 2021 to noteholders.

The cash profit -- ie, before depreciation etc -- is potentially immense, at over US$175 million (S$236 million) in 4Q2021 alone based on current coal prices. As for 3Q2021, Geo Energy is expected to release its financial results in 3-4 weeks' time (ie, early-mid Nov).

Excerpts:


"The Group expects a strong performance for 2H2021 with the ICI4 coal price reaching a record high of US$122.08 per tonne as at 8 October 2021 compared to the average ICI4 coal price of US$47.78 per tonne in 1H2021.


Geo Energy's windfall

Cash profit*

>US$50/tonne

4Q2021 target production

3.5 million tonnes

Total cash profit in 4Q2021

>USD175 m
(S$236 m)

* Geo Energy's forecast based on current market price

Note: For 1H2021, Geo Energy reported cash profit of US$80.3 million based on US$14.9/tonne average.
"We target production and sales volume of over 1 million tonnes per month from October to December 2021 or 3.5 million tonnes, following the approval of increased RKAB production quota of 11.5 million tonnes, in line with our optimised mining plan for a higher production in 4Q2021.

"At today's coal prices, the Group has an average cash profit of over US$50 per tonne, even after taking into account the lower selling prices of its domestic market obligation (DMO), set by the Indonesian government at 25% of total production with a price cap of around US$38 per tonne.

"This is more than triple of the Group's 1H2021 average cash profit of US$15 per tonne.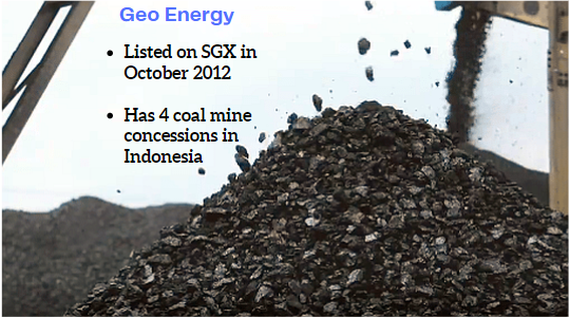 Stock price

38.5 c

52-week range

10 – 39.5 cts

Market cap

S$542 m

PE (trailing)

5.2

Dividend yield (trailing)

5.2%

1-year return

263%

Shares outstanding

1.4 b

Source: Yahoo!
"Coal prices are expected to remain strong, at least for the near future.

The M42 Futures Index (4200 GAR coal) on the SGX showed 4Q2021's average coal prices at US$135 per tonne, and for 2022 to average US$100 per tonne.

"There is a global energy crisis and in China, curbs on power consumption have disrupted daily life and factory production. Supply in China has also been impacted as severe weather led to 27 coal mines being closed due to flooding.

"With an unusually cold winter in Europe and China looming, and coal stocks being low throughout the world, coal prices are expected to remain high at least through winter."

For more, see press release here.