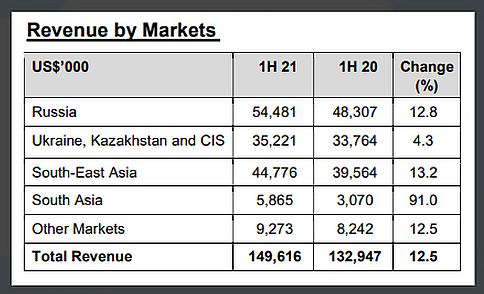 Food Empire Holdings reported revenue of US$149.6 million in 1H2021, as compared to US$132.9 million in 1H2020, mainly due to higher sales contribution across all of the Group's core markets.

Net profit after tax decreased from US$13.2 million in 1H2020 to US$11.5 million mainly due to:





•

record high ocean freight rates,



•

shortage of shipping container slots resulting in supply chain delays, and



•

higher depreciation expenses arising from commencement of the Group's new freeze dry coffee plant in India.• lower margin as a result of higher commodity prices,
SGX Mainboard-listed Food Empire is a global branding and manufacturing company in the food and beverage sector. Its products include instant beverage products, frozen convenience food and snack food. They are exported to over 50 countries.


In a virtual session last week, CEO Sudeep Nair discussed matters with investors and analysts. His comments (edited for clarity and brevity) are as follows:

• On 1H2021 margins which were impacted. Reasons: Record freight charges and rising commodity prices, especially sugar.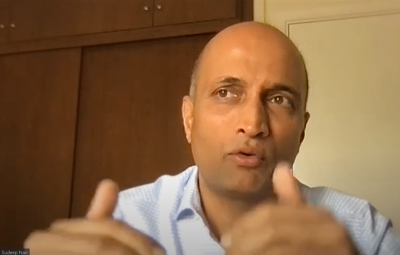 CEO Sudeep Nair at the 2Q2021 results virtual briefingSudeep Nair: Freight is the one which is causing massive disruption, I would say more than commodity prices.

Because for commodity prices, sooner or later everyone would increase their product selling prices as you can't absorb all the cost increases you would pass it on. Freight has been causing a lot of disruption from the beginning of the year and looks like it is here to stay for the whole year.

• On what it's like on the ground:

Sudeep: If you are getting a 40-foot container from Malaysia or Vietnam or China, and you're transporting to Russia or any part of of the European continent -- trucking inland, there is not much change.

But sea freight which used to be around US$2,000-2,500 per container, today, you won't believe it can be as high as US$12,000 or US$14,000. We have never seen such rates ever.

• On what Food Empire will do:


Stock price

79 c

52-week range

56 c – S$1.00

Market cap

S$422 m

PE

12.5x

Dividend yield

2.8%

1-year return

38%

Shares outstanding

537.6 m

Source: Bloomberg
Sudeep: We would look at increasing selling prices over a period of time, we plan to do this in third quarter and fourth quarter, and we would also be rationalizing certain expenses. It's a combination of two or three factors which would bring us back to decent margins over the next six months or so.

Most of our teams have been advised to increase their inventories over the next six months so that if the freight situation remains bad at least we may not suffer as much.

• On the probable size of the selling price increase:

Sudeep: It would depend on the product lines and the country. It could be in the range of 4-8%. Some items could be more, some less.

• Will competitors raise prices too?

Sudeep: Everyone, yes, everyone usually would raise prices. The quantum could vary a little bit depending on how much they are affected.





• On Food Empire's newly operational freeze dry coffee plant in India:

Sudeep: It's a highly sophisticated plant which will take approximately 24 months to achieve a 90 percent utilization, as per our understanding.
Looking at the first month of operation, maybe we would be able to achieve that faster. The product so far has been accepted very well. When it reaches 100% utilization maybe you're talking about revenue of US$25 to 30 million a year. We don't expect it to contribute in a big way this year but some contributions have started.

For more, see Food Empire's press release here.

Food Empire's 2020 Annual Report, themed "Strengthening Connections", has achieved two Gold awards and one Silver award under the "Beverage & Food Manufacturer" classification at the annual International Annual Report Competition (ARC) Awards. The awards is the world's largest competition honouring excellence in annual reports. Food Empire's annual report was built reflected its pivoting to the evolving landscape brought about by the outbreak of the Covid-19 pandemic in early 2020.