As 1H2021 progressed, clouds of uncertainty over Nordic Group had started to dissipate.

1Q brought in profit of $3.5 million, and management guided that the year would likely see a strong recovery. See: NORDIC: Not just any recovery, it's either V-shaped or J-shaped!


Now, management has given as clear a guidance as is possible about how strong that recovery would be in 2H2021, as reflected in its 2Q2021 results presentation slides:

Stock price

36 c

52-week range

19.8 – 37.5 c

PE (ttm)

12.4

Market cap

S$140 m

Shares outstanding

388 m

Dividend
yield (ttm)

4.3%

1-year return

76%

Source: Yahoo!
• Recovery remains resilient despite labour challenges.

• Business momentum remains strong with orderbook at all-time high at $135.3 million.



• Expect a J-shape recovery in 2021.



Nordic provides a slew of services to multiple industries, particularly oil & gas, marine and semiconductor. It's a wide spectrum of services: Scaffolding, Insulation, Precision Engineering, System Integration, Petrochemical & Environmental Engineering and Cleanroom, Air and Water Engineering Solutions.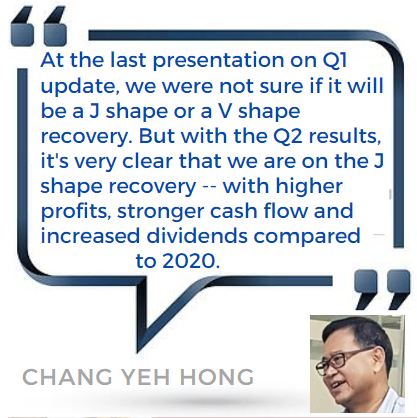 At a 2Q2021 results briefing last week, Nordic's executive chairman, Chang Yeh Hong, went into quite specific numbers for the profit outlook for the rest of the year.

And based on those numbers, he was prepared to say what the final dividend may be.

For investors familiar with the business, the guidance can be taken to heart: Nordic has visibility based on its orderbook and the maintenance nature of a significant part of it, whose financials are visible and recurring.

What this chart from Nordic's 2Q2021 presentation material shows are the 2 likely profit levels:

• $15.6 million is a simple doubling of the 1H2021 profit



•

$13.8 million assumes some Covid-related disruptions in the workplace as Singapore transitions into a new normal.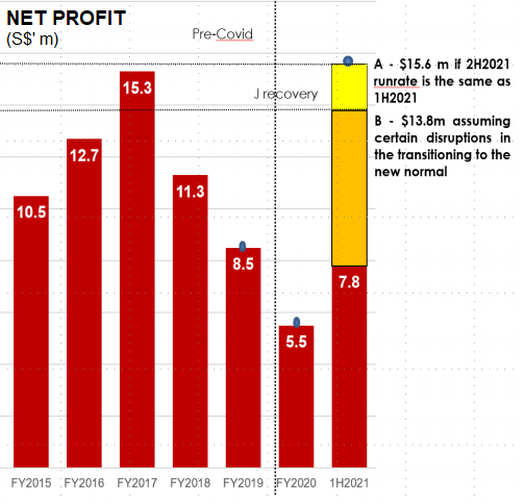 Taking the 2 profit scenarios, this next chart progresses to how dividends will be determined.

The chart shows dividends paid in past years against EBITDA as a proxy to cashflow.
• The highest dividend ever paid by Nordic was 1.526 cents a share in 2017 when net profit (and EBITDA) was highest.


• Nordic is looking at a higher payout ratio of 50% (instead of the historical 40%).

Based on that, it will pay a record 1.96 cents a share dividend if $15.6 million profit materialises for the full year, and 1.725 cents a share under the $13.8 million profit scenario.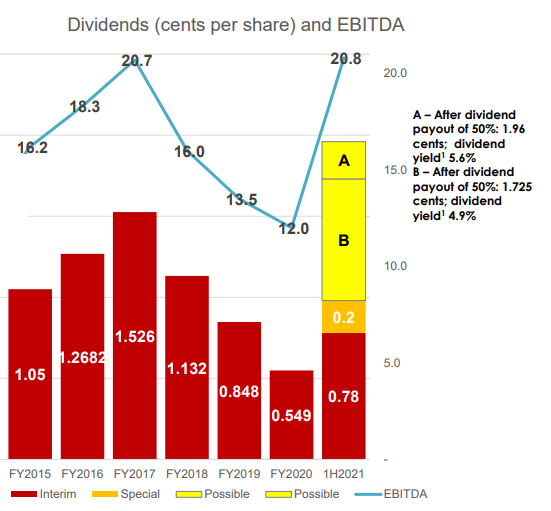 Less than three months after announcing $24.2 million worth of contracts secured, Nordic Group said on 4 Aug it has clinched a further $35.6 million worth of contracts. The contracts are with new and repeat customers – comprising of multinational companies and companies in the marine, oil & gas, petrochemical, infrastructure and semiconductor industries.
a. Cleanroom, Air & Water Engineering Solutions division: Secured ad-hoc and maintenance services contracts of S$14.1 million mainly for supply, install, tools hook-up services of semiconductor plants, supply of spares and maintenance of waste water treatment plant. The supply, install and tools hook-up contracts mainly end in 2Q2022 and maintenance contract is for 15 years ending in 2Q2038.

b. Precision Engineering division: Secured S$9.7 million for machining services and mechanical assembly. The contracts will complete in 3Q2021 and 4Q2021.

c. Insulation Services division: Secured S$5.9 million for insulation work. The capital project from the new customer is from 3Q2021 to 2Q2022.

d. Scaffolding and Petrochemical & Environmental Engineering divisions: Secured S$3.1 million for scaffolding work, inspection and load testing of lifting equipment and pressure vessels and maintenance of plant and equipment at certain waste water plants waste to energy plant. The contracts will mainly complete in 3Q2023.

e. System Integration division: Secured S$2.8 million mainly for the manufacture of valves and actuators, control and tank gauging systems. The contracts will complete in 2Q2022.

The full Powerpoint presentation material is here.