Excerpts from UOB KH report

Analyst: Adrian Loh
Merely six days after announcing a US$715m order win, YZJ has topped that with yesterday's announcement of US$871m worth of orders, which brings its ytd order wins to a record US$5.59b in 2021.
Yangzijiang

Share price:
$1.41

Target:
$1.90
Containerships continue to comprise the bulk of these orders, and we note that delivery dates for the larger vessels are being pushed to 2024.

We maintain our BUY rating, as we believe the containership construction upcycle remains intact, and have upgraded our target price to S$1.90 (previously S$1.76).

WHAT'S NEW
• The new order flow continues. Yesterday, Yangzijiang Shipbuilding (YZJ) announced new orders worth US$871m comprising:
a) six 15,000TEU containerships,
b) three 3,300TEU containerships, and
c) two 82,300DWT bulk carriers.

It was notable that the ultra-large 15,000TEU containership order came from Seaspan, which is one of Yangzijiang's oldest clients.

• Delivery dates are being pushed out. As can be seen by the delivery date of 1H24 for these vessels, the company has 'run out of room' for delivery in 2023, especially for the ultra-large containerships.

Even the smaller 3,300TEU containerships, which were ordered by a domestic China-based shipowner, have delivery dates starting from 2H23 and into 1H24.

On the other hand, bulk carriers that are easier and faster to construct can still be delivered in 1H23.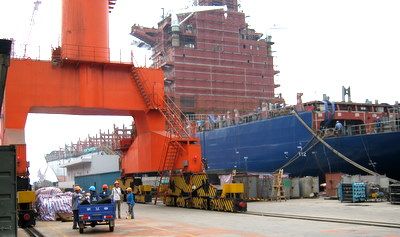 • A record year. Ytd order wins for YZJ now total US$5.59b for 100 vessels.

Given that our previous order win expectation of US$5.5b – and one that we had considered a 'stretch target' in 1Q21 – has already been exceeded, we have upgraded our new order win expectation to US$6.5b for 2021 and US$4.0b for 2022 (previously US$3.5b).

YZJ's orderbook now stands at US$7.72b for 160 vessels.

• The containership upcycle appears sustainable as the number of containerships on order is at a 15-year low at only 302 in 2021 ytd vs 2005 when 900 of such ships were on order.

Notably, the vessels that have seen a pick-up in orders are the small (1,000- 4,000TEU) and large-sized (>5,000TEU) vessels.

Also, we highlight that the number of vessels on order closely tracks the container time charter index, with the latter seeing a material increase ytd in 2021.

One potential conclusion is that orders for new container vessels will continue to flow to shipbuilders in 2021 and 2022.

STOCK IMPACT
• Apart from yesterday's large order, YZJ announced a similarly large order merely six days ago for 14 vessels worth a total of US$715m. The order comprised one 9,150DWT chemical tanker, one 29,800DWT self-loading bulk carrier, two 2400TEU containerships, five 3500TEU containerships, two 11,800TEU containerships, and three 40,000m3 LPG vessels.

Unfortunately YZJ was less specific with delivery dates, only disclosing that deliveries will be between 2022-24.

We were certainly heartened to note that YZJ continues to win orders for containerships which are relatively higher-margin vessels for the company.

Importantly, the company won an order for LPG vessels, which is a first for the company, and is thus encouraging to see it breaking into a new market segment.

• Increased levels of scrapping. Small and medium-sized containerships have seen increased levels of scrapping in the past decade with the former reaching 50% of total fleet scrapped in 2021, while 30% of the fleet of medium-sized vessels were scrapped ytd in 2021.

While the supply of small feeder containerships (ie <1,000TEU) is unlikely to materially increase in the next few years, given that orders have been in single digits since 2011, orders for medium-sized vessels appear to have meaningful upside, in our view.

We note from YZJ's orderbook for containerships that it has seen meaningful order flow for both the small and large vessels (see chart on RHS).

EARNINGS REVISION/RISK
• Upgrading earnings for 2021-23. We have raised our earnings forecasts for YZJ by 2-11% for 2021-23F to take into account yesterday's order wins as well as the order wins garnered by the company last week.


VALUATION/RECOMMENDATION



● Maintain BUY on YZJ with an upgraded target price of S$1.90 (previously S$1.76) based on a target 9.3x multiple which is 1SD above the company's past five-year average PE and pegged to our 2022 EPS estimate.

We have dropped the target P/B multiple from our valuation methodology as we believe a pure PE valuation better reflects the earnings upcycle that YZJ is facing at present.

We note that at our new target price of S$1.90, YZJ's 2022F P/B multiple of 1.0x is reasonable in our view, especially given our expectation for the company to experience ROE expansion from 9.1% in 2021 to 13.3% in 2023.

• Recent share price retracement is an opportunity, in our view. Since the beginning of May 21, YZJ's share price has fallen c.8% from its 2021 high of S$1.53.

However the stock has done very well this year, up 48% ytd, and thus it is understandable that some investors would want to take profits.

Nevertheless, we believe that the stock continues to have meaningful upside as the stock is inexpensive, trading at 0.8x 2021F P/B and 9x 2021F PE, and there are more order wins to come in our view.

SHARE PRICE CATALYST
• Continued new order wins, especially from China-based clients.

• Better returns on its debt investments portfolio.

Full report here.