Excerpts from DBS Research report


How long will chip shortage last?

• Chip shortage shows no signs of abating as demand remains strong
• Higher chip prices and longer waiting times while chip makers ramp up production and boost capacity
• Chip supply situation can improve in 1H22 and is likely to be resolved by 2023
• Semiconductor plays – AEM, ASM Pacific, Frencken, Inari and UMS – are clear beneficiaries; while mid-to-downstream players' fortunes could be mixed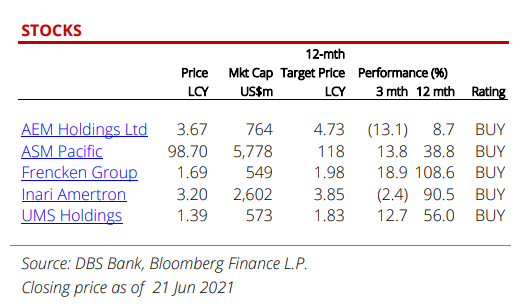 Impact of chip shortage on technology stocks under our coverage:
| | | |
| --- | --- | --- |
| Company | Company Products | Remark |
| AEM | Back-end testing of semiconductor manufacturing process | AEM provides customised test handlers for burn-in tests, functional tests, and system-level tests for its key customer, a global chipmaker. Hence, AEM is a beneficiary of the global chip shortage. The ramp-up of its next generation tools to its key customer provides a further catalyst for the group. |
| Aztech | IoT devices, data communication products, LED lighting products | Minimal impact from chip shortage as Aztech is able to leverage on its strong customer-supplier relationship to secure components and raw materials. Aztech also adopts product redesign and innovation to reduce or substitute components that are hard to secure. |
| Frencken | Diversified product range, including consumer electronics and medical devices; 36% exposure to semiconductor and c.12% to automotive | The current chip shortage is driving demand for both front-end and backend semiconductor equipment. This should benefit the semiconductor business segment, where its exposure has increased to 36% in terms of revenue as at 1Q21. The group has started to see some level of delays in orders from selected customers in the automotive segment as a result of the chip shortage. |
| Fu Yu | Consumer electronics, medical, printing & network, automotive & power tools | Fu Yu is less affected, as it specialises in the manufacturing and subassembly of precision plastic parts and components and has a diversified product range. |
| Nanofilm | Provides surface solutions using proprietary technologies | Could see some deferment of selected projects from initial production in the computer/ tablets and wearables/ accessories product category, especially for those new product launches that were released recently, and ramping up production is in the process. |
| UMS | Front-end semiconductor equipment and components manufacturing | Supplying semiconductor equipment and components to Applied Materials (AMAT), UMS is in a sweet spot to ride on the strong global chip demand. 1Q21 revenue and net earnings were at a record high, with stable margins. |
| Valuetronics | Consumer electronics, printers, sensing devices, parts for automotive | Overall impacted by chip shortage. Valuetronics is prioritising customers with clear delivery commitments and may procure certain components that are available on the spot market, but these will come at a premium. Hence, margins could be affected. We are projecting a lower net margin of 7.7% for FY Mar 22F, vs. 8.2% for FY21. |
| Venture | Diversified product range | Selected existing products and new product initiatives (NPIs) were affected. Its 1Q21 results were below expectations, despite the strong order momentum. |

Full report is here.